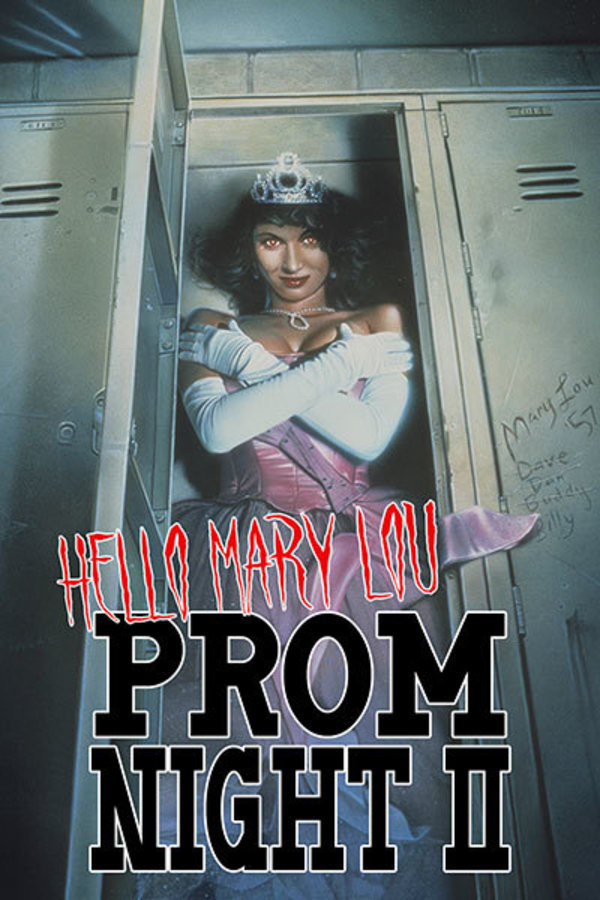 Prom Night 2: Hello Mary Lou
Directed by Bruce Pittman
In this supernatural sequel to the slasher classic PROM NIGHT, sexually voracious bad girl Mary Lou Maloney is burned alive after winning prom queen in 1957. 30 years later, her spirit returns to possess Vicki, a cheerleader who's been chafing under her parents' repressive rules. Mom and Dad soon get an eyeful after Vicki starts acting out, but Mary Lou is more focused on revenge on the man who caused her early exit from Earth – who's now the school principal. A fun and frothy mashup of A NIGHTMARE ON ELM STREET 2 and CARRIE, PROM NIGHT 2 is an essential entry in the '80s slasher-sequel canon.
In this supernatural sequel, the spirit of a sexually voracious teen possesses a high schooler.
Cast: Lisa Schrage, Michael Ironside, Wendy Lyon
Member Reviews
Got everything for the 80s horror fan while it bears more relation to Nightmare on Elm St than the original 'Prom Night' (1980)
What if Freddy Kruger was a girl? She would be Mary Lou. This is a seriously wonderful hidden 80s horror gem that should not be overlooked due to it's unnecessary re-titling as a Prom Night sequel. It is a stand alone film that has no connection, plot wise or thematically, to the original slasher classic (which of its own merit is a fantastic film). Hello Mary Lou is a much more supernatural affair about a ghost of a dead prom queen coming back to take vengeance, Carrie style, on the high school she once attended. As a result, you get a ton of awesomely crafted dream sequences with some trippy imagery akin to Nightmare on Elm Street. Not to mention the references to countless other horror movies and writers throughout the entire film. However, even without recognizing the connections to other horror flicks, this is one fun film on its own. This movie deserves a proper remaster and blu-ray release.
Great movie, but I prefer the first one.
This is actually very entertaining. I thought this movie was going to be terrible, but it was quite enjoyable. I love the practical special effects. It has no real connection with the first one from what I can tell except that the script was bought by the same studio that made the first one and so they wanted to make it into a sequel. It wasn't written to be a sequel to the first one originally. It was meant to be a standalone movie. Typical for the era in which it was made. This movie is so '80s, and in a good way. I love the way that it looks like I'm watching a VHS tape. You can see some Carrie-type influence in here.
Fun and probably better than the first.