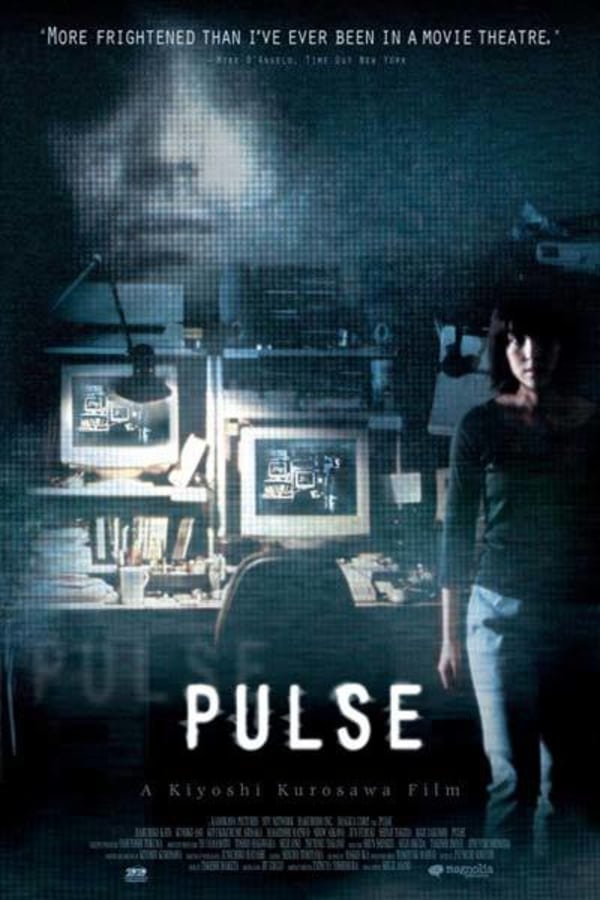 Pulse (Kairo)
Directed by Kiyoshi Kurosawa
A mysterious webcam site claims to offer visitors the chance to connect with the dead in Japanese horror god Kiyoshi Kurosawa's heart-stopping film. A group of friends are rocked by another friend's suicide, and his ghostly reappearance in computer video images. Is he trying to reach out from the afterlife, or is something more sinister afoot? When they find a mysterious disk in the dead man's apartment it launches a program that seems to present odd, ethereal broadcasts of people in their apartments. But there's something strange about these transmissions... (In Japanese with English Subtitles)
A strange website claims to offer visitors the chance to connect with the dead.
Cast: Koyuki, Haruhiko Kato, Aso Kumiko
Member Reviews
"When there's no more room in hell, the ̶d̶e̶a̶d̶ spirits will ̶r̶o̶a̶m̶ ̶t̶h̶e̶ ̶e̶a̶r̶t̶h̶ ooze through their realm". What a singular, truly unforgettable and deeply subtle experience this masterpiece is. The quietest apocalypse ever shown. And the low resolution only works in its favour (apart from some bad CGI at the end, but I'm more than willing to forgive that when everything else is so effective). This movie never stopped haunting me as it's very similar to one of my recurrent nightmares in some ways: I'm in the middle of a zombie apocalypse but I can only just briefly see the hordes (if at all); I see the aftermath of their passage, I might hide with other survivors and hear them coming but I'm never in the middle of the action. I've always felt like this movie was made by someone who really understands my fears and I'm grateful for that. Like any good horror movie this one is uncompromising and never waters down its message nor its concept for the sake of a thoughtless audience that wants to see the same fast food formula over and over, like a ghost it hovers back and forth between a deeply rooted pessimism/nihilism and the courage of those who understands that fulfilment comes within us and nowhere else. Only then we can truly connect. It's also interesting to note that there were almost no adults present in this movie, it really makes you feel the struggle of the middle class youth to make it through unexpressed and wasted potential. Sorry for the long review but I'm really passionate about this movie, thanks so much Shudder for this entry!
This movie is a wonderfully subtle modern ghost tale
Okay, Shudder. Says "English" in the description. Japanese with English subtitles really doesn't count as English (we call that 'Japanese with English subtitles'). This is exactly why I left Netflix. Nothing at all against foreign movies coz sometimes they're really great but if I wanna 'read' the whole movie, I'll pick up a book.