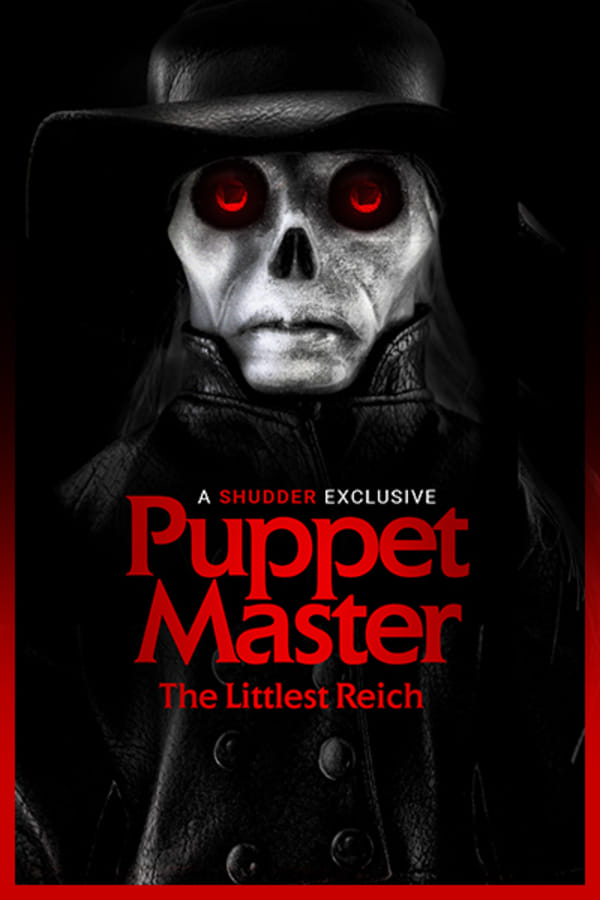 Puppet Master: The Littlest Reich
Directed by Sonny Laguna, Tommy Wiklund
When recently divorced Edgar finds a nefarious looking puppet in his deceased brother's room, he decides to sell the doll at a small-town celebration of the infamous Toulon Murders. But all hell breaks loose when a strange force animates the puppets at the convention, setting them on a bloody killing spree motivated by an evil as old as time. From FANGORIA, PUPPET MASTER: THE LITTLEST REICH is the goriest good time of the year. A SHUDDER EXCLUSIVE.
A strange force reanimates Toulon's Puppets, setting them on their bloodiest spree yet.
Cast: Thomas Lennon, Jenny Pellicer, Udo Kier, Barbara Crampton, Michael Paré
Member Reviews
Not as good as I wanted it to be. For a comedy it has very few laughs. Tom Lennon's performance was weirdly toned down, teetering on bland. All my skulls are for the kills, which were AWESOME. Outside of that this movie is pretty f*cking boring.
Falls into the "so bad but i can't stop watching" category for me. The effects are hilariously bad, as is the acting. But it feels self aware of how terrible or schlocky it is, and fully embraces it. Some of the kills are so over the top & had me rolling in laughs. I can't say it is a film i will be rewatching, but i did not hate it.
Funny stuff, enjoyed watching it, can't wait for the next.
LOVED IT! REEDYBIRD SAYS TAKE A PEEK! OH AND BE SURE TO WATCH THE FUN SURPRISE SCENE AFTER THE CREDITS! 5/5
As a person who loves B and C horror movies, I have watched all the Puppet Masters (thanks Walmart and the 5$ bin). Anyways, was nice to see this franchise with better graphics, "acting" (sorta) and story. You have to be prepared that its gonna be super cheesy and over the top in some ways, if you keep that mindset in mind you will enjoy it.