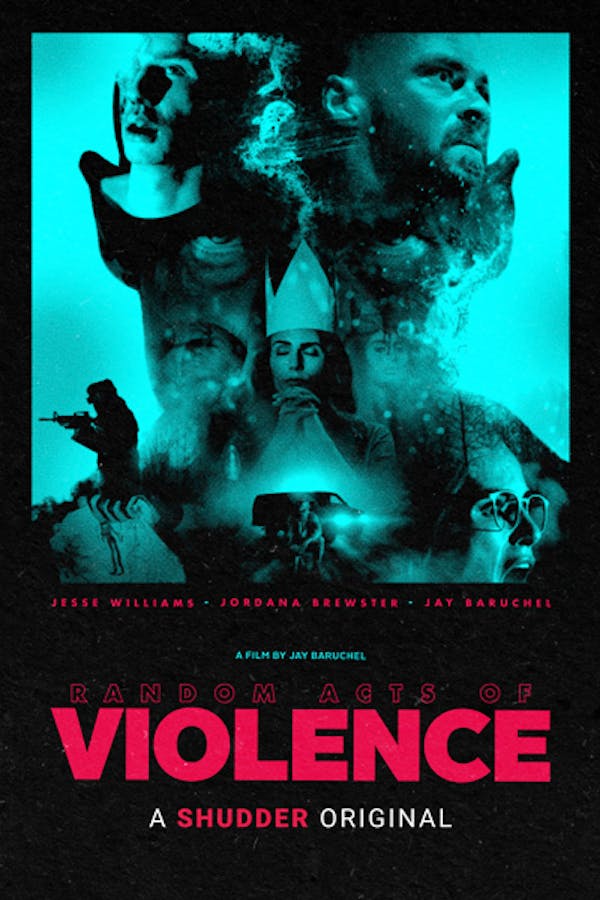 Random Acts of Violence
Directed by Jay Baruchel
When comic book creator Todd Walkley embarks on a road trip to a convention, people start getting killed. It soon becomes clear that a crazed fan is using Todd's "SLASHERMAN" comic as inspiration for the brutal murders. As the bodies pile up–and Todd's friends and family become victims themselves–Todd will be forced to take artistic responsibility. A SHUDDER ORIGINAL
A masked maniac uses a comic book killer for inspiration in this vicous slasher from Jay Baruchel.
Cast: Jesse Williams, Jordana Brewster, Jay Baruchel, Niamh Wilson
Member Reviews
really suprised me this movie.....a great horror flick
I'd rate this a 4.5/5. What bothered me was the main character's skin tone was different than their younger version. It starts off a bit slow,but it's a great movie overall. Lots of gory scenes if you're into that.
Ok, so Baruchel is asking himself, "Am I just going to make another slasher film?" That doesn't necessarily feel good, so he decides there has to be a point to it. Well, the point to art is that it tells a story. So the point of the story is to tell the story in a way that implies meaning. So that is the meaning: how do we show/demonstrate/imply meaning? Slasherman wants to imply one meaning, Todd another. The problem is that it gets so wrapped up in it meta narrative it forgets to tell a good story itself: the killer is not very compelling (we never find out why he started killing, only that he re-started when Todd decided to end the comic book) and the ending is kind of unsatisfying, as it doesn't really answer the questions it raises. For people confused about the Black kid: when he wrote himself into the comic book he wrote/drew himself in as a Black kid instead of a white kid (that's part of the reason why the DJ doesn't know he was also a victim of the I-90 killer). As a twist it also feels unsatisfying, because white kids and Black kids are not interchangeable. But that's liberal colorblind politics for you. ;)
Not great. It was all over the place and not as clever as it thought it was. And why was the main character , who is definitely not black ethnicity, portrayed as black when he was a boy ? Very strange indeed !
Really enjoyed this, and I don't understand why the ending is so confusing to most people.