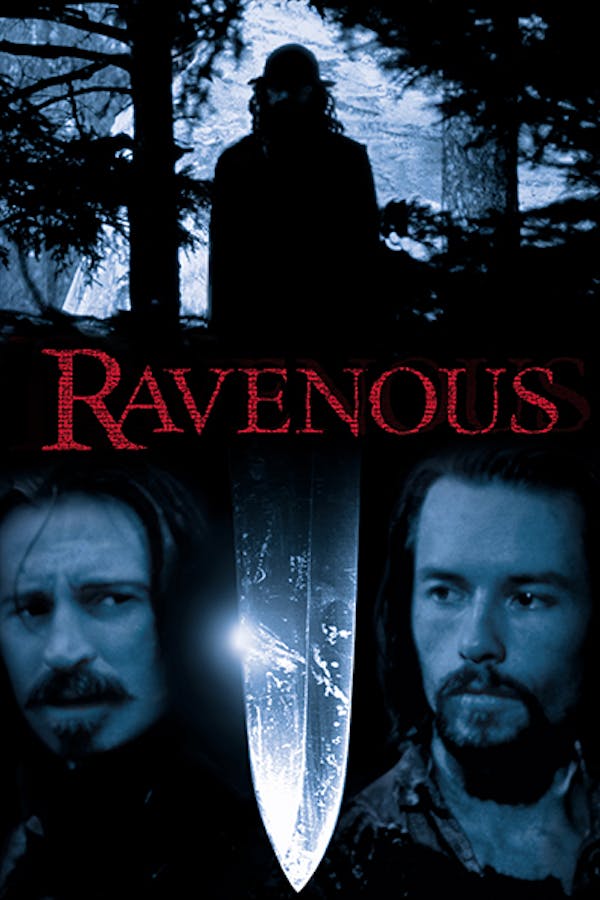 Ravenous
Directed by Antonia Bird
In 1847, the United States was a land of pioneers, of gold-starved Americans making their way west. It was a period of Manifest Destiny, the inevitability of the country extending its boundaries, stretching out its arms and consuming all the land it could. Capt. John Boyd (Guy Pearce) has become both a "hero" and a victim during this period of relentless consumption... in ways he could never have imagined. Boyd's journey to hell begins when an act of cowardice during a horrific Mexican-American War battle earns him banishment to a desolate military outpost, a waystation for western travelers in the barren and icy Sierra Nevada mountains in California.
Soldiers stationed in a remote outpost during the Mexican-American war have a close encounter with cannibalism.
Cast: Guy Pearce, Robert Carlyle, David Arquette
Member Reviews
Fantastic story, great acting, very frightening
I saw this movie when it first came out (showing my age) I absolutely loved it! It came out at a time when the horror scene had become stagnant. Original story line, very well acted and my go to when I'm asked for recommendations.
'He was licking me!' That plaintive, disgusted wail is pretty unforgettable once you've seen this one-of-a-kind tongue-in-cheek/blood-in-mouth historical horror movie that has garnered an appreciative cult audience.
This is hands down one of my favorite movies. I found it via a list of female horror directors years ago and ever since I love rewatching it. You can't go wrong with homoerotic cannibalism (I get the funny feeling Bryan Fuller saw this film before he adapted Hannibal for TV.) This film also packs in social/historical commentary and criticism of Manifest Destiny. I love a good vegetarian horror project from a vegetarian POV (the director, Guy Pearce, and I think the screenwriter were all vegetarian at the time of the film.) The cast is amazing but special shout-out to Robert Carlyle for this manic, bizarre, amazing performance. In any given project, Robert Carlyle is either a romantic comedy hero or the Devil Himself, and in this he plays BOTH! Genius! This is my favorite romantic comedy.