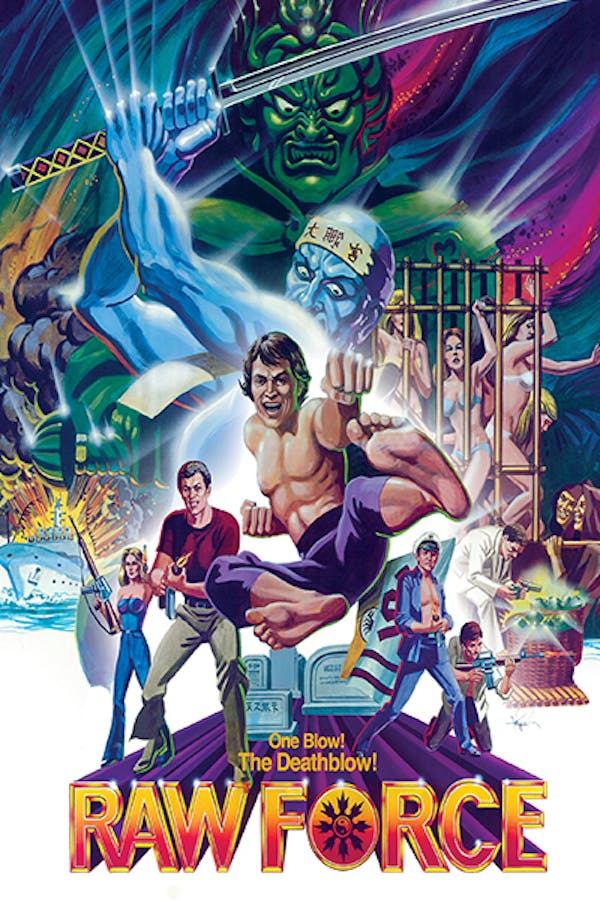 Raw Force
Directed by Edward D. Murphy
Welcome to Warrior's Island, burial ground of disgraced martial arts masters! When the Burbank Kung Fu Club travels to this mysterious island, they quickly find themselves facing the bloodthirsty vengeance of flesh ripping kung fu fighting zombies, gun-toting white slave traders and a band of strange monks, who may be the only key to explaining the madness. Edward Murphy's RAW FORCE is a virtual smorgasbord of over the top sleaze -- mixing zombies, cannibals, outrageous action, gore, copious amounts of nudity and starring exploitation greats, Cameron Mitchell and Vic Diaz. Contains sexual scenes.
The Burbank Kung Fu Club faces kung fu fighting zombies, slave traders and a band of strange monks on Warrior's Island.
Cast: Vic Diaz, Cameron Mitchell, Hope Holliday
Member Reviews
raunchy b movie filled with tna, perfectly fun movie with extra cheese!
Decent B movie. Lots of cheese and T&A. I'll probably buy this one at some point. I would put it in so bad it's good category. Don't listen to the people saying it's an awful movie. They have ZERO clue what they are talking about. Also, don't trust IMDB. I'm pretty sure the girl they credit as Mary Miller (the girl tied to the bed), is not Mary Miller.
Not really horror, but it has Hitler with a rocket launcher so it deserves some slack
It has its fun moments, but often time drags. Zombies don't appear until an hour into the movie!
ZOMBIES! KUNG-FU! CANNIBALS! BOOBS!! Raw Force is a mix of martial arts and horror elements presented in a grindhouse fashion. This isn't the greatest movie of all time and I think they knew that going in. If you're looking for some fun action and tons of nudity you'll get it here.