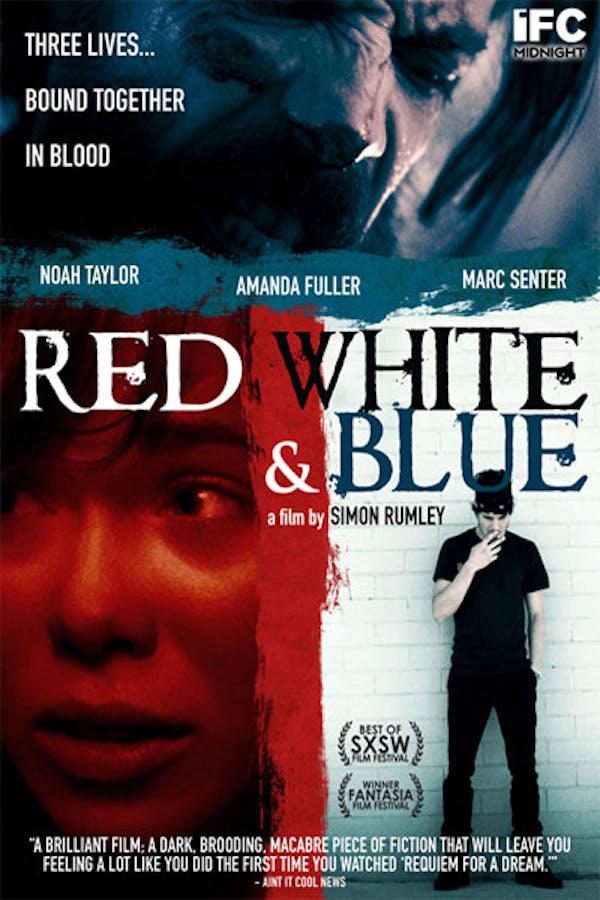 Red White and Blue
Directed by Simon Rumley
This slow-burning story of a promiscuous woman builds to an brutally shocking climax. Erica spends her nights trawling the bars and beds of Austin. Damaged, emotionally withdrawn, sleeping with multiple men is just what she does until she meets Nate who has an honorable discharge from Iraq. Despite his quiet air of danger, Nate's the only guy who doesn't seem to want to get her into bed right away and the two form a hesitant bond. But one of Erica's casual sexual encounters is about to bite back in a big way. Controversial, squirm-inducing and very nasty... R18 Sadistic violence, drug use, offensive language and sex scenes Contains strong language, sexual scenes, violence and gore.
This slow-burning story of a promiscuous woman builds to a brutally shocking climax.
Cast: Amanda Fuller, Marc Senter, Jon Michael Davis, Noah Taylor
Member Reviews
A horror set up in today's reality brilliant movie best I've watched in ages
Saw this when it first came out and had no idea what I was in for. If you're on shaky emotional ground, stay 7 suburbs away from it. There are no heroes, in a movie that makes you question morality and revenge. Bleak, extremely brutal and, *gulp*, beautiful. There are a few reviews here that question its 'horror' status. It IS a truly horrifying movie that will have you going "Oh, no, no, no, no, no... please don't do that". It's also horrifying in how utterly SAD it is. The second time I saw it I was crying (I'd had a few) about half an hour in, as I knew what was coming. If you're gonna watch it DO NOT READ FRANTASIA'S REVIEW! TOTALLY GIVES THE GAME AWAY.
I've never written a review before but this movie was tragically beautiful. Spoiler alert. For Nate to have finally found love and so had Erica only for it to be taken away from them so brutally. Don't get me wrong I totally get why Frankie did what he did but nonetheless it could send someone like Nate into a tailspin and the photo at the end of the movie just broke my heart.