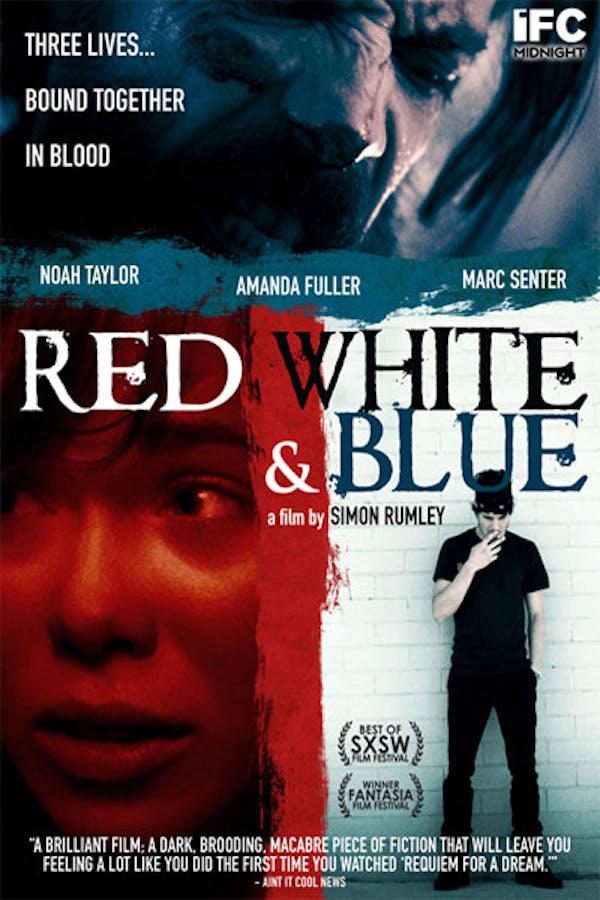 Red White and Blue
Directed by Simon Rumley
This slow-burning story of a promiscuous woman builds to an brutally shocking climax. Erica spends her nights trawling the bars and beds of Austin. Damaged, emotionally withdrawn, sleeping with multiple men is just what she does until she meets Nate who has an honorable discharge from Iraq. Despite his quiet air of danger, Nate's the only guy who doesn't seem to want to get her into bed right away and the two form a hesitant bond. But one of Erica's casual sexual encounters is about to bite back in a big way. Controversial, squirm-inducing and very nasty... R18 Sadistic violence, drug use, offensive language and sex scenes Contains strong language, sexual scenes, violence and gore.
This slow-burning story of a promiscuous woman builds to a brutally shocking climax.
Cast: Amanda Fuller, Marc Senter, Jon Michael Davis, Noah Taylor
Member Reviews
Not a horror but a good movie. I was wondering where this movie was going and half way through got a bit lost but then it all joined together. Had to stop looking at some scenes near the end as clearly sadistic. Overall a good movie that was although a gradual pace throughout, climaxed at the end..in an unexpected finish.
ThrillerFreak is right. Dont read Fantasia's review. Fantasia deserves to walk on Lego
I haven't watched this yet, but I wanted to be one of the cool kids like "thrillerfreak" and write a review about the reviews....😂😂😂😂
Thankyou Chalkie for the warning re "Fantasia's "review. I hope the idiot will understand at some stage that reviews are not for the pre se of a story, we do not need her to retell a story , reviews are not meant to ruin it for everyone else. Reading that review then would've. Found the movie very ...moving to put it simply & recommend watching it.....AND DONT READ FANTASIA'S REVIEW - IF YOU DONT WANT THE WHOLE THING RUINED FOR YOU......am sure you dont need her take on the story to understand it :) smh