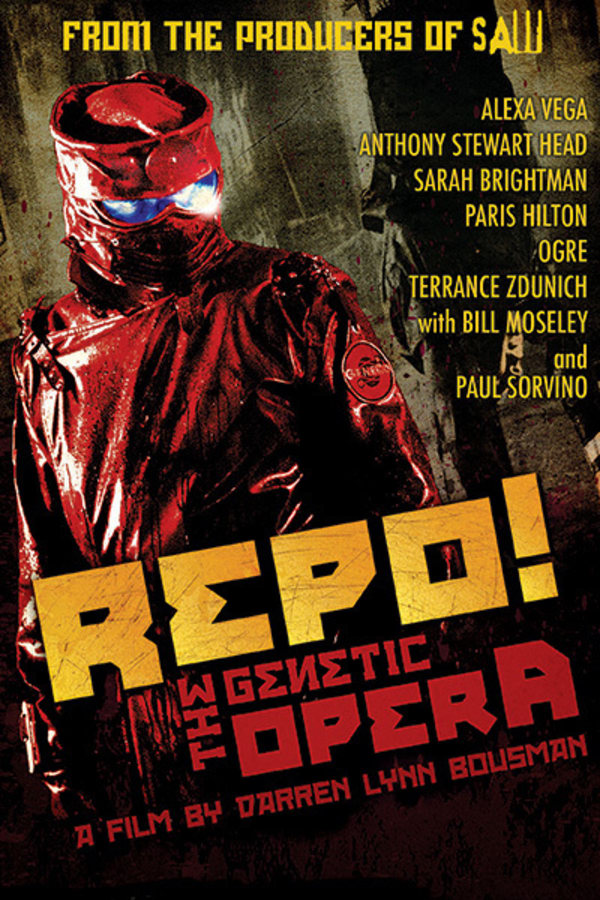 Repo! The Genetic Opera
Directed by Darren Lynn Bousman
Darren Lynn Bousman's cult horror rock opera takes place in a futuristic world where a ruthless corporation called GeneCorp sends repo men to collect unpaid organ transplants. Sure, the repossession usually kills the delinquents, but hey, business is business! But when the ailing CEO of GeneCorp decides he wants to leave his empire to his ex's daughter, instead of his three creepy kids, a deadly drama ensues in which all the long-buried secrets come to the surface. Bousman's genre-busting oddity garnered a cult fanbase and comparisons to THE ROCKY HORROR PICTURE SHOW.
This cult horror rock opera is set in a future where repo men collect unpaid organ transplants.
Cast: Alexa Vega, Anthony Stewart Head, Sarah Brightman, Paris Hilton
Member Reviews
This isn't exactly a "Horror". But it's an EXCELLENT flick. It's kinda like "Rocky Horror Picture Show" but extremely gory and with a real story line. And it's an Opera. Hearing it was gonna be an opera like film I wasn't gonna watch it, but I ended up buying the BLU RAY special edition After watching it for the first time. It's one of my top 10 favorite movies.
This movie is like Sweeney Todd meets dystopian future society with father daughter drama, dark humor and corporate greed.
original and awesome cult classic
I just wish Paris Hilton wasn't in it... that is all.
Before I saw this movie, I was like wtf?? That sounds like the stupidest thing ever. I was so, so wrong! It's awesome.. really really awesome.