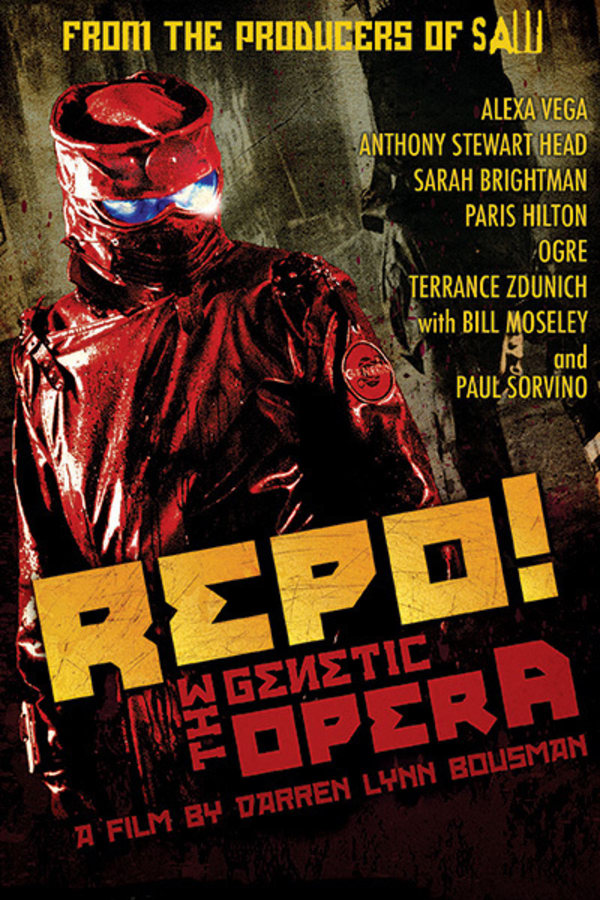 Repo! The Genetic Opera
Directed by Darren Lynn Bousman
Darren Lynn Bousman's cult horror rock opera takes place in a futuristic world where a ruthless corporation called GeneCorp sends repo men to collect unpaid organ transplants. Sure, the repossession usually kills the delinquents, but hey, business is business! But when the ailing CEO of GeneCorp decides he wants to leave his empire to his ex's daughter, instead of his three creepy kids, a deadly drama ensues in which all the long-buried secrets come to the surface. Bousman's genre-busting oddity garnered a cult fanbase and comparisons to THE ROCKY HORROR PICTURE SHOW.
This cult horror rock opera is set in a future where repo men collect unpaid organ transplants.
Cast: Alexa Vega, Anthony Stewart Head, Sarah Brightman, Paris Hilton
Member Reviews
Love this movie, it is dark and just plain good. Had to watch it again as a fellow Army vet and I got to talking about it and the Goth stuff. My husband couldn't keep his eyes off of Amber Sweet's (Paris Hilton's) provocative dance.
Is you like low brow horror musicals (like I do), you'll love it
You will either love or hate this film. There's no middle ground! You must enjoy musicals, horror, and cheeky commentary. No! The commentary isn't subtle! No, it's not a masterpiece of writing! No, Anthony Stewart Head and Alexa Vega aren't the best singers in the world! But you know what what? ITS A FUN MOVIE! And, frankly, growing up in theatre, the audience will always forgive an emotional actor who isn't the best singer...but they will never forgive an amazing singer who cannot act! Give it a shot!
This is an unusual idea, and worth a look. It could have been a little better developed, and here and there we see pieces of what it could have been. Overall good, but I would have liked to see a more developed version of this.
I thought at first, wtf? Why? But now I know why it's a cult classic. Fun, gory, funny, appeals to the true horror fan that hasn't given in to snobbish tendencies and can still enjoy a movie made for pure viewing enjoyment.