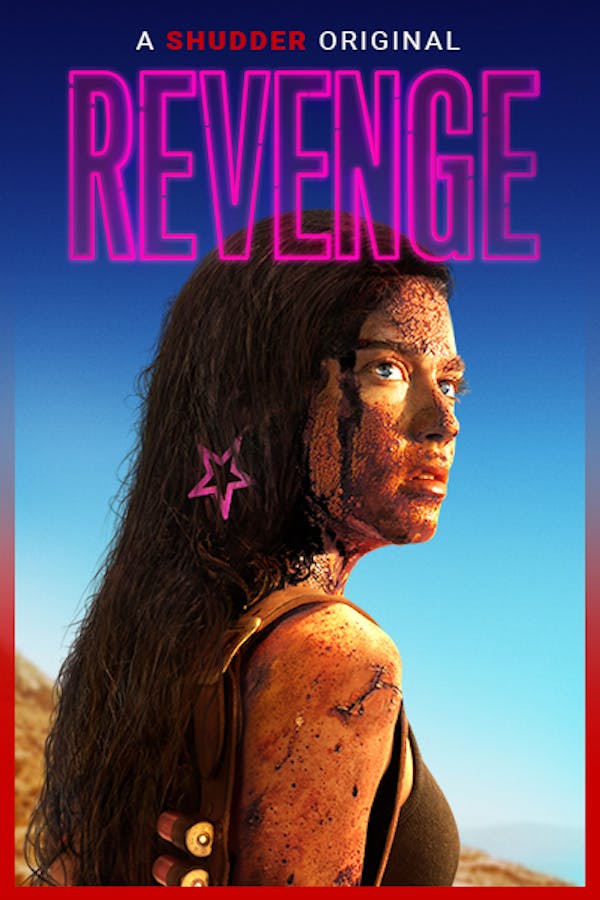 Revenge
Directed by Coralie Fargeat
Jen is enjoying a romantic getaway with her wealthy boyfriend, which is suddenly disrupted when his sleazy friends arrive for an unannounced hunting trip. Tension mounts until the situation abruptly––and viciously––intensifies, culminating in a shocking act that leaves Jen left for dead. Unfortunately for her assailants, Jen survives and reemerges with a relentless, wrathful intent: revenge. A white-knuckle tale of transgression and transformation, REVENGE gloriously blurs the lines of vengeance and survival while delivering a ferocious dissection of gender and genre. Director Coralie Fargeat announces her stunning arrival, painting a crimson canvas of hypnotic beauty and bloody retribution in this razor-sharp feminist subversion of the revenge-thriller. A SHUDDER ORIGINAL.
A young woman takes vengeance on the three married men who left her for dead in the boldest, bloodiest film of the year.
Cast: Matilda Lutz, Kevin Janssens, Vincent Colombe, Guillaume Bouchede, Jean-Louis Tribes
Member Reviews
Payback ! Love the way the movie got deep into the mindset to survive!
I love rape revenge movies. This one is very good. Great satisfaction done to the bad men!!
The ULTIMATE in the Rape Revenge genre. The fact that it was written and directed by Coralie Fargeat, a very talented woman, really shines through in bloody good way. One flaw I often see in this sub-genre is the assumption that the vulgar brutality forced on the protagonist in the beginning is what's needed to justify the extreme violence portrayed in the second and third acts. Don't get me wrong, what happens to our protagonist in the first act is a very tough watch but, in my opinion, is perfectly handled by Fargeat. She understands that implied violence can be, at times, more effective. Fortunately Fargeat knows how to perfectly display the implied and straight up violent gore.
Thoroughly enjoyed it. Very gory & it definitely keeps you engaged. A bit far fetched when it comes to injuries your body can sustain but, hey, it's a movie & that's what makes it awesome!! Matilda Lutz is a total badass babe & those douchers never saw what was coming. Excellent!
Well done, entertaining movie.