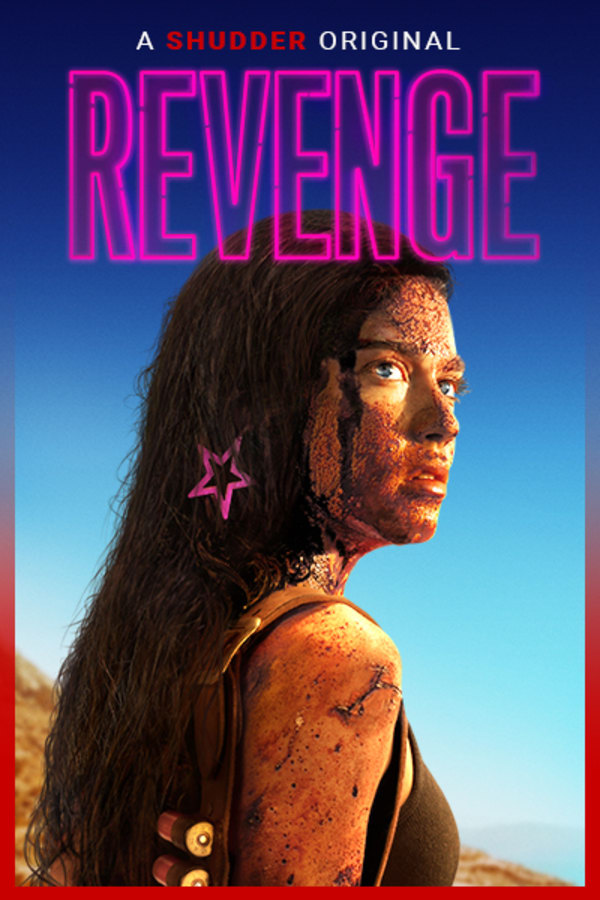 Revenge
Directed by Coralie Fargeat
Jen is enjoying a romantic getaway with her wealthy boyfriend, which is suddenly disrupted when his sleazy friends arrive for an unannounced hunting trip. Tension mounts until the situation abruptly––and viciously––intensifies, culminating in a shocking act that leaves Jen left for dead. Unfortunately for her assailants, Jen survives and reemerges with a relentless, wrathful intent: revenge. A white-knuckle tale of transgression and transformation, REVENGE gloriously blurs the lines of vengeance and survival while delivering a ferocious dissection of gender and genre. Director Coralie Fargeat announces her stunning arrival, painting a crimson canvas of hypnotic beauty and bloody retribution in this razor-sharp feminist subversion of the revenge-thriller. A SHUDDER ORIGINAL.
A young woman takes vengeance on the three married men who left her for dead in the boldest, bloodiest film of the year.
Cast: Matilda Lutz, Kevin Janssens, Vincent Colombe, Guillaume Bouchede, Jean-Louis Tribes
Member Reviews
While the filming tech skills were there, the execution of the story was terrible. Too many things were unrealistic or not well researched. Yet another story reliant on a woman suffering (especially rape) in order to change her. She went from a ditzy mistress to a skilled killer because of a rape and a fall? She didn't even have the music player and lighter when she fell. Some shots of her after she fell didn't include her back injury. Blood loss was unrealistic. Injuries were unrealistic. If it was purposely unrealistic, it missed making that clear. Points for making the men realistic in their portrayal instead of the stereotypical rapist that is poised throughout the whole thing as nice and such. Had potential and didn't live up to it.
Loads of blood and a good cast. Not a bad revenge type film but pretty predictable. Some parts implausible, but overall fun to watch.
Fantastic. Bloody, suspenseful, good performances. If revenge thrillers are your jam, this flick is your toast.
i have no issue with the cheesiness of her surving after the push off the cliff and it showing her losing so much blood. but what i do have an issue with is that they have scopes on shotguns, atleast do that right and get an actual rifle! they treated it as if were a long range rifle but its a shotgun. do your research if youre making a movie please. the scene where she shoots him from far away as he puts gas in the SUV is ridiculous! they made it seem like shes shooting a long range rifle but its a shotgun. the BBs in a shotgun shell would never reach that distance and even if they did it wouldnt hurt anyone. you cant put a scope on a shotgun and pretend its a rifle if you keep showing that its a shotgun. rant over lol
Dull, ridden with cliches, and far too stylized and PRETTY to be as brutal as it thinks it is. This one won't age well, all style and no substance. Does have some pretty well-executed gore and Smokin' Hot, filthy, bloody GUY ASS if that's your thing.