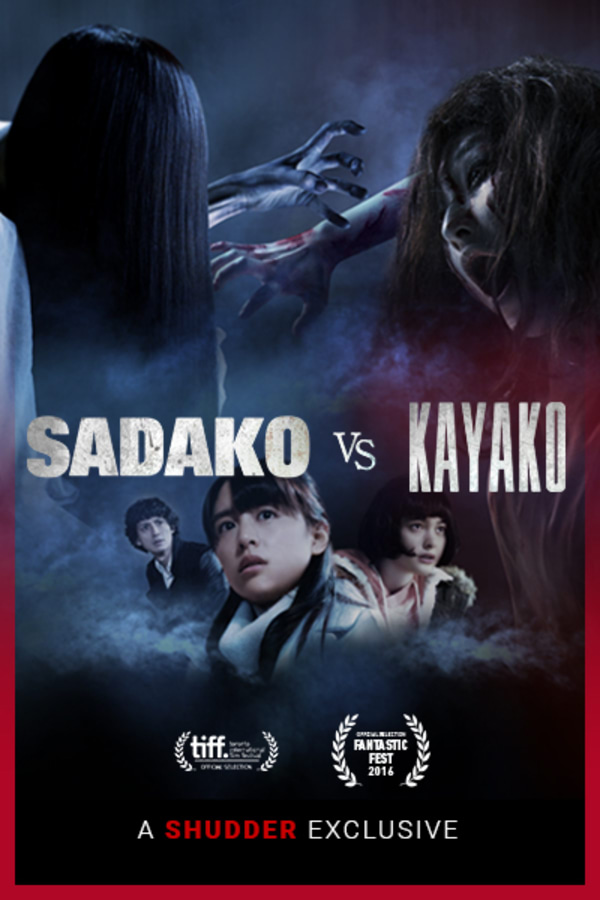 Sadako vs. Kayako
Directed by Koji Shiraishi
After viewing a legendary cursed videotape, Natsumi discovers she has only two days before she will be killed by the demonic entity known as Sadako. The only way to break the curse: pitting the demon Sadako against Kayako, an accursed spirit possessing a haunted house where everyone who enters disappears. SADAKO VS. KAYAKO brings the characters from RINGU and JU-ON: THE GRUDGE back to the big screen in a wildly fun, tongue-in-cheek thrill ride that finally answers the question: whose curse is stronger?
The vengeful spirits of the Ring and Ju-on series face off.
Cast: Mizuki Yamamoto, Tina Tamashiro, Runa Endo, Elly Nanami
Member Reviews
80 minutes of context. 18 minutes of camera switching between Sadako, Kayako, and both protagonists shrieking while staring.
Surprisingly reverent of its spooky stars and source material. Well, until the end. I had been wondering how they they were going to visualize the conflict between these specters - surely they're not going to literally, physically *fight*, right? Haha, oh, I am so naive. And the ending gets more ridiculous from there. I did like how we get to see a couple other characters how had been annoying and arrogant the whole movie get completely owned by their own hubris at the end. I'd say the movie's a hoot overall, but fans of The Grudge might be disappointed this plays very much like "Sadako with Special Guest Kayako" - they even give the latter a makeover with browner, bushier hair apparently in an effort to make the ghosts more distinct from each other. Sadako, diva that she is, gets to retain her look. You could say she's the 'winner' because the movie obviously treats her like the bigger star.
Not expecting that ending, but it was pretty enjoyable!
Goofier than I expected, but still an enjoyable watch.