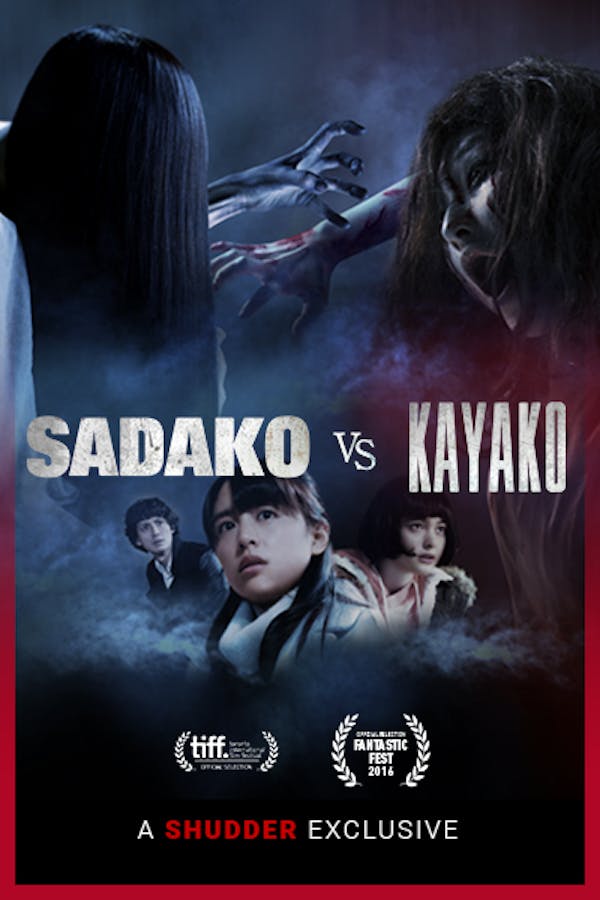 Sadako vs. Kayako
Directed by Koji Shiraishi
After viewing a legendary cursed videotape, Natsumi discovers she has only two days before she will be killed by the demonic entity known as Sadako. The only way to break the curse: pitting the demon Sadako against Kayako, an accursed spirit possessing a haunted house where everyone who enters disappears. SADAKO VS. KAYAKO brings the characters from RINGU and JU-ON: THE GRUDGE back to the big screen in a wildly fun, tongue-in-cheek thrill ride that finally answers the question: whose curse is stronger?
The vengeful spirits of the Ring and Ju-on series face off.
Cast: Mizuki Yamamoto, Tina Tamashiro, Runa Endo, Elly Nanami
Member Reviews
As a huge fan of both franchises I was a bit sketchy going into this movie. After all it would be nearly impossible to top the brilliance from both respective movies. However, I was pleasantly surprised. I really liked how the movie tried to build both curses and bring the overwhelming presence from both entities to the forefront of this movie. It definitely had more of a build to one of the curses compared to the other; but it was a for a particular reason. Some don't like the ending because it may seem a bit forced and rushed, and it was, but it explains the evolution of one of the curses in particular. I definitely recommend this movie if your a fan of both franchises.
Absolutely stellar film! Enjoyed it from start to finish. Huge fan, reader AND watcher, of the Ring series. I'm also fond of Ju-On, but more so of Ring. One thing that seems to be lost on many is the older a curse gets, the stronger it gets. Often times, a curse would evolve past what it originally stemmed from. So the happenings of this film make perfect sense. In an iteration of Ring, the death time was 13 days after watching, and then 7, 6, all the way to this one which is 2 days from watching the film. Ju-on curse seemed to forget about how and why it even existed, thus evolving it into pure darkness, much like how Sadako's darkness was explained within this film's lore. Thus, this film doesn't really stray away from the original lore, as it just simply evolved into a pure darkness. This, in turn, is how the ending is even possible. I would not be surprised at all if there were to be a sequel involving what happened at the end of this film. I honestly feel if they did make a sequel, the writers should be the creators of Ring and Ju-on, and should even make a cameo at the end (somehow putting rest to the curse....or did they? lol). Anyway, this film is excellent and obviously for the die hard fans of both Ring and Ju-on. Anyone else may find this to be lackluster and boring. Definitely getting 5+ skulls from me! I want more!!!
Not bad felt rushed towards the end of the movie. The ending is the only bad part, I wonder if there will be a second movie.
Sort of like a mash up of both movie's scares and then abruptly ends when there's no where to go. Entertaining in a schlocky way.