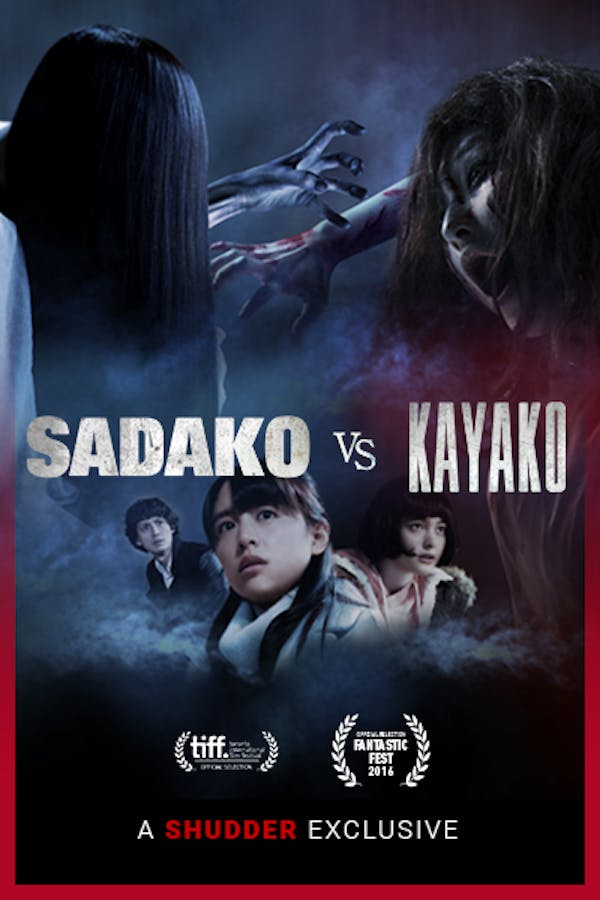 Sadako vs. Kayako
Directed by Koji Shiraishi
After viewing a legendary cursed videotape, Natsumi discovers she has only two days before she will be killed by the demonic entity known as Sadako. The only way to break the curse: pitting the demon Sadako against Kayako, an accursed spirit possessing a haunted house where everyone who enters disappears. SADAKO VS. KAYAKO brings the characters from RINGU and JU-ON: THE GRUDGE back to the big screen in a wildly fun, tongue-in-cheek thrill ride that finally answers the question: whose curse is stronger?
The vengeful spirits of the Ring and Ju-on series face off.
Cast: Mizuki Yamamoto, Tina Tamashiro, Runa Endo, Elly Nanami
Member Reviews
had some spooky moments but its basically a ring sequel with the grudge splashed in periodically.All the endings of these films are the same as well.Cant someone survive at least once?Whats the point of having these characters jump through hoops to avoid the ghosts when they just win anyway?i understand that its a curse noone can get out of but wouldnt it be interesting if you suprised the audience once?
Definitely an entertaining watch! I was super excited for this because Kayako is the scary movie villain who traumatized me growing up. It didn't disappoint!
It was an interesting and scary fun ride. The movie held my attention. Originally, I thought the premise was ridiculous and cheesy but it was executed nicely. This is not a deep movie but highly enjoyable. The female leads were all very pretty but quite stupid to do what they did — watching the tape and entering the house. But if they didn't do that, there wouldn't be this movie.
Movie was enjoyable, spookie jumps were delivered.
I've watched this so many times. This is porn for J-horror fans. It's really the first instance of bringing any comedy into either universe (the professor's reckless mannerisms and blind child psychic's wry attitude) though it was still overshadowed by total darkness and doomed endings (which is awesome). Also the demon bounty hunter guy was badass and fun too. So many good kills and beautiful people! Horror at its best.