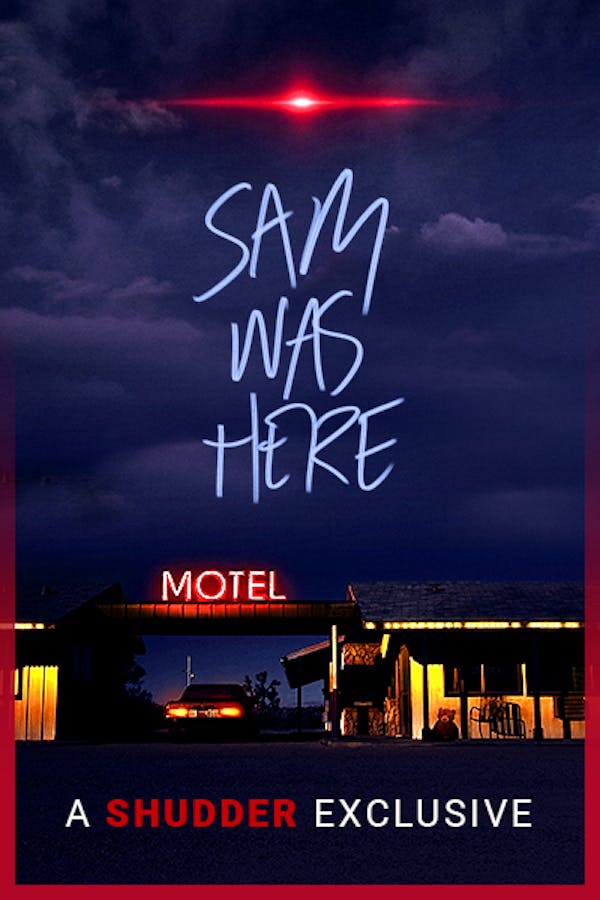 Sam Was Here
Directed by Christophe Deroo
Sam's having a bad trip home. There's nobody at any rest stops, and his wife won't take his calls. When his car breaks down, Sam steps out and sees a strange red light in the sky. Things quickly go from bad to worse when masked maniacs soon start hunting him, insisting that he's a killer who's been menacing locals. As Sam struggles to repel his attackers, he must unravel the mystery of what's happening to him before it's too late. Like an episode of "Black Mirror" if it was directed by the spawn of David Lynch and Rob Zombie, SAM WAS HERE traps viewers inside a gruesome waking nightmare from which there is no escape. A SHUDDER EXCLUSIVE
A traveler is hunted by locals after his car breaks down in a mysterious area.
Cast: Rusty Joiner, Sigrid La Chapelle, Rhoda Pell
Member Reviews
Yeah it takes a while to get into but worth the watch.. Also hoping thats what actually happens to child molesters
A slowburner with a good premise that is completely ruined by the over-pretentious ending. Sometimes leaving too much in the open is not the best cinematic choice and this is clearly a good example of it, which is totally a shame because this could have been so much better if the plot would have been kept simpler. This one didn't really work for me and I love movies who leave you thinking 'what the hell just happened?'. In my opinion, not a matter of understanding it or not, I just think the filmmakers tried to bite more than they could chew on this one.
Time waster. Nothing, literally nothing happens until about mid point. Then you are given absolutely NO explanations on anything...not the red light constantly shown in the sky, that you would think has meaning seeing how it's showcased non-stop. Not why on what's happening to Sam. Not why Sam just didn't jump in the cop car and drive away while he had the chance. Not sure who the man is at the end. Not sure why the housekeeper is trying to clean that shower curtain. Maybe this is the director's poor attempt at "pulling it together" for us. Terrible. Except for the acting.
As someone says below: "don't pay too much attention to the bad reviews. If it's coming from people that need t be given answers on a silver plate and smack them in the face with it to like a movie, it is simply not the one for them". Well - this movie was not for me. I don't need to be smacked in the face with the plot, but the lack here made the movie feel more than a 'mood piece' than a coherent story. I don't need a lot of plot - but I do need some. Without it the movie just becomes a bunch of semi-violent scenes with no links. Having said that, three stars as what plot was included was interesting.
I thought the movie was good until the ending. I thought sam should get out of the bad way he was being victimized and assaulted and that is the way it should end. but hey that is just my way of wanting the happy ending for the fairy tale. good saying out of evil in the world for us all. there is always good for us like bad to us all. I thought it was actually a bad dream at some points I also the storyline was lost at times not knowing where or how they were going to end it.