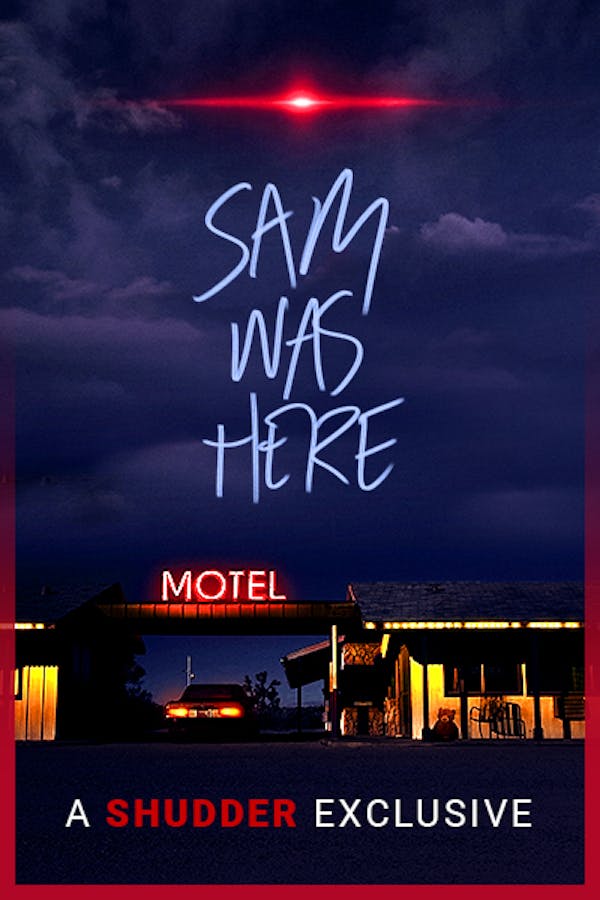 Sam Was Here
Directed by Christophe Deroo
Sam's having a bad trip home. There's nobody at any rest stops, and his wife won't take his calls. When his car breaks down, Sam steps out and sees a strange red light in the sky. Things quickly go from bad to worse when masked maniacs soon start hunting him, insisting that he's a killer who's been menacing locals. As Sam struggles to repel his attackers, he must unravel the mystery of what's happening to him before it's too late. Like an episode of "Black Mirror" if it was directed by the spawn of David Lynch and Rob Zombie, SAM WAS HERE traps viewers inside a gruesome waking nightmare from which there is no escape. A SHUDDER EXCLUSIVE
A traveler is hunted by locals after his car breaks down in a mysterious area.
Cast: Rusty Joiner, Sigrid La Chapelle, Rhoda Pell
Member Reviews
I love the weirdness and uniqueness of the film. Great cinematography and atmosphere - a film that you talk about with your friends for ages to theorize wtf happened BUT also you are left questioning did you just waste like 1 hr 15 mins of yours time for a movie that could've have been done in 20 mins?
I completely understand why people might complain about this movie. Its pacing is very slow, and the movie raises a lot of interesting questions and answers virtually none of them. But in my opinion, that's what makes this movie brilliant. It leaves so much to the imagination and to interpretation. One of my complaints about many horror movies is that they say too much or show too much. The "unknown" is probably the most basic fear in humans, and not understanding what is happening in this movie is what makes it so disturbing and creepy. I think the director exercised a great deal of restraint here, and the result is a masterpiece of horror.
It was long and drawn out.
Saw the twist coming but was still good
This movie has fantastic atmosphere, but if you're looking for a film with answers, you ain't gonna find it here. I enjoyed it, but I'm the kind of viewer that is okay with no answers if everything else is done well, which this movie dose. So I don't recommend it to everyone, but if you're into these kind of films, you'll dig it.