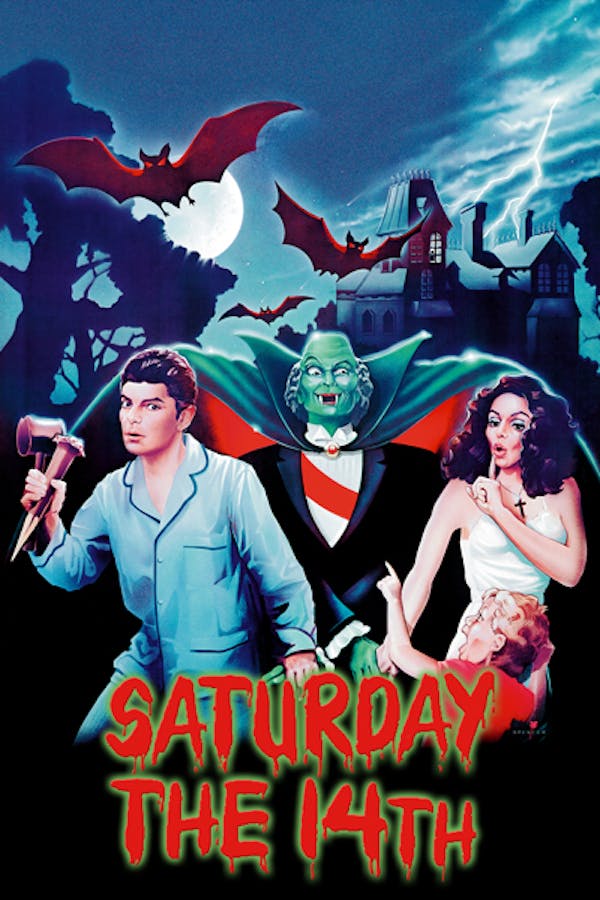 Saturday the 14th
Directed by Howard Cohen
Pennsylvania is beginning to look a lot like Transylvania in the horror spoof Saturday The 14th! John and Mary can't believe their good fortune when they inherit the vast estate of John's recently departed uncle. Sure, it's a fixer-upper. But there's nothing that can't be taken care of with a fresh coat of paint, a little dusting ... and maybe an exorcist! It turns out that they've just moved into the most eerie house in Erie, PA — and one that some loathsome looky-loos are simply dying to take off their hands!
It's the second unluckiest day of the year.
Cast: Richard Benjamin, Paula Prentiss, Severn Darden, Jeffrey Tambor, Kari Michaelson
Member Reviews
I loved this movie when I was a kid. Watching it all these years later it didn't hold up very well. It was still fun to watch a movie from my childhood. I'm glad Shudder got this.
Theater watch, and a disappointment. The head in the fridge was cool, I suppose.
Well I thought it was funny.
It's not funny. I watched it to the end, and I'll never get that time back. Jeffrey Tambor was good at least.
The type of spoof movie that I miss. Alot better than the Scary Movie crap. A decent laugh that winks at the audience without being out idiotic.