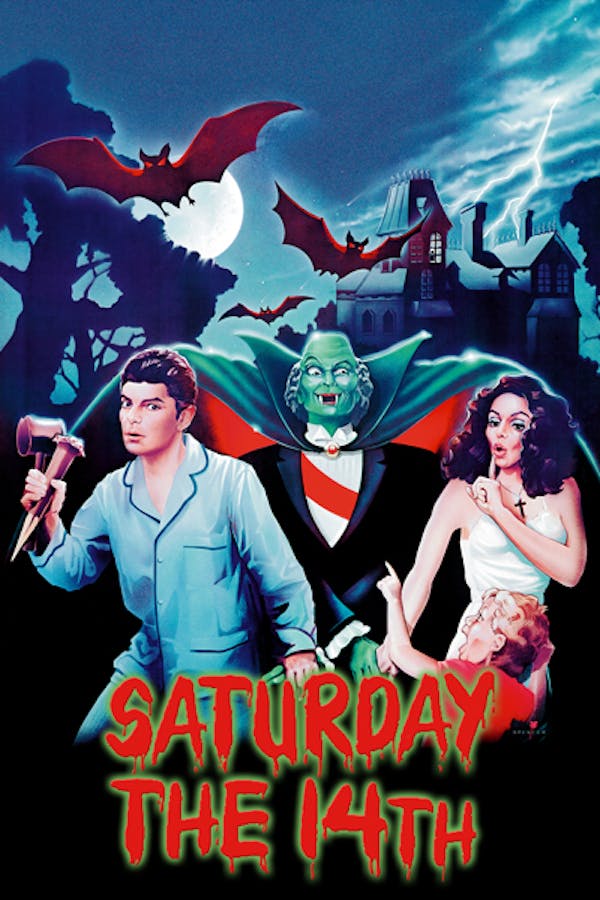 Saturday the 14th
Directed by Howard Cohen
Pennsylvania is beginning to look a lot like Transylvania in the horror spoof Saturday The 14th! John and Mary can't believe their good fortune when they inherit the vast estate of John's recently departed uncle. Sure, it's a fixer-upper. But there's nothing that can't be taken care of with a fresh coat of paint, a little dusting ... and maybe an exorcist! It turns out that they've just moved into the most eerie house in Erie, PA — and one that some loathsome looky-loos are simply dying to take off their hands!
It's the second unluckiest day of the year.
Cast: Richard Benjamin, Paula Prentiss, Severn Darden, Jeffrey Tambor, Kari Michaelson
Member Reviews
Would have enjoyed lots when I was 10
very corny, not in a fun way. a few jokes that hit but other then that its one that was a bit hard to sit through. very good if you had a drink to go with it.
This movie blew my expectations completely out of the water. Super campy and all around hilarious. Lots of goofy visual gags in the style of movies like Airplane, The Naked Gun, Hot Shots, etc. This is something the whole family could easily enjoy. Sure it seems rather low budget, whether intentional or not, but it feels like a lot of love was put into crafting it. A for sure watch.
I had a *hell* of a lot of fun watching this