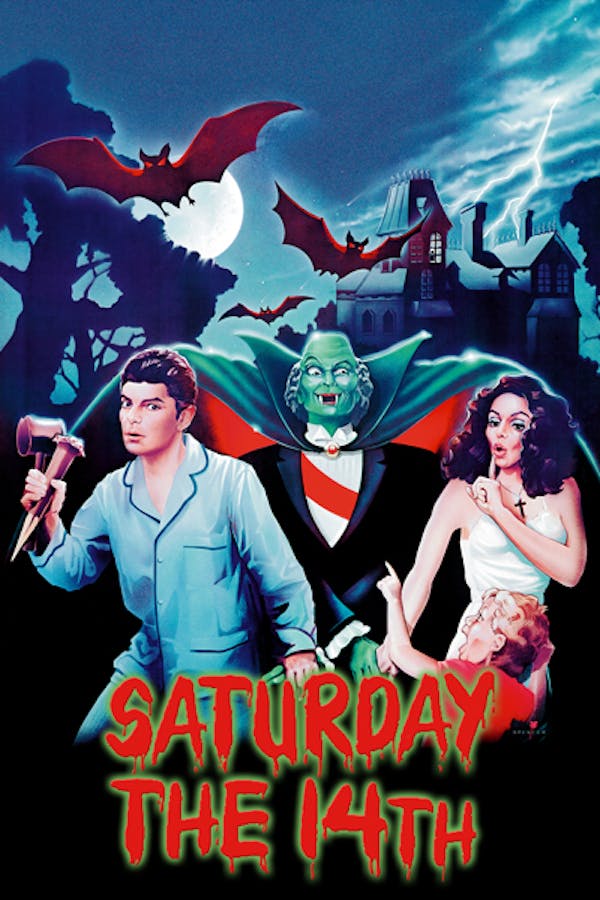 Saturday the 14th
Directed by Howard Cohen
Pennsylvania is beginning to look a lot like Transylvania in the horror spoof Saturday The 14th! John and Mary can't believe their good fortune when they inherit the vast estate of John's recently departed uncle. Sure, it's a fixer-upper. But there's nothing that can't be taken care of with a fresh coat of paint, a little dusting ... and maybe an exorcist! It turns out that they've just moved into the most eerie house in Erie, PA — and one that some loathsome looky-loos are simply dying to take off their hands!
It's the second unluckiest day of the year.
Cast: Richard Benjamin, Paula Prentiss, Severn Darden, Jeffrey Tambor, Kari Michaelson
Member Reviews
I was so excited to see this on here because it was one of my favorite movies as a kid. I'm not going to say it holds up but it was great to watch again and it had some funny moments. I loved all the monsters in it as a kid and it was still cool to see so many different types of monsters in one film.
Even in the 80's this movie sucked.
3 and 1/2, not a bad B movie a little slow but some things did have me laughing the ending sucked and was a bit meh but over all not to bad worth a watch when bored by covid restrictions or when you need a laugh at the dead of night and can't sleep
Much better remembered than revisited.
Call up your most annoying uncle and ask him to tell you some of his idiotic, tired jokes he's trotted out since you were a kid. Guarantee you'll be far more entertained doing that than watching this horror "comedy." As dumb as they come.