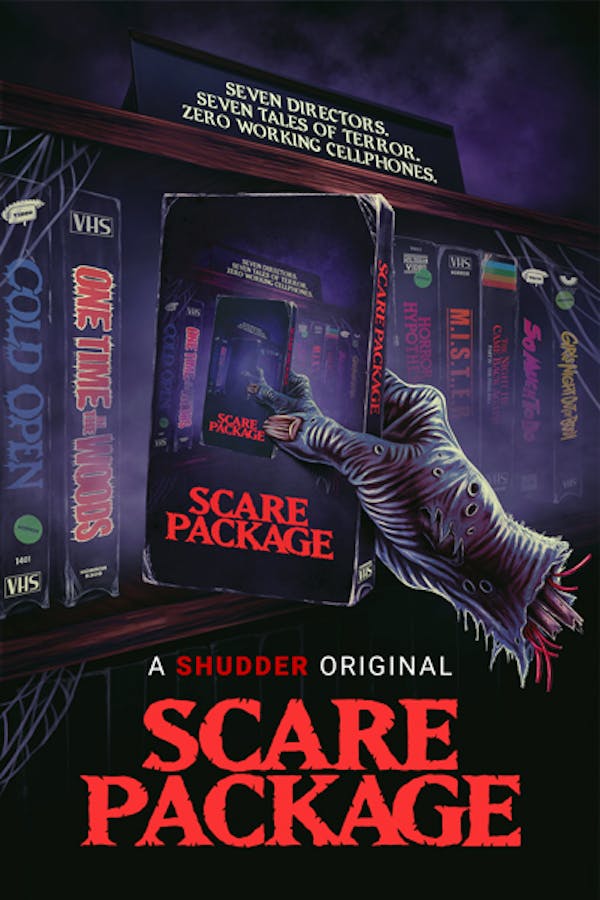 Scare Package
Directed by Emily Hagins, Noah Segan, Aaron B. Koontz, Baron Vaughn, Chris Mclnroy, Courtney Andujar, Hillary Andujar, Anthony Cousins
In this riotous anthology, Chad Buckley is a lonely Horror aficionado, spending his days overseeing a struggling video store and arguing with his only customer, Sam. When an unsuspecting applicant arrives, Chad sets out to teach him the rules of Horror; weaving in and out of hilarious segments geared toward the ropes and tropes of terror. A SHUDDER ORIGINAL.
In this riotous anthology, a video store owner shows a new employee the ropes and the tropes of terror.
Cast: Jeremy King, Noah Segan, Toni Trucks
Member Reviews
This meta comedy horror film mostly fails at the comedy part - like not the most talented people behind the camera were trying too hard - but it's worth watching if you like anthologies. While this isn't as original as it thinks it is, the special effects are practical and mostly succeed. There is a ton of blood of gore and one very interesting (and mouthy) pile of goo. Overall, the stories are a mixed bag with some notable standouts - including a cameo from a beloved horror icon. The overarching story has some interesting concepts, including a great scene with a treadmill that explains sooo much in horror movies LOL. And freakin' Dustin Rhodes plays the Devil's Lake Impaler - not the most original Jason ripoff, but once again, this movie isn't as original as it thinks it is. So why this many skulls? It's a campy good time. It plays up the horror tropes while still managing to toss in a few surprises. At the end of the day, I was entertained, which is more than I can say about most other films.
Meh. There's some good segments (One Time in the Woods being the best IMO) and fun effects but the low points are really, really low. Referencing good movies doesn't make your movie good.
This movie is so meta, I LOVE it. What a fun ride this was!
Couldn't get 5 mins through it.