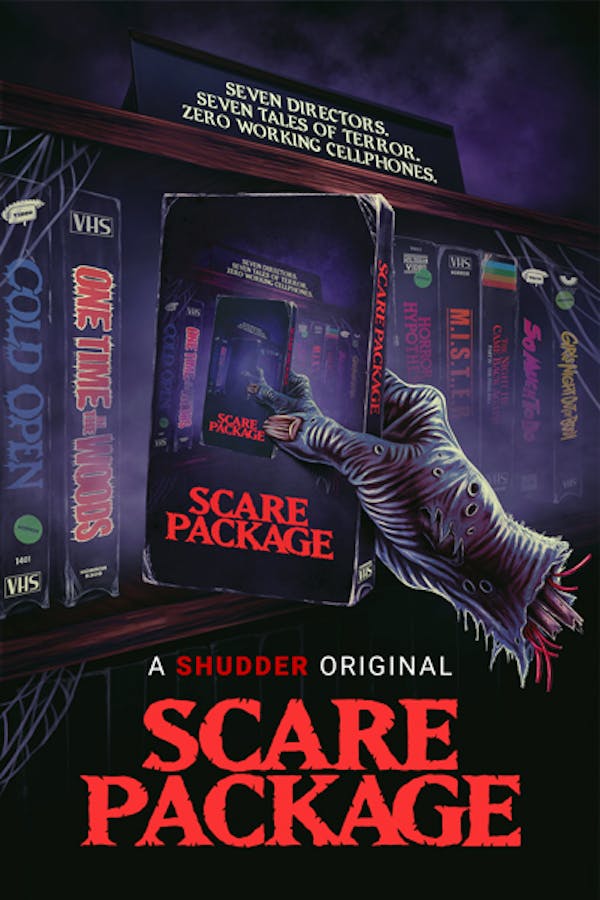 Scare Package
Directed by Emily Hagins, Noah Segan, Aaron B. Koontz, Baron Vaughn, Chris Mclnroy, Courtney Andujar, Hillary Andujar, Anthony Cousins
In this riotous anthology, Chad Buckley is a lonely Horror aficionado, spending his days overseeing a struggling video store and arguing with his only customer, Sam. When an unsuspecting applicant arrives, Chad sets out to teach him the rules of Horror; weaving in and out of hilarious segments geared toward the ropes and tropes of terror. A SHUDDER ORIGINAL.
In this riotous anthology, a video store owner shows a new employee the ropes and the tropes of terror.
Cast: Jeremy King, Noah Segan, Toni Trucks
Member Reviews
Actually funny, not as random as Troma or gory, but a similar vein to Scream Queens with some good meta stuff for horror fans (and something for the WWE/AEW fans).
Not what I expected, but I loved it. Definitely reminded me of Troma with the effects in the best possible way.
Big Troma fun vibes here, with double-extra cheese and better production.
Scores /10 1. Cold open 4 2. Rad Chad's horror emporium 5 3. One time in the woods 7.5 4. M.I.S.T.E.R. 3.5 5. Girls night out of body 1 6. The night he came back again! Part IV - The Final Kill 7. So much to do 2.5 8. Horror hypothesis 8 #2 wasn't an episode but the glue. The poor entries almost made me turn it off several times. Horror hypothesis and one time in the woods were fantastic though in comparison. Still, even as a fan of this type of meta camp this was meh overall. 4.4