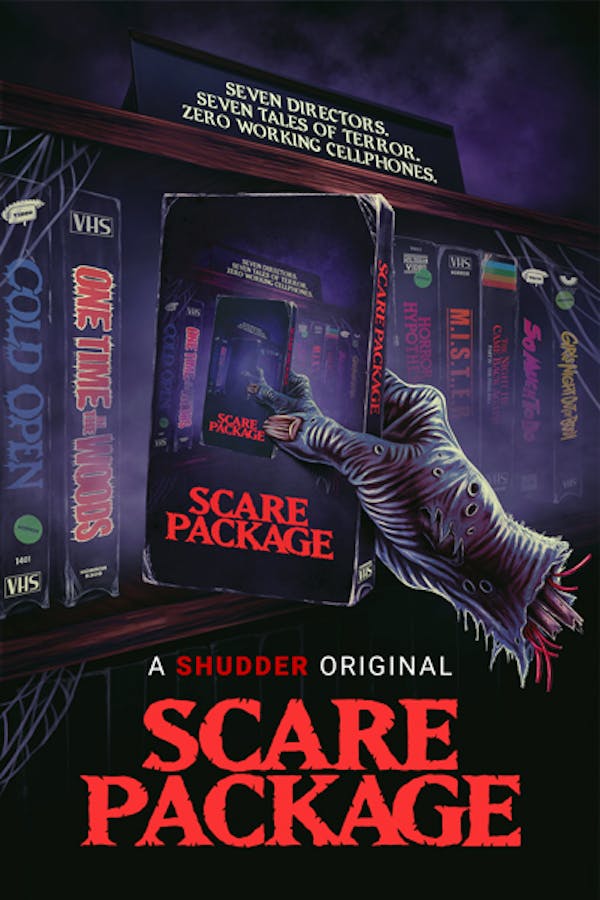 Scare Package
Directed by Emily Hagins, Noah Segan, Aaron B. Koontz, Baron Vaughn, Chris Mclnroy, Courtney Andujar, Hillary Andujar, Anthony Cousins
In this riotous anthology, Chad Buckley is a lonely Horror aficionado, spending his days overseeing a struggling video store and arguing with his only customer, Sam. When an unsuspecting applicant arrives, Chad sets out to teach him the rules of Horror; weaving in and out of hilarious segments geared toward the ropes and tropes of terror. A SHUDDER ORIGINAL.
In this riotous anthology, a video store owner shows a new employee the ropes and the tropes of terror.
Cast: Jeremy King, Noah Segan, Toni Trucks
Member Reviews
A tribute to horror fans in the best way possible. Made me think "This is why I love horror"
Nonstop entertainment! I came here just for Josephine McAdam's who was great and I got so much more. Excellent cast and loved ever portion.
I had to come here and write a review for this. This movie was spectacular! This is now one of my favorite anthology movies. So first, every short film in this anthology was funny and interesting. Some were better than others, obviously, but none of them were boring. And, if I'm being honest, the one that I liked the least, was also very short. I love the framing device AND the framing device!! Come on, that is freaking brilliant! The first short (which was a framing device) was my favorite, but the framing device in the middle was brilliant too. I loved getting into the "world" of the story, which I still don't even know if it was a world or not. lol. But it was twisty and super fun. Okay, the Freddie Car? Come on! I thought the acting was really good because it was meant to be so campy. Basically, every single actor/actress was over the top, perfectly done. The dialogue was cheesy, as intended, and the situations were absurd, as intended. I think this film did what it set out to do. Also, Dustin Rhodes? Come on! Pro-wrestling fans get it. He was so good! Absolutely wonderful in this film. No complaints at all.
A very good watch and excellent dialogue throughout. Not at all what I expected and that is a good thing.