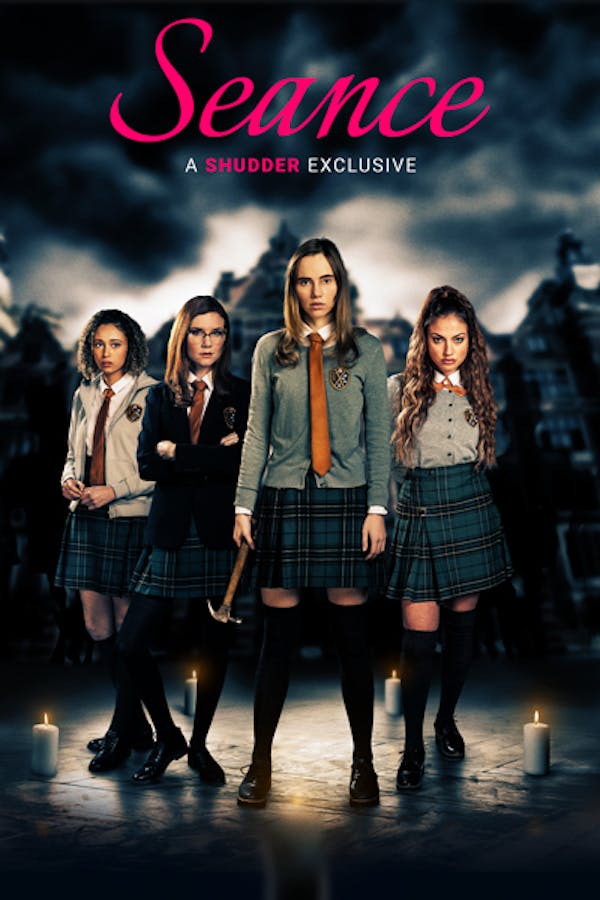 Seance
Directed by Simon Barrett
Camille Meadows is the new girl at the prestigious Edelvine Academy for Girls. Soon after her arrival, six girls invite her to join them in a late-night ritual, calling forth the spirit of a dead former student who reportedly haunts their halls. But before morning, one of the girls is dead, leaving the others wondering what they may have awakened.
New girl in school, Camille Meadows joins a late-night ritual to summon an evil spirit. Before morning, one of the girls is dead leaving the others wondering what they may have awakened.
Cast: Suki Waterhouse, Madisen Beaty, Ella-Rae Smith, Inanna Sarkis, Seamus Patterson
Member Reviews
I liked it but I felt like it was missing something. My guess is add the details. I truly believe they could of added in small details that made everything make sense and have the film be pretty much the same. I also think there should of been more things whether it be scenes or dialogue that gave a bigger hint to Helina's sexuality. I feel like the writer/director added it in for the hell of it and I know it didn't do much for the plot but still I feel like it could of been added.
Great Movie, Definitely Worth A Watch🥰
I really enjoyed this. The first twist was only partially surprising, but the second was pretty exciting. "Camille" was an excellent character from the start.
Run-of-the-mill, nothing outstanding nor particularly bad. (Though why the european accent on an alleged Floridian was supposed to be convincing is the film's biggest mystery by far.) It is a slasher flick about girls who hold a seance, you know what to expect here.