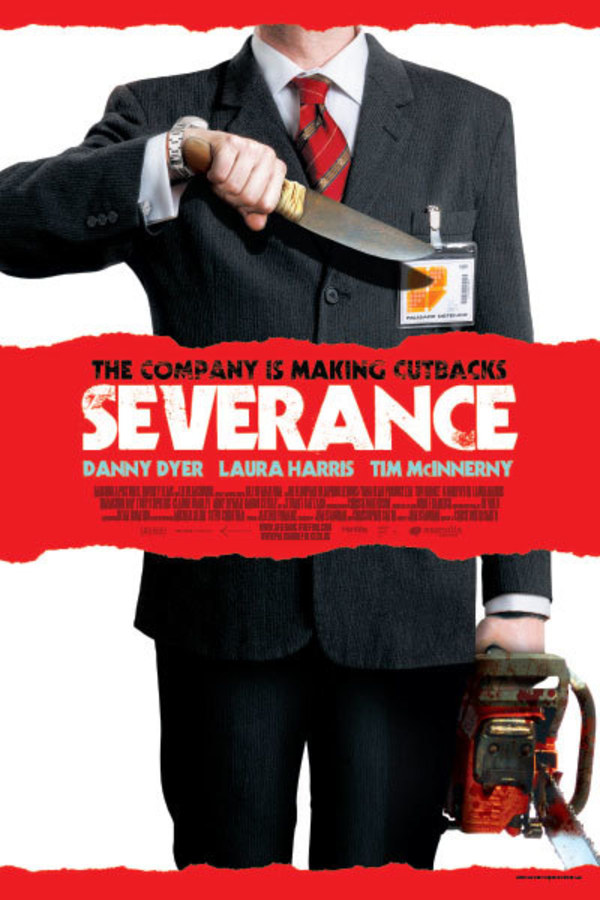 Severance
Directed by Christopher Smith
A weapons company's employees are viciously stalked during a team-building weekend in this grisly exercise in horror from director Christopher Smith (BLACK DEATH). A coach lurches out of busy Budapest and heads towards the mountainous border. On board are seven employees of weapons manufacturer Palisade Defence, who are being treated to a team-building weekend at the company's newly built luxury spa. But things quickly go awry as the colleagues find themselves sabotaged by a deadly enemy. Forget office politics, only the smartest will survive this bloody outing.
A weapons company's staff are stalked during a team-building retreat.
Cast: Danny Dyer, Laura Harris, Tim McInnerny
Member Reviews
Pretty good film. The characters aren't really fleshed out, but it has a lot of good things going for it, so I would recommend.
Taste is subjective of course, and on a technical level this movie is perfectly fine. I've certainly seen worse. But this particular film didn't do it for me personally. I really struggled to pay attention as it just didn't grab me and I felt nothing for any of the characters.
Not your classic "cabin in the woods" movie and that's an absolutely great thing. Enjoyable, charming, and gruesome. Everything you would like to see in a campy horror but with a modern twist.
My favourite find on Shudder so far. Glad I gave it a try !!! Good horror movie, but with a lot of dark comedy and trope-breaking in it too. The final scenes were as intense as they were hilarious. No shortage of blood either! my ONLY reason for giving 4 stars is that I didn't like the way the script treated one character like a whipping boy :'( if you're going to put a character through hell for no reason, not even for plot reasons, at least have it be someone who deserves it a Little bit. Felt mean-spirited and not in a fun horror genre way. I won't name the character but everyone who's seen this movie will know who he is.
I love this film. Highly enjoyable. I've watched it many times and just have fun with it.