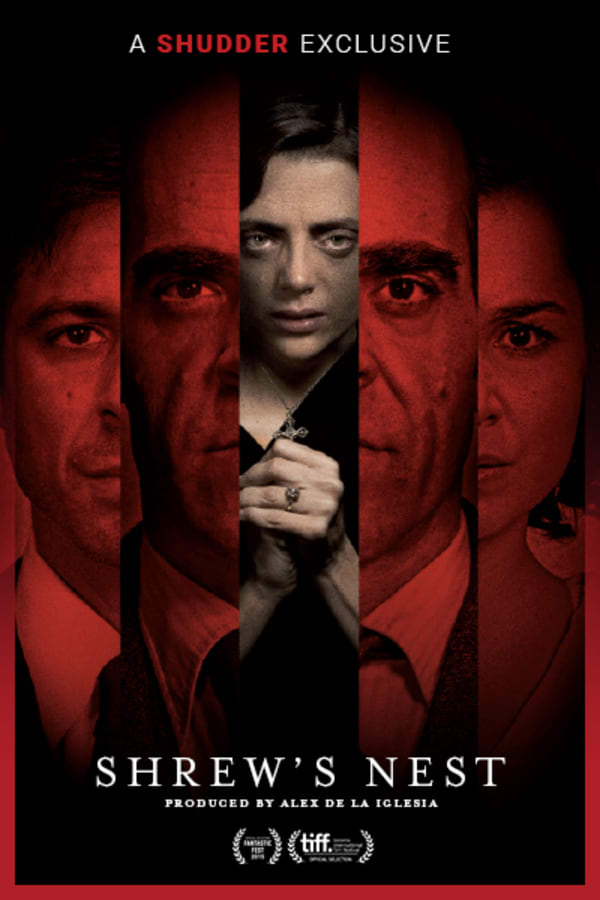 Shrew's Nest
Directed by Juanfer Andrés, Esteban Roel
In 1950s Spain, an agoraphobic woman spends her days inside the apartment she shares with her sister, who she's raised since their mother died. But when a handsome neighbor knocks on her door seeking help after a fall, Montse dresses his wounds and sets about ensuring he'll never leave her apartment either. Macarena Gómez received a Goya nomination for her chilling lead performance in this gory grand dame guignol which pays homage to WHATEVER HAPPENED TO BABY JANE? and MISERY. Produced by Spanish horror master Alex de la Iglesia (THE BABY'S ROOM). A SHUDDER EXCLUSIVE. Contains violence and gore.
In 1950s Spain, an agoraphobic woman becomes unhinged and imprisons an injured man in her apartment.
Cast: Macarena Gomez, Nadia de Santiago, Luis Tosar, Hugo Silva
Member Reviews
:: ok.. WOW! That was bananas. I even forgot I was reading subtitles. Wow.
Superb bloody thriller. Anything with Alex de la Iglesia attached is worth your time, and this is no exception.
In awe absolutely soaring ! MUST WATCH / Una película de las mejores director production cada mano y mente en esta película merece unos Mil aplausos! Fascinating script ,budget ,lightning lazor focus ,details ,in frank the best Movie I have seen this year ! I have many words of praise for this wonderful execution But I will leave at this.. Get your popcorn and sit at the edge of your seat this film will keep you there ! " Besos y Bravisimo!
Full review on Letterboxd: https://letterboxd.com/dylandoorsfan/film/shrews-nest/ 10/10 Whilst Montse is an agoraphobic, co-writer/(with Sofia Cuenca/Angel Amoros and Emma Tusell) co-director Juanfer Andres,and fellow co-director Esteban Roel are joined by cinematographer/co-writer Amoros in taking the horror out of the darkness and into magnificently tailored lighting. Set in the 1950's, the directors elegantly shine the household in angelic lighting flickering up the meek wallpaper and brightening the dour Gothic dresses Montse wears.
Fantastic film, with a stellar script with Macarena Gomez playing a neurotic and nebbish caregiver with ease.