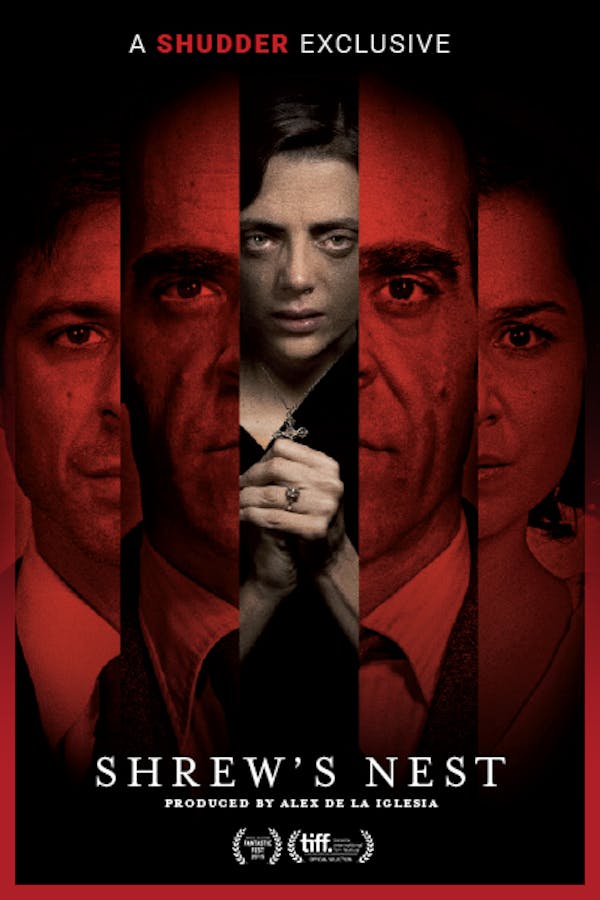 Shrew's Nest
Directed by Juanfer Andrés, Esteban Roel
In 1950s Spain, an agoraphobic woman spends her days inside the apartment she shares with her sister, who she's raised since their mother died. But when a handsome neighbor knocks on her door seeking help after a fall, Montse dresses his wounds and sets about ensuring he'll never leave her apartment either. Macarena Gómez received a Goya nomination for her chilling lead performance in this gory grand dame guignol which pays homage to WHATEVER HAPPENED TO BABY JANE? and MISERY. Produced by Spanish horror master Alex de la Iglesia (THE BABY'S ROOM). A SHUDDER EXCLUSIVE. Contains violence and gore.
In 1950s Spain, an agoraphobic woman becomes unhinged and imprisons an injured man in her apartment.
Cast: Macarena Gomez, Nadia de Santiago, Luis Tosar, Hugo Silva
Member Reviews
I don't know if I would necessarily call this a horror film. I mean, there's some gore, yeah, but it's kind of sad. More like a psychological movie than horror, in my opinion. I still enjoyed it and would recommend.
I can not STAND predictable movies that have been done before! You know exactly what the history is after approximately one minute. I was so disappointed bc i had high hopes after reading a couple reviews. I got to the end and thought, well I was only 2/3 correct, so it wasn't a total loss. But then it got to the very end and yup, there was the third third. >:( I am also extremely disappointed in the people leaving bad reviews just because they have to read subtitles. That has absolutely nothing to do with THE MOVIE. If you don't like subtitles, don't watch foreign movies. I gave it three skulls. Minus one for predicatablitity (but everything has been done, so it is hard to find original ideas nowadays) and minus one for the very slooooooooow moving story.
It wasn't horrible but absolutely great click that button don't pass up on this one absolutely great twist
Absolutely fabulous even though I had to read subtitles it was such a great movie not
original, different. says a lot of different things and yes sad horror.