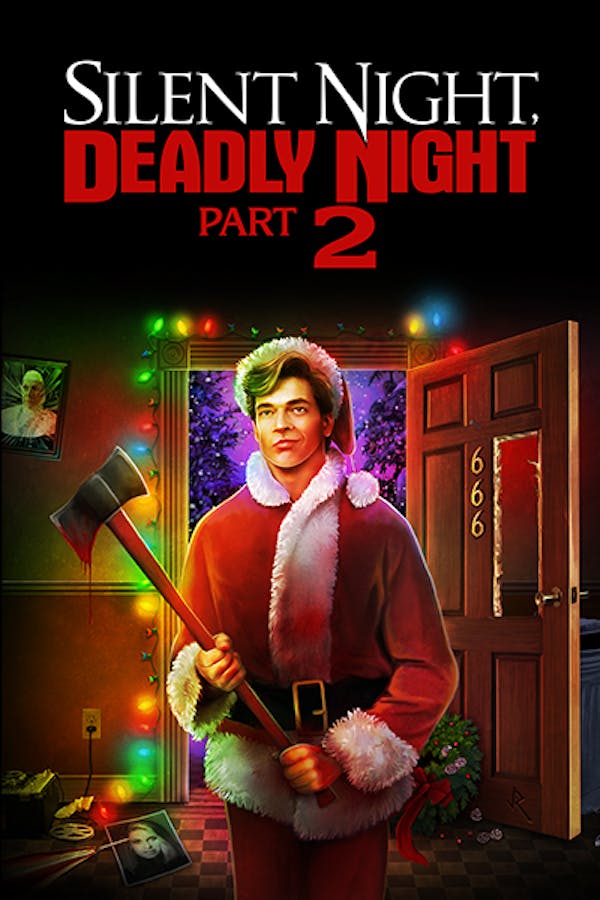 Silent Night, Deadly Night Part 2
Directed by Lee Harry
Oh, it's Garbage Day in this notorious cult sequel to the essential Santa slasher. Carrying the terrifying memory of his brother Billy's death, Ricky is released from an asylum, ready to continue the family tradition of Christmas carnage.
A notorious sequel. A christmas killer. Garbage day.
Cast: Eric Freeman, James Newman, Elizabeth Kaitan
Member Reviews
i find it hiLARIOUs ow cheesy the acting is and how the killer talks with his eyebrows
So bad that it's great! Half the movie is a replay of the original classic!!
Not the worst horror sequel ever (as that honor belongs to Blair Witch: Book of Shadows), but it had its moments. Sadly, some of the best moments were the many many clips used from the original. Do not watch the 1st and 2nd film back to back. Give it a few months, then watch this one.
Eric Freeman thinks his performance in this film is awful, it is now legendary. The original is basically shown again , the new wrap around footage works fine, the suburban massacre is epic, the movie theater scene is disastrous, the ending is good. I love the original, such a cynical, mean spirited film, I always found it odd, how in both movies every man is like a sex crazed maniac, basically trying to rape his girlfriend, so bizarre. I find it hilarious, that Ricky was adopted by Jews to not have to deal with Christmas. I like both of them, part 3 was total garbage, I do not remember the other 2 SNDN, except Brian Yunza directed the one about the toys. A great example of "junk food" horror SNDN 1 & 2