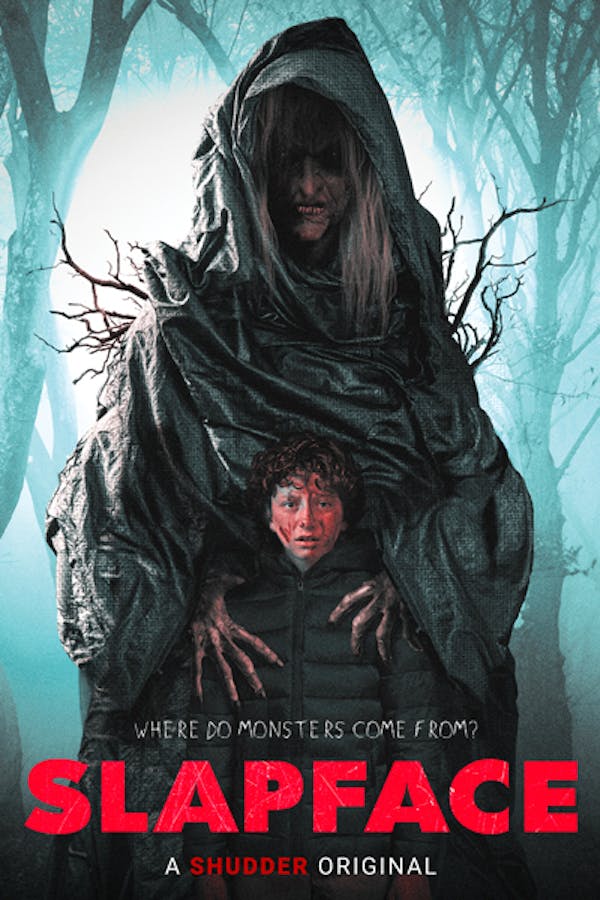 Slapface
Directed by Jeremiah Kipp
A boy deals with the loss of his mother by creating a dangerous relationship with a monster rumored to live in the woods. A SHUDDER ORIGINAL
A boy deals with the loss of his mother by creating a dangerous relationship with a monster rumored to live in the woods.
Cast: August Maturo, Mike Manning, Libe Barer, Dan Hedaya, Mirabelle Lee
Member Reviews
A pretty enjoyable movie. The relationship between the bothers is the main stand out in an otherwise not extremely new feeling movie. The scares are mainly jump scares and I think it suffers from showing too much of the monster up close.
It was not bad but it also was not good. There's a heavy handed message about bullying and domestic violence, but in delivering it, it forgets to be scary or entertaining. SPOILERS: The PSA at the end solidifes this as more of a dark after school special. The older brother is also just not convincing in this role as the abuser / villain. He doesn't particularly have the menace needed for the theme to be fully realized or his MAJOR SPOILER death to be viewed as a type of justice. The lead / little brother is very good and carries the movie alongside a lot of forgettable and unnecessary characters. I would consider this movie very skippable.
A young boy copes with the bullying of his brother by befriending a witch in the forest. Confused over who is true friends are the boy tries to figure out if the enigmatic forest spirit is friend or foe. A fine story that deals with an all too current issue.
Honestly, 5 skull ratings are only for the greatest films, I am giving this a 5 skull rating because it is more deserved than a 3 skull rating it has. Very interesting story and I watched it all the way.
This started out good and the first half of the film was interesting. It had the potential to be more though and I didn't like the ending.