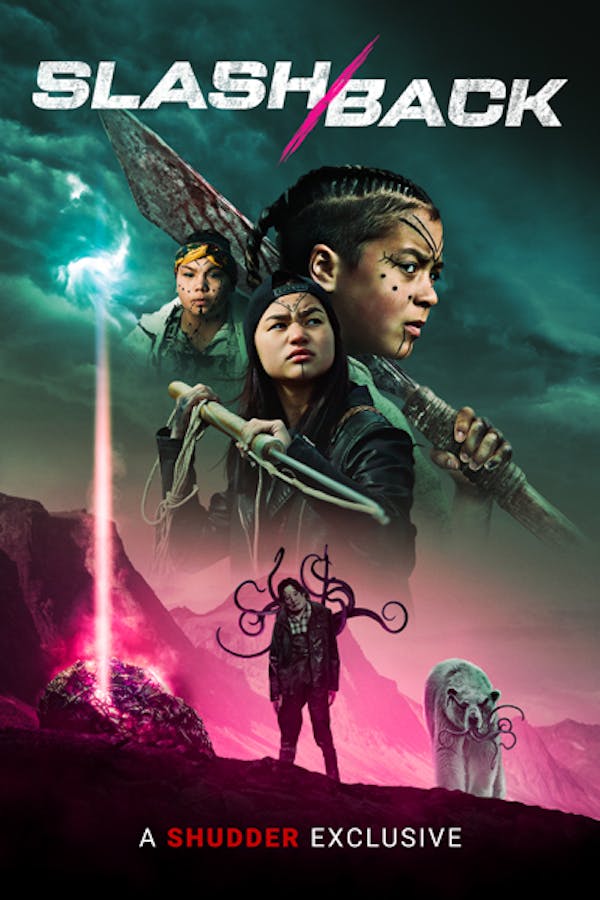 Slash/Back
Directed by Nyla Innuksuk
In a small village just 31 miles south of the Arctic Circle, a group of teenage girls must fight off an alien invasion using only makeshift weapons and their horror movie knowledge. A SHUDDER EXCLUSIVE
In a small village just 31 miles south of the Arctic Circle, a group of teenage girls must fight off an alien invasion using only makeshift weapons and their horror movie knowledge.
Cast: Tasiana Shirley, Alexis Vincent-Wolfe, Nalajoss Ellsworth, Chelsea Prusky, Frankie Vincent-Wolfe
Member Reviews
Awesome, movie and culture.
I absolutely loved this. Super engaging throughout. Loved all the scenery too. Made me laugh at out at some points, and also very emotional at the end. This is a film I'm going to watch every year, no doubt
Brilliant and fun movie! No one messes with the girls with Pang :D
This movie was great! It's so refreshing to see a movie that doesn't take place in a typical city. The cast was phenomenal and the story was compelling. Extra points for referencing Carpenter's Thing!
Awesome movie! Love the characters and how they evolved by the end of the film. The Monster Squad, Native style!