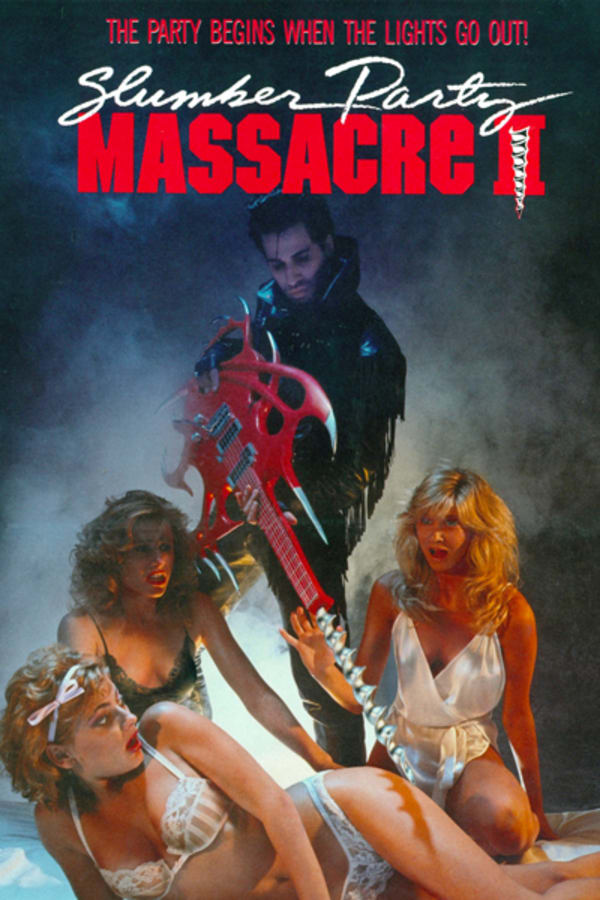 Slumber Party Massacre 2
Directed by Deborah Brock
Courtney, the younger sister of the "new girl across the street" in the first film is all grown up now, but suffers from nightmares about the Big Wet Incident. She and the other members of her female rock group go to a condo for the weekend to play music and have fun with their boyfriends. Courtney's dreams are of her sister, who is in a mental institution, warning her of having sex, and the dreams begin to spill into real life, threatening Courtney and her friends as they begin experiencing an attrition problem.
In this outlandish sequel, a teen and her friends are terrorized by a driller killer rock star with a lethal guitar.
Cast: Crystal Bernard, Kimberly McArthur, Juliette Cummins, Patrick Lowe, Heidi Kozak
Member Reviews
I LOVED this one! Fun, and I was looking for "music horror" so this came at a perfect time. The actors look like they had a lot of fun making this one and I liked the allusions to classic films.
This is a wink at Nightmare on Elm Street. #1 proved it can be a massacre. #2 showed us, you can have fun with massacre. What better way to do it with a guitar drill. The ending twists and Yamaha gear. Make me give this a solid 4 skulls. Just make sure crack a cold and enjoy!
decent sequel and great music but im drunk so.....🤷‍♀️
Fuck the first one. The sequel is absolutely fantastic though!! I kinda can't believe the bad reviews
Ok this was one of the dumbest movies ever made the first one was stupid also but this one never should of even been made who the hell gave the clearance for them too make another one🤦🏾‍♂️🤦🏾‍♂️🤦🏾‍♂️🤦🏾‍♂️🤦🏾‍♂️