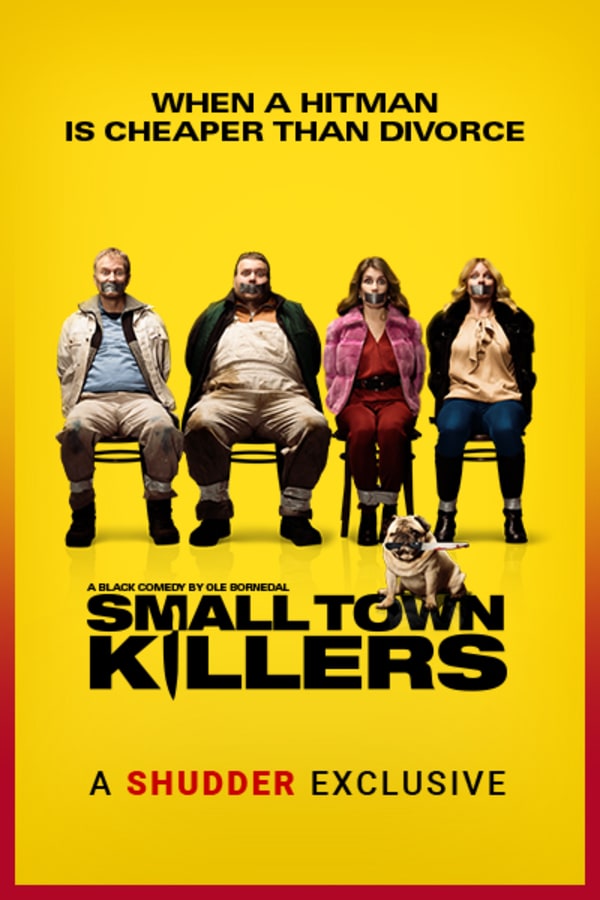 Small Town Killers
Directed by Ole Bornedal
When hapless and horny husbands Ib and Ed grow bored with their humdrum lives, they make a rash decision to hire a hitman to kill their wives. Enter Igor, a Russian contract killer who prefers taking shots to doling them out. Quickly regretting their dumb decision, Ib and Ed try to call Igor off, but he won't be dissuaded. Things get even worse when their wives learn of the plot and hire their own assassin. Enter Miss Nippleworthy, a British mum with a penchant for poison. Ole Bornedal's (NIGHTWATCH) hilariously dark comedy is definitely not for the pro-PC crowd. A SHUDDER EXCLUSIVE.
In this Danish black comedy, two friends foolishly decide to hire a hitman to kill their wives.
Cast: Ulrich Thomsen, Nicolas Bro, Lene Maria Christensen, Mia Lyhne
Member Reviews
3/5=it was a fun time. dipping into danish culture was most of the entertainment: the characters, plot, and pace were pretty standard for a B (or C...) -rate Hollywood production; but, the stock silliness was at least balanced out by some insight into what "dark comedy" is in Denmark. Don't expect a Nick Frost/Simon Pegg satire (although inspiration is...ehh...obvious), but it's a mildly curious up-n-down hour and a half nonetheless. Full disclosure: I DID play on my phone during the English-speaking parts. But then again, aren't we doing that on a lot of movies nowadays? And Joe Exotic 2020
This was pretty good! I'd definitely suggest you give this a watch as a dark comedy, but I have no idea what it's doing on Shudder?! Not a horror in the slightest.
Really funny and an overall good watch.