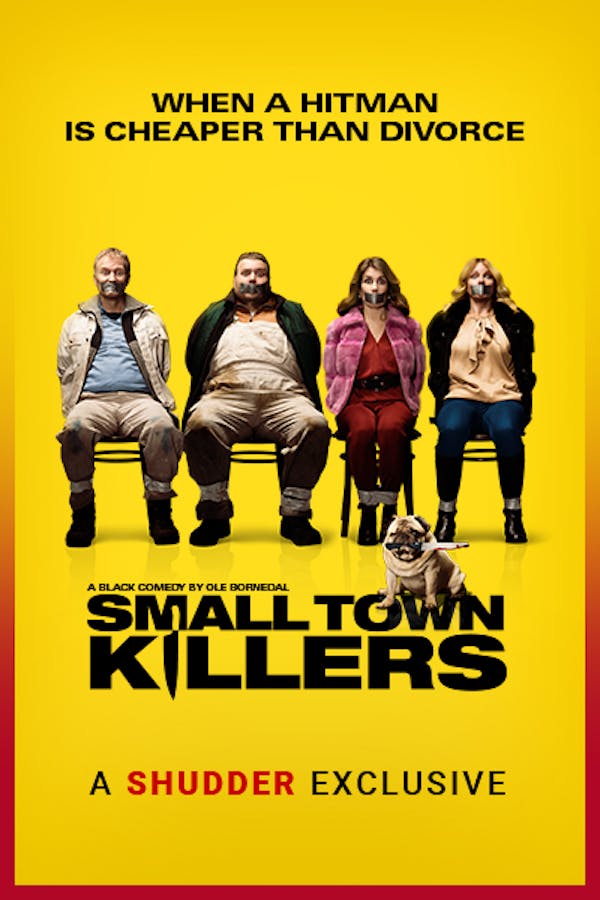 Small Town Killers
Directed by Ole Bornedal
When hapless and horny husbands Ib and Ed grow bored with their humdrum lives, they make a rash decision to hire a hitman to kill their wives. Enter Igor, a Russian contract killer who prefers taking shots to doling them out. Quickly regretting their dumb decision, Ib and Ed try to call Igor off, but he won't be dissuaded. Things get even worse when their wives learn of the plot and hire their own assassin. Enter Miss Nippleworthy, a British mum with a penchant for poison. Ole Bornedal's (NIGHTWATCH) hilariously dark comedy is definitely not for the pro-PC crowd. A SHUDDER EXCLUSIVE.
In this Danish black comedy, two friends foolishly decide to hire a hitman to kill their wives.
Cast: Ulrich Thomsen, Nicolas Bro, Lene Maria Christensen, Mia Lyhne
Member Reviews
I was actually entertained by this film
enjoyable, not the funniest thing ever but funny enough. ive always loved ulrich thomsen since banshee so it was nice to see him in a movie in his native language. the ending was a little predictable but its the only ending i wouldve liked for the movie.
"Definitely not for the pro-PC crowd"? Hah! More like "definitely not for the pro-FUNNY MOVIES crowd". This movie obviously thinks it's very shocking and daring and provocative. But it's not. It's dull. Deadly dull. The actors do the best they can (I especially liked Nicolas Bro), but it's by-the-numbers, lurches from scene to scene and has a very lazy script that never misses a chance to make an easy, obvious joke. "Black comedy"? Don't make me laugh. Watch "Raising Arizona" again instead.
So glad that I made time for this. Easily one of the funniest and most entertaining movies on Shudder right now. The movie gets 5 skulls just for having a character named Mrs. Nippleworth!!
Nice breaker after street trash