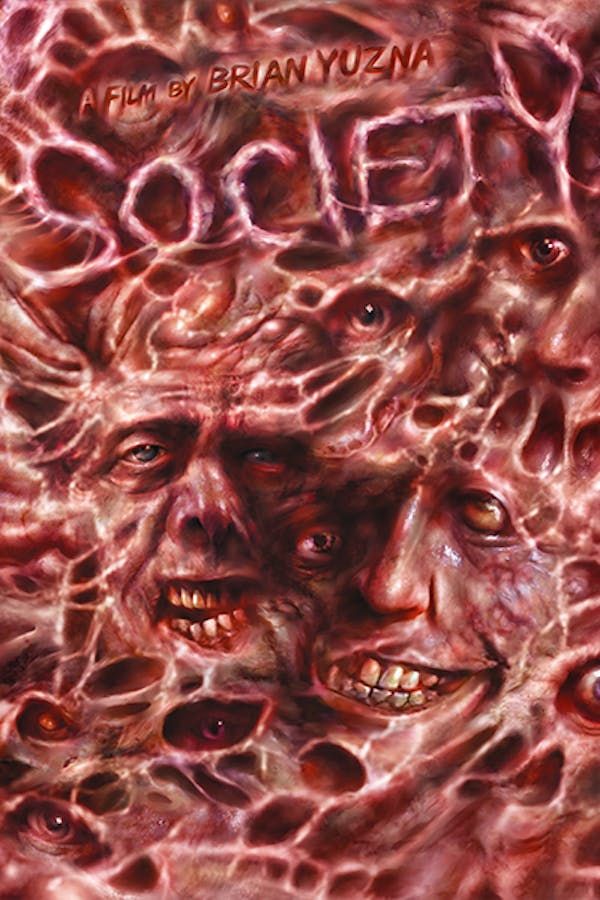 Society
Directed by Brian Yuzna
A teenager suspects his family are part of a cabal of monstrous socialites who literally prey on the lower classes. Bill's enjoying life's privileges when he hears a recording of a family party that suggests it was actually a murderous, incestuous orgy. But that couldn't be so, could it? Though SOCIETY was released in 1992, it was only recently that its reputation as a masterpiece began to swell like a fleshy blob of aroused aliens. The Cronenbergian final act - filled with outrageously disturbing and blackly comic FX - never loses its power to shock. Essential viewing. Contains strong language, sexual scenes, violence and gore.
A teen suspects his wealthy family are part of a cabal of monstrous socialites.
Cast: Billy Warlock, Devin DeVasquez, Charles Lucia, Patrice Jennings
Member Reviews
campy, over the top special effects are insane, they don't make them like this anymore. 80s nightmare
wish they had a edit review button because i forgot to mention that the guy who played billy would after this go on a gigantic career in day time soaps, his sister would go on to be in doctor Quinn medicine woman, and Shauna prior to this has a nice horror credit with being in friday the 13th part 7: the new blood. but as i said prior the movie is good, but really the last 30 mins is where it shines bright. would love to see a remake / and or updated version with modern day society.. that'd be a true horror.
masterpiece is far from what i'd describe this as. it's a solid horror effort ending the 80's, but honestly the ending is all i'm sure most remember about the movie. usually masterpiece means to most you can recall any scene, and say it's perfect.. yea dont see that. still a good watch if you like invasion of the body snatcher esc movies.