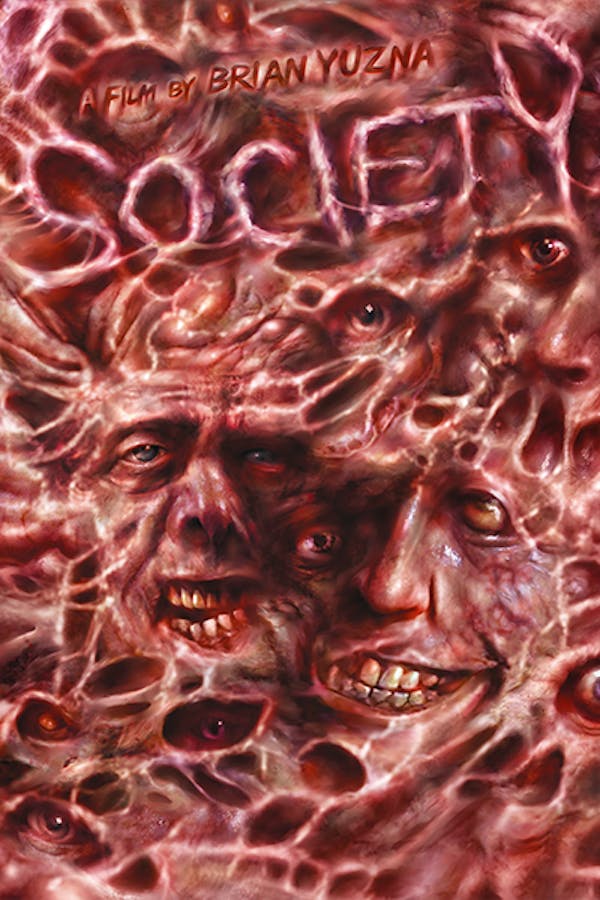 Society
Directed by Brian Yuzna
A teenager suspects his family are part of a cabal of monstrous socialites who literally prey on the lower classes. Bill's enjoying life's privileges when he hears a recording of a family party that suggests it was actually a murderous, incestuous orgy. But that couldn't be so, could it? Though SOCIETY was released in 1992, it was only recently that its reputation as a masterpiece began to swell like a fleshy blob of aroused aliens. The Cronenbergian final act - filled with outrageously disturbing and blackly comic FX - never loses its power to shock. Essential viewing. Contains strong language, sexual scenes, violence and gore.
A teen suspects his wealthy family are part of a cabal of monstrous socialites.
Cast: Billy Warlock, Devin DeVasquez, Charles Lucia, Patrice Jennings
Member Reviews
What an ending! The effects were great and truly mind-blowing. It does make you wait quite a while to get to the promise the poster makes, but it's an interesting movie along the way as well.
The climactic "shunting" sequence is something I'll never truly forget. But I'd be lying to say that the hour-or-so leading up to it is entertaining. Our "protagonist" is so undeniably dense that you welcome the occasional horror moment designed specifically to keep you engaged. And then there's the ending, which contains the most easiest escape from a mansion possible. It's an ingenious class metaphor and if you can make it through the rough first 2/3rds of the film, you'll be...rewarded...with one of the most insane "climaxes" in cinema history.
Great movie. They build up the suspense in the beginning and then the ending gets real crazy. Has funny moments as well as plenty of gore and suspense.
This was fucking dope lol, worth waiting for the end.