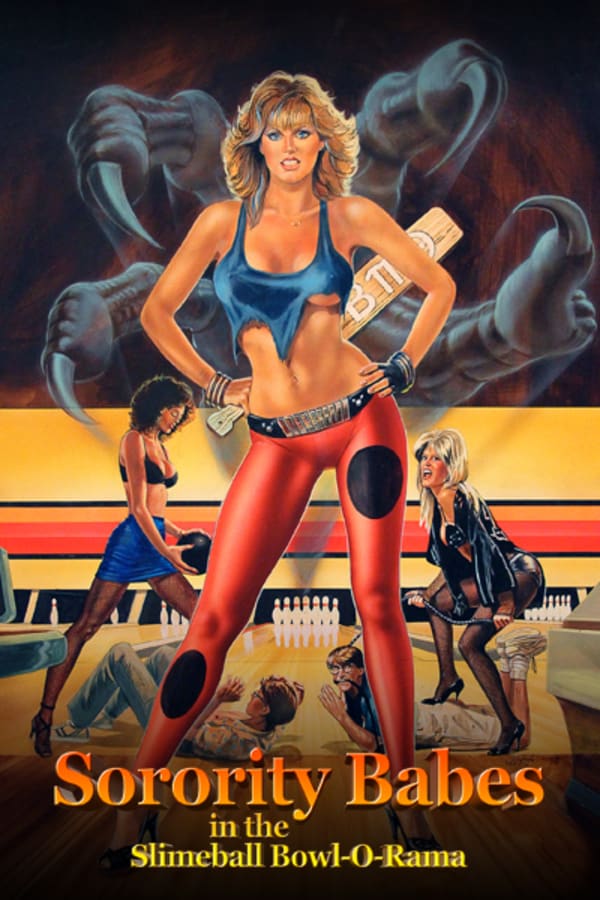 Sorority Babes in the Slimeball Bowl-O-Rama
Directed by David DeCoteau
3 horny nerds, 2 sorority sisters, and 1 badass biker chick unleash a mischievous imp after breaking into a bowling alley as part of a sorority initiation. Why has a thousand-year-old imp been imprisoned in a bowling trophy? Who cares? It's better just to sit back, grab a cold brew, and enjoy this hilarious horror-comedy, which became a cult classic to a generation of VHS and cable fans thanks to its schlock aesthetics, PORKYS-style T&A, and a pitch-perfect lead performance by '80s horror goddess Linnea Quigley (NIGHT OF THE DEMONS, RETURN OF THE LIVING DEAD).
3 horny nerds, 2 sorority sisters, and 1 badass chick unleash a mischievous imp.
Cast: Linnea Quigley, Brinke Stevens, Michelle Bauer
Member Reviews
You know, I love cheesy 80's horror movies. They give me a good laugh. The bad acting, the clothes, the overacting, the lame effects, so nostalgic, but this movie sucked. It wasn't even B movie funny, it was just straight stupid. Linnea Quigley was the only plus, she's just straight-up gorgeous, but even she couldn't save this steaming pile of ferret shit.
Amazing! Everything you want from an 80's cult movie. How awesome is Linnea Quigley?!? I love that this is her movie and she gets to be the hero. She is perfect here. Maybe Decoteu's best movie? Highest recommendation!
Hysterical. Great 80s horror
One of those sleezy camp classics that had a reputation preceding it for years. It has a ton of the B-grade scream queens of the eighties in it and a few recognizable faces who were in other genre work that was more mainstream. It was a rite of passage to sneak and watch it when I was in middle school, so for that reason, I watch it now with sentimentality goggles firmly in place. Still just as fun.