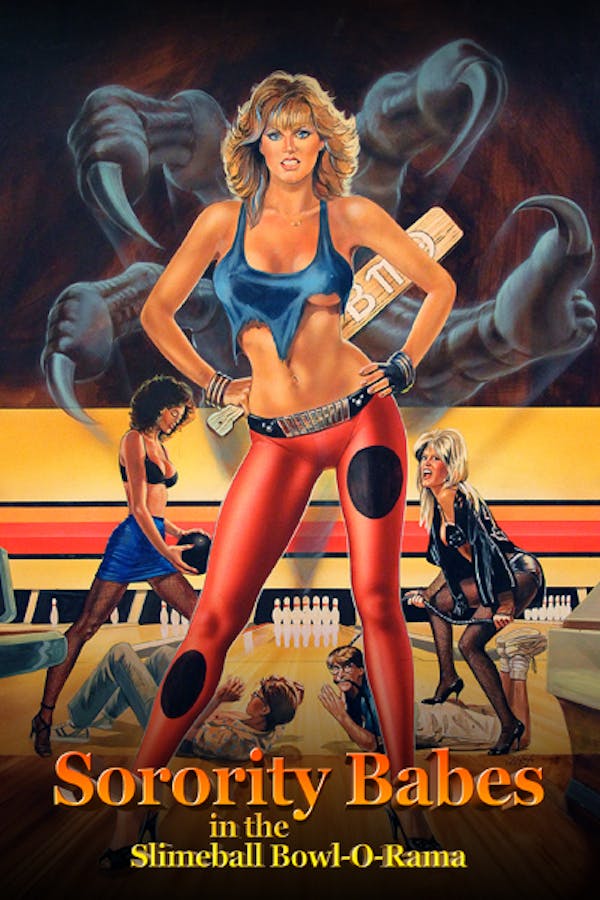 Sorority Babes in the Slimeball Bowl-O-Rama
Directed by David DeCoteau
3 horny nerds, 2 sorority sisters, and 1 badass biker chick unleash a mischievous imp after breaking into a bowling alley as part of a sorority initiation. Why has a thousand-year-old imp been imprisoned in a bowling trophy? Who cares? It's better just to sit back, grab a cold brew, and enjoy this hilarious horror-comedy, which became a cult classic to a generation of VHS and cable fans thanks to its schlock aesthetics, PORKYS-style T&A, and a pitch-perfect lead performance by '80s horror goddess Linnea Quigley (NIGHT OF THE DEMONS, RETURN OF THE LIVING DEAD).
3 horny nerds, 2 sorority sisters, and 1 badass chick unleash a mischievous imp.
Cast: Linnea Quigley, Brinke Stevens, Michelle Bauer
Member Reviews
Great movie to watch, very campy and cheese, not for everybody but I'm biased because I love Night of the Demons and watching Linnea playing this bad ass girl was great. 4 skulls only because of special effects were kind of bad, but story was entertaining and actors were super funny.
Pure cheese. Ranks right up there with Chopping Mall and Night of the Demons as classic VHS horror.
This is peak '80's cheesy B-horror. It's not supposed to be good, which is why it's amazing. If you can't have fun watching this, you need to stop taking life so seriously.
I remember watching this movie when I was little and being fascinated by it. For basically my whole life, I had no idea what the flick was called. Until I ran into it on Shudder. This movie is a lot of fun! But I also love camp horror. It's corny, funny, and kinda surreal. Definitely worth a watch! Can't wait for the sequel and for Uncle Impy to return!