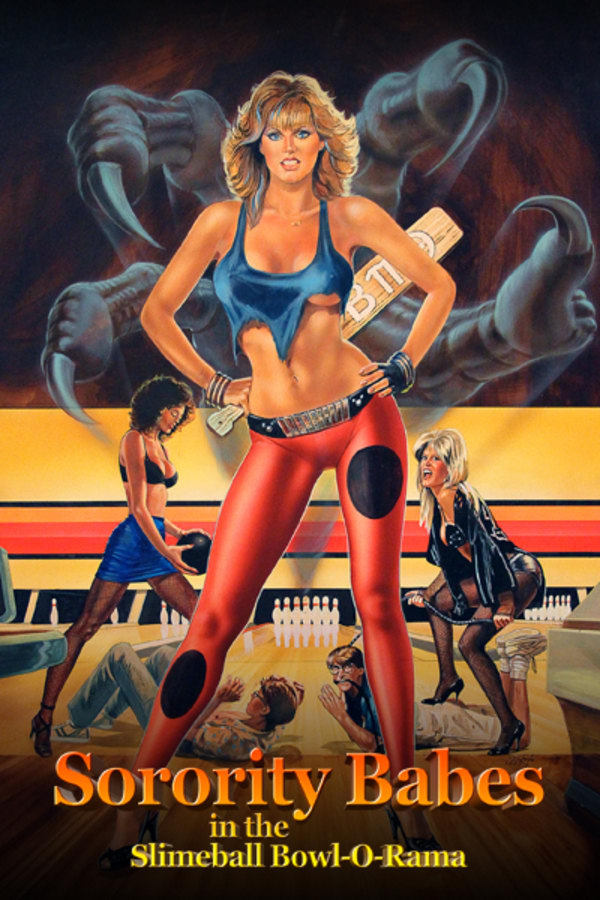 Sorority Babes in the Slimeball Bowl-O-Rama
Directed by David DeCoteau
3 horny nerds, 2 sorority sisters, and 1 badass biker chick unleash a mischievous imp after breaking into a bowling alley as part of a sorority initiation. Why has a thousand-year-old imp been imprisoned in a bowling trophy? Who cares? It's better just to sit back, grab a cold brew, and enjoy this hilarious horror-comedy, which became a cult classic to a generation of VHS and cable fans thanks to its schlock aesthetics, PORKYS-style T&A, and a pitch-perfect lead performance by '80s horror goddess Linnea Quigley (NIGHT OF THE DEMONS, RETURN OF THE LIVING DEAD).
3 horny nerds, 2 sorority sisters, and 1 badass chick unleash a mischievous imp.
Cast: Linnea Quigley, Brinke Stevens, Michelle Bauer
Member Reviews
Linnea Quigley and Imps, good stuff
Fun low-budget schlock. Not the worst Full Moon has made, but by far not the best. +1 skull for Linnea Quigley.
Some people REALLY like this one, including Joe-Bob. My problem is that Sorority Babes, like other Full Moon productions, seem incredibly cheap. Now don't get me wrong here, I'm an avid fan of everything from Filipino nonsense to Roger Corman discount fare. Those films are also cheap, but somehow Full Moon seems lazy-cheap or hollow-cheap or maybe soulless-cheap. It doesn't ever approach anything filmic, rather more like an overly long episode of the Power Rangers with Bulk and Skull. For my money, give me SOV trash like Sledgehammer and it will be finer on the palate.
Totally worth it! It doesn't take itself seriously for one moment. If you love the cheese and camp that the 80's were famous for, look no further! And as others have said: Linnea Quigley.
What a silly movie! Silly but fun, if you like way over the top cheese. I'd say it's probably best watched with a group hilarious friends.