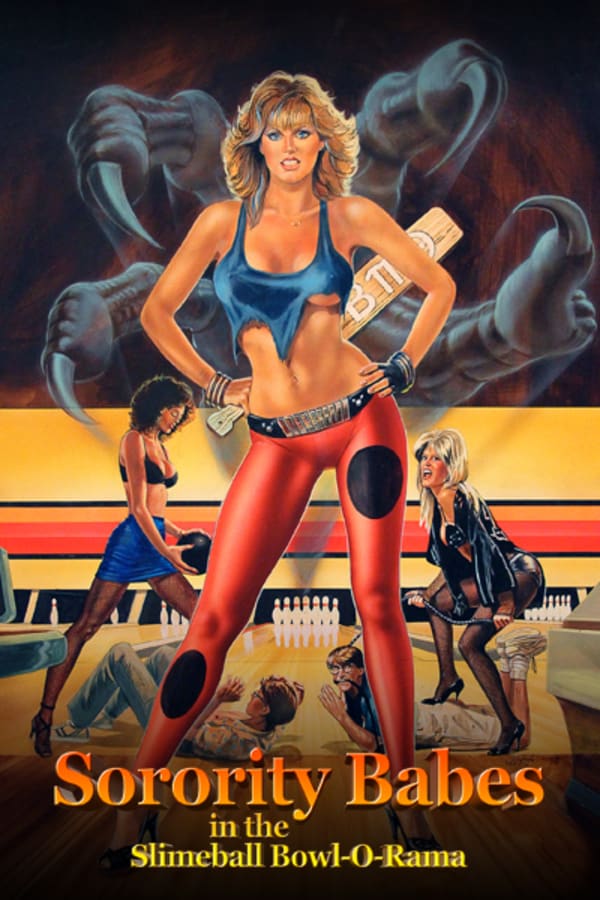 Sorority Babes in the Slimeball Bowl-O-Rama
Directed by David DeCoteau
3 horny nerds, 2 sorority sisters, and 1 badass biker chick unleash a mischievous imp after breaking into a bowling alley as part of a sorority initiation. Why has a thousand-year-old imp been imprisoned in a bowling trophy? Who cares? It's better just to sit back, grab a cold brew, and enjoy this hilarious horror-comedy, which became a cult classic to a generation of VHS and cable fans thanks to its schlock aesthetics, PORKYS-style T&A, and a pitch-perfect lead performance by '80s horror goddess Linnea Quigley (NIGHT OF THE DEMONS, RETURN OF THE LIVING DEAD).
3 horny nerds, 2 sorority sisters, and 1 badass chick unleash a mischievous imp.
Cast: Linnea Quigley, Brinke Stevens, Michelle Bauer
Member Reviews
The perfect 80s B-movie. Absurd deaths, topless women, bad effects, balls-to-the-walls premise, and exaggerated one note characters, it's all here!
You know, I love cheesy 80's horror movies. They give me a good laugh. The bad acting, the clothes, the overacting, the lame effects, so nostalgic, but this movie sucked. It wasn't even B movie funny, it was just straight stupid. Linnea Quigley was the only plus, she's just straight-up gorgeous, but even she couldn't save this steaming pile of ferret shit.
Amazing! Everything you want from an 80's cult movie. How awesome is Linnea Quigley?!? I love that this is her movie and she gets to be the hero. She is perfect here. Maybe Decoteu's best movie? Highest recommendation!
Hysterical. Great 80s horror