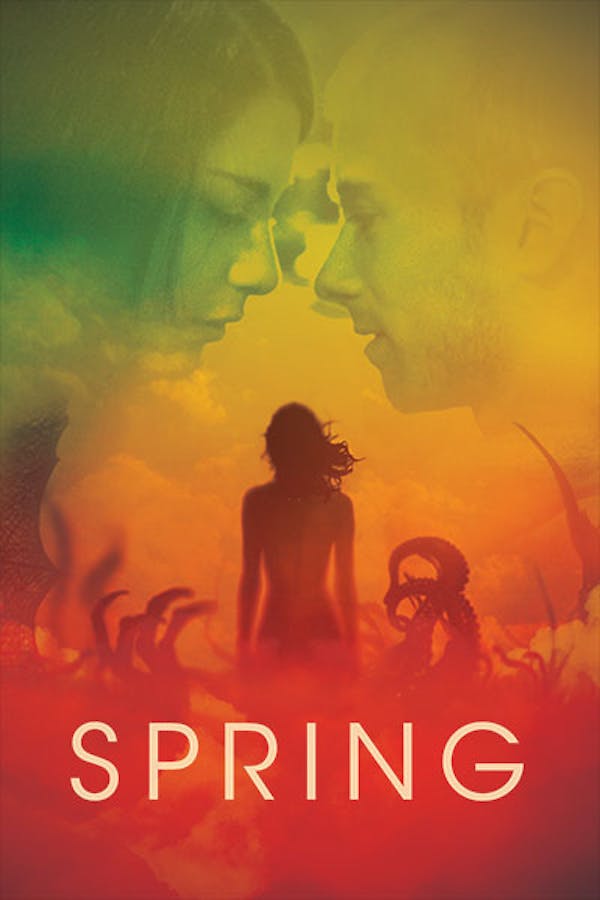 Spring
Directed by Justin Benson, Aaron Moorhead
Evan (Lou Taylor Pucci, Evil Dead, Thumbsucker) is a young American fleeing to Europe to escape his past. While backpacking along the Italian coast, everything changes during a stop at an idyllic Italian village, where he meets and instantly connects with the enchanting and mysterious Louise (Nadia Hilker). A flirtatious romance begins to bloom between the two; however, Evan soon realizes that Louise has been harboring a monstrous, primordial secret that puts both their relationship and their lives in jeopardy. A beautiful, fluid genre-bender from directors Justin Benson and Aaron Moorhead (Resolution), SPRING is an unforgettable romance of mythical proportions.
After the death of his mother, Evan leaves California for Italy, where he falls for a mysterious young woman.
Cast: Lou Taylor Pucci, Nadia Hilker, Francesco Carnelutti
Member Reviews
Love. Beautiful ending. Really thought homie was gonna get eaten at the end, but wow. 10/10
I absolutely loved this movie. Although it had some parts that were rough around the edges like they say. I think it was meant to be shot that way. I have read a lot of the reviews and I can see why some didn't like some parts or all of the movie. Because it doesn't have the special effects or big time actors. It was just raw. But definitely not a horror movie. Just a good movie.
Really not a horror or thriller. The love-story is kind of basic and immature, but the real disappointment were the characters. There was a lot to work with, but Louise especially was very disappointing. It's like tired stereotypes mad-libs were used to write her character. Manic pixie dream girl, aloof mysterious cool chick with a dark secret. They really dressed this supposedly monstrously powerful character in thigh high socks, baby doll dresses and boots. Evan's character was a bit more believable, but didn't have much to offer in this relationship. I think he would have been better off staying with those British/welsh guys. I think if more time was spent getting to know Louise's backstory, it would have been better. The body horror is alright, it's best in the beginning, toward the end it kind of looks goofy. If all of that didn't put you off, the movie takes place over a period of about 7-10 days. There is a major plot point later in the movie that really illustrates how little biology is actually in this movie, it's just ridiculous.
NOT A HORROR MOVIE. I want to give this movie 2 stars, but in the interest of objectivity I'm giving it 3. I found the love story cloying, shallow, and insipid, its only crumb of dimensionality deriving from the young lady's *ahem* condition. It is well directed and acted and had I been looking for a love story, I may have coughed up a 4th star, but probably not.
Now this was great. Far beyond its time despite being 2015 made, watched it then and now. Great on location European atmposhere and ending and who She was...hang with it and itll bring a smile to independent horror fans mos def...💥👾