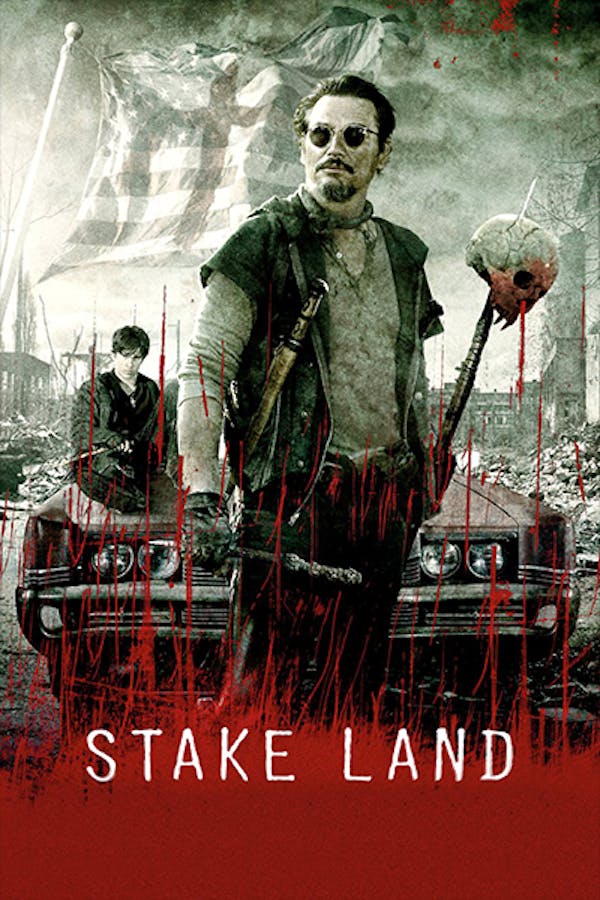 Stake Land
Directed by Jim Mickle
Martin was a normal teenage boy before the country collapsed in an empty pit of economic and political disaster. A vampire epidemic has swept across what is left of the nation's abandoned towns and cities, and it's up to Mister, a death dealing, rogue vampire hunter, to get Martin safely north to Canada, the continent's New Eden. Contains strong language, violence and gore.
A rogue vampire hunter mentors a young boy in post-apocalyptic America.
Cast: Connor Paolo, Nick Damici, Gregory Jones
Member Reviews
A vampire movie with an original idea??? Whuuuut?
Had a lot of potential but way too boring most of the movie, and too similar to walking dead to ignore.
If you're looking for a futuristic vampire flick, this movie is....ok. While watching it I kept getting vibes that reminded me of the much better vamp flick - John Carpenter's "Vampires". Mister is pretty badass but he isn't James Woods badass. Not a bad way to spend an afternoon snowed in though. The acting is decent, but the antagonist is a throw away and Michael Cerveris' talents are wasted. Maybe Stake Land II will be better but my expectations are currently sitting somewhere in the basement.
Awesome movie, simple and well executed. Dark adventure of growth in a world over taken by vampires. Will to survive drives a young boy to be something more. Thanks to shudder I had no idea they made a sequel. Watching that tonight!