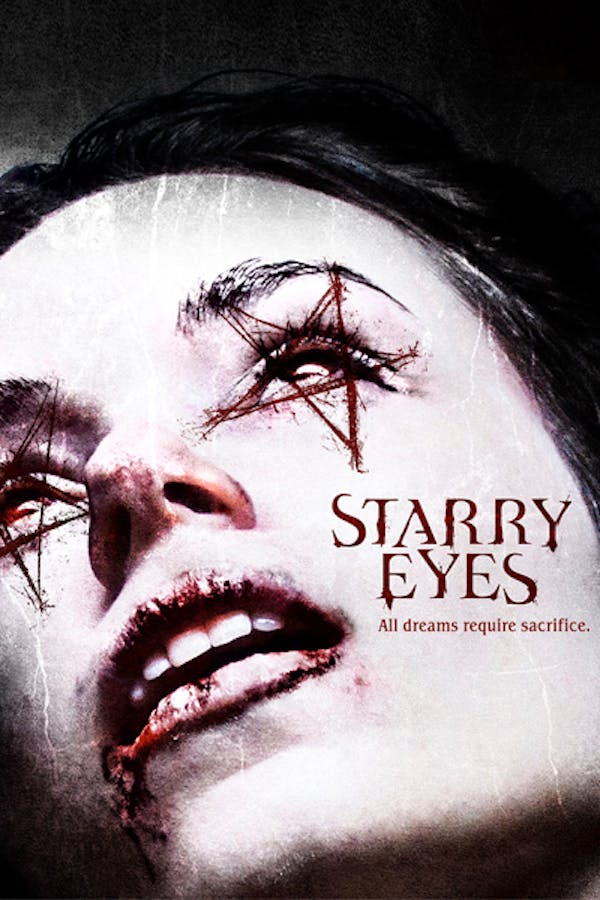 Starry Eyes
Directed by Kevin Kolsch, Dennis Widmyer
Determined to make it as an actress in Hollywood, Sarah Walker spends her days working a dead-end job, enduring petty friendships and going on countless casting calls in hopes of catching her big break. After a series of strange auditions, Sarah lands the leading role in a new film from a mysterious production company. But with this opportunity comes bizarre ramifications that will transform her both mentally and physically into something beautiful... and altogether terrifying. From the producer of CHEAP THRILLS and JODOROWSKY'S DUNE, Dennis Widmyer & Kevin Kolsch's STARRY EYES is an occult tale of ambition, possession, and the true cost of fame.
In the city of dreams, a desperate actress will go to occult lengths for the role of a lifetime.
Cast: Alexandra Essoe, Amanda Fuller, Fabianne Therese, Pat Healy, Marc Senter
Member Reviews
welcome to the dark side, a beautiful movie. worth a watch
One of my favourite newer horror movies
I've got to agree with lizardqueen on the review. The only reason I even gave it two skulls was because the beginning definitely drew me in. I was very interested to see the disturbing studio that Sarah auditions for and the process they planned on putting her through in order to help better "shape" her performance and truly bring the character to life. Instead, all you get is a perverted old man along with some cult actor society who "rebirth" her (who knows, she wakes up in the dirt and is "reborn"). But her rebirth seems to serve no other purpose than her going mad and killing off everyone just, you know, because. I didn't really see this movie as "edgy" or whatever vibe the director was trying to go for. There's always going to be films like this that capitalize on conspiracies of the Illuminati and actors selling their souls for fame and fortune. But there's surely a lot better ones out there than this one. I couldn't wait for it to be over (and all the while, was still hoping there was some big reveal or point to it all - there's not).
Loved it, plays on the dark side of Hollywood
I enjoyed this movie. It has it's dry moments, but I always felt like something was looming throughout my watch experience. Starry Eyes dives into some cult like elements in regards to "Hollywood" and the struggle for Sarah to become a famous actress. It's weird, campy, and somewhat convoluted at times, but I enjoyed the concept.