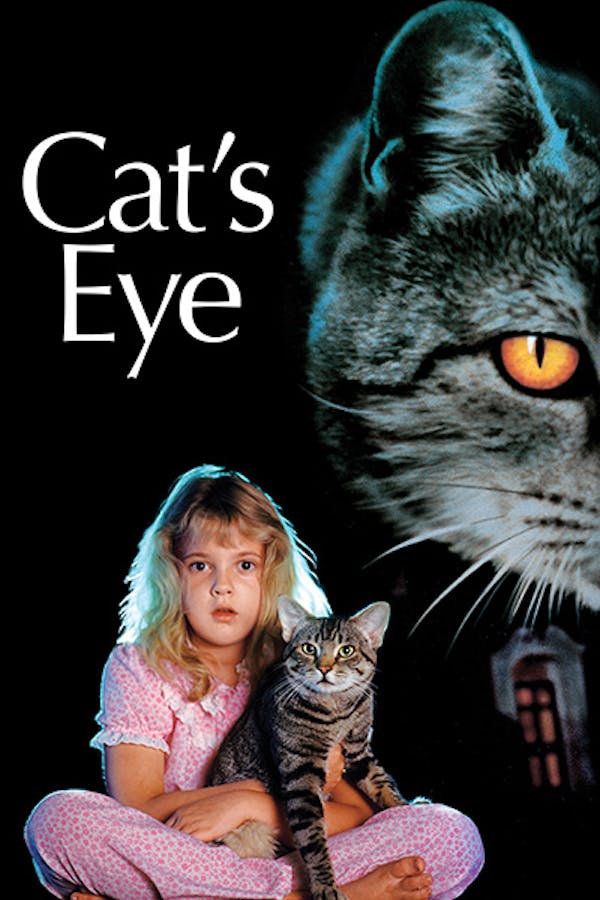 Stephen King's Cat's Eye
Directed by Lewis Teague
Drew Barrymore, James Woods, Alan King, and Robert Hays star in this three-part anthology of Stephen King short stories connected by a stray cat who wanders through each tale. Chain smoker Morrison (Woods) joins a stop-smoking group run by sadistic Dr. Monatti (Alan King). A gambler named Cressner (Kenneth McMillan) makes a bet with his wife's lover. And a young girl (Barrymore) is terrorized by a tiny troll.
A stray cat guides us through each tale in this Stephen King-based anthology favorite.
Cast: Drew Barrymore, James Woods, Alan King
Member Reviews
really enjoyed this; drew barrymore was such a solid child actress
It's okay. The second story, The Ledge, is downright terrifying but the third story lost me so I turned it off early.
Great anthology with appearances by Cujo, Christine, and the novel Pet Semetary. In "The Bet" there is a in joke reference to the TV movie Robert Hays then starred in, "The Girl The Gold Watch and Everything". Smart and a lot of fun!
Solid, worth your time. 3 short stories, and it ends with a happy ending for the cat, so that's a winner in my book. Nothing sours a movie for me like the animal dying or ending up with a bad end.
Fun 80s horror with Mr. King. You can't go wrong.