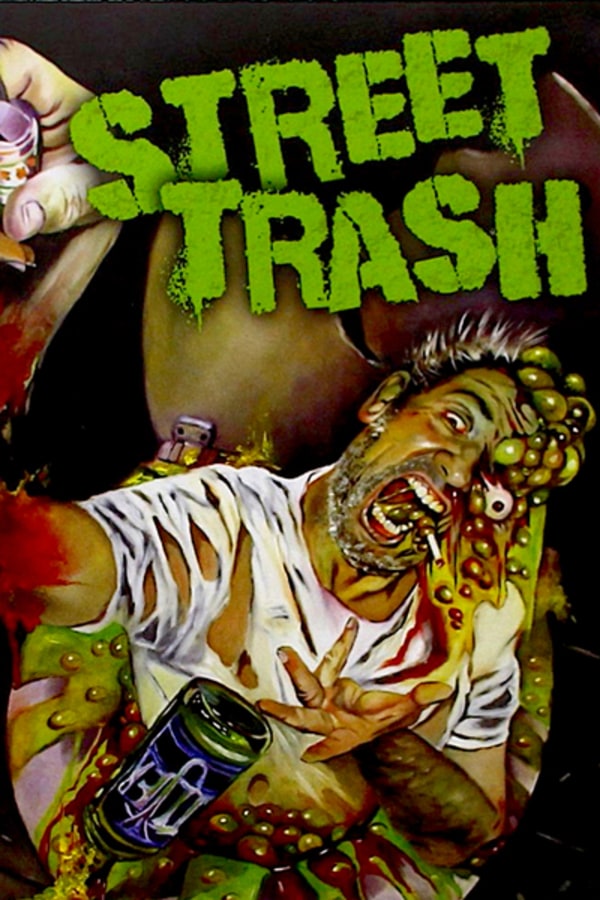 Street Trash
Directed by James M. Muro
In this gloriously oddball 1987 horror-comedy, a group of bums turn into blue blobs of rotted mush after drinking old booze, sold by a craven liquor store owner. Then Bronson, the psychotic veteran who rules their hobo camp, snaps and begins killing the derelicts at random. As the bodies pile up, two brothers realize they must stop both the booze and Bronson from wiping out their closest friends. Filled with hilariously messy gore gags designed to offend everyone (including an outrageous game of keepaway), STREET TRASH is a must-see for fans of Frank Henenlotter, William Lustig and Troma Entertainment. Contains strong language, sexual scenes, violence and gore.
A psychotic Vietnam vet and toxic booze threaten the lives of a group of homeless men.
Cast: Mike Lackey, Bill Chepil, Vic Noto
Member Reviews
I seen slides of this film before it came out at Fantacon. And I was there when it was released on VHS. You must require bad taste to watch this film. An all time favorite in my collection. I'll give it ten skull's if I could, but i'll give it 5. I grew up in the 1970's so I get the film. People these days need stop being so PC, now that's a crappy life style. YOU LITTLE STREET TRASH!
So much crazy shit goes on in this movie.I love it.Henenlotter always entertains.
Its got some great 80's charm. It was entertaining. Has no story or point whatsoever. I liked it but after about an hour it overstayed its welcome and was ready for it to end.
Great movie but it definitely overstays its welcome. I enjoyed it but after about an hour i was ready for it to end. Id still recommend a viewing tho.
Childhood memories of this film still haunt me.