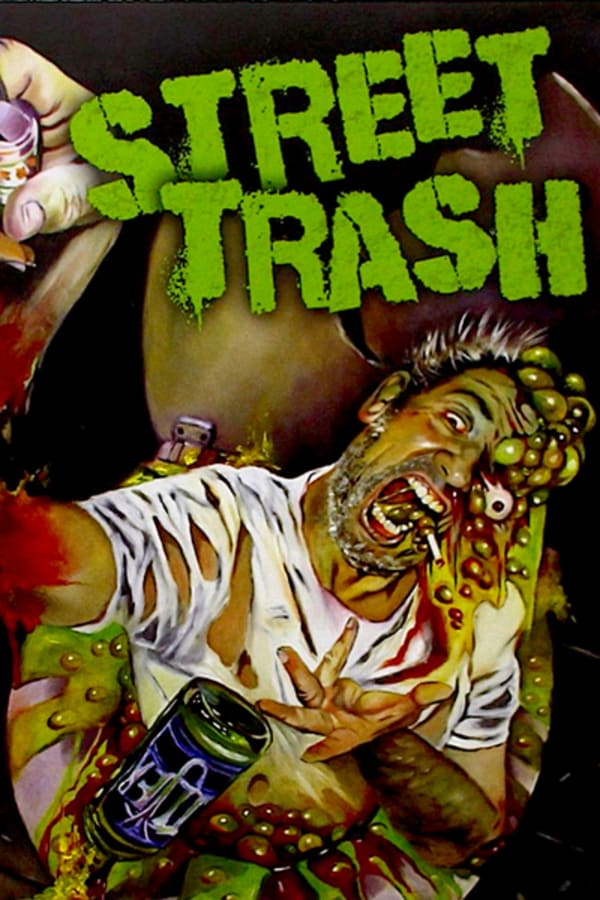 Street Trash
Directed by James M. Muro
In this gloriously oddball 1987 horror-comedy, a group of bums turn into blue blobs of rotted mush after drinking old booze, sold by a craven liquor store owner. Then Bronson, the psychotic veteran who rules their hobo camp, snaps and begins killing the derelicts at random. As the bodies pile up, two brothers realize they must stop both the booze and Bronson from wiping out their closest friends. Filled with hilariously messy gore gags designed to offend everyone (including an outrageous game of keepaway), STREET TRASH is a must-see for fans of Frank Henenlotter, William Lustig and Troma Entertainment. Contains strong language, sexual scenes, violence and gore.
A psychotic Vietnam vet and toxic booze threaten the lives of a group of homeless men.
Cast: Mike Lackey, Bill Chepil, Vic Noto
Member Reviews
A fairly good film for what it was made with (Joe Bob does an exceptional job of breaking it down) it really isn't plot heavy. There is a fairly linear plot but it focuses more on gross-out effects and over the top acting to get the job done which for the most part it accomplishes. If you're looking for something sophisticated or smart, look elsewhere.
Awesome film, kuddos to Jennifer Aspinall who did a killer job on the special fx make up in this one. From the grotesquely colorful gore to the severed man bits, it was just beautiful 👌🏻
A wonderfully dumb 80s horror movie that would rather have fun doing whatever stupid idea comes to head than even what it sets out to do in the plot synopsis. A solid 4.0 Stars.
I absolutely hated this. I wanted a body horror film, and there's actually not that much melting. Much more bum fights and rape. Thumbs down.