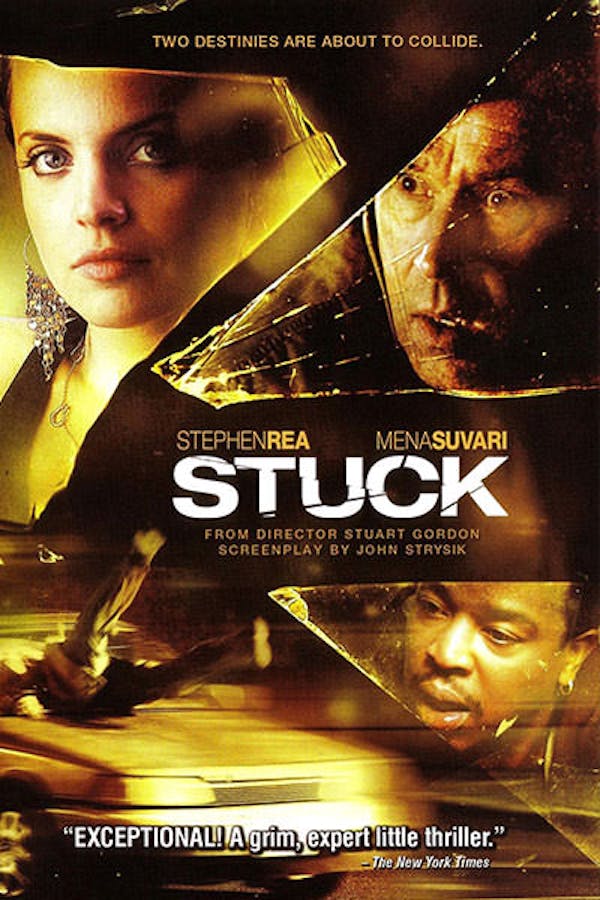 Stuck
Directed by Stuart Gordon
A nurse (Mena Suvari) hits a homeless man (Stephen Rea) with her car, then, fearing repercussions, imprisons him in her garage while she figures out what to do. Horror honcho Stuart Gordon (RE-ANIMATOR) puts his Lovecraft-fixation aside to explore man's inhumanity to man (something especially relevant during an era when torture was being debated by our highest officials). The vicious and bloody third act - in which Nurse Brandi and her victim fight for survival - is a thing of true beauty. Believe it or not - it's all based on a true story.
A nurse hits a homeless man with her car, then, fearing repercussions, imprisons him.
Cast: Mena Suvari, Stephen Rea, Russell Hornsby
Member Reviews
This was bad. And Mena's worst, most annoying role ever.
Loses points for white girl with cornrows. I can't believe I watched the whole thing.
I really trust the reviews here and there's even a few screen names of people I remember because their reviews are so accurate. That being said, review and SPOILER are completely different things. If you're asked to write a review, why would you take it upon yourself to write out exactly what happens? There's ALWAYS that person who writes who the killer is and how the movie ends and any of the plot twists. Come on!
Does a great job of making you feel bad the guy down on his luck. Feels like something that could actually happen. Had me glued to my screen, cringing at all the crap this poor dude has to go through. I was very surprised at how much I enjoyed this.