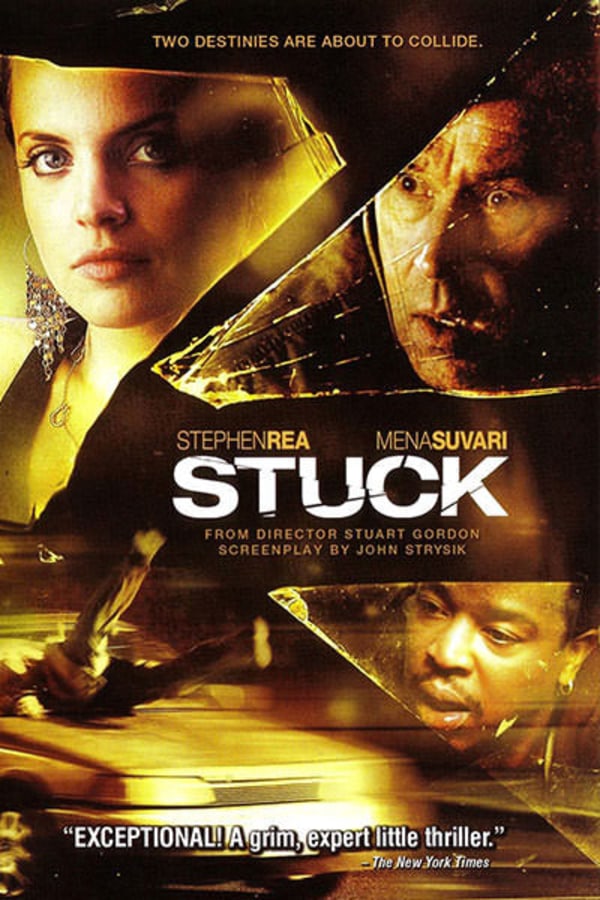 Stuck
Directed by Stuart Gordon
A nurse (Mena Suvari) hits a homeless man (Stephen Rea) with her car, then, fearing repercussions, imprisons him in her garage while she figures out what to do. Horror honcho Stuart Gordon (RE-ANIMATOR) puts his Lovecraft-fixation aside to explore man's inhumanity to man (something especially relevant during an era when torture was being debated by our highest officials). The vicious and bloody third act - in which Nurse Brandi and her victim fight for survival - is a thing of true beauty. Believe it or not - it's all based on a true story.
A nurse hits a homeless man with her car, then, fearing repercussions, imprisons him.
Cast: Mena Suvari, Stephen Rea, Russell Hornsby
Member Reviews
I can't believe I'm saying this but— this is actually a good movie
Worth it, very well done, simple, realistic. Time line makes sense, as do other aspects.
A woman hits a homeless man with her car and he gets stuck in the windshield. What follows is a dark comical adventure of cover up and things going from bad to worse. The great Stuart Gordon directed this one and it is highly underrated. Funny and serious when it needs to be, it showcases the real fears of all of us and ultimately the real life consequences of making certain bad decisions. The entire cast is spot on, with kudos to Stephen Rea as the homeless man and Russell Hornsby as the boyfriend. The film does not shy away from the awfulness of being stuck in a windshield either, painful as it is and a bloody mess as well. I really like this movie. 8.5 out of 10 stars.
That's a dog on shame!!!!