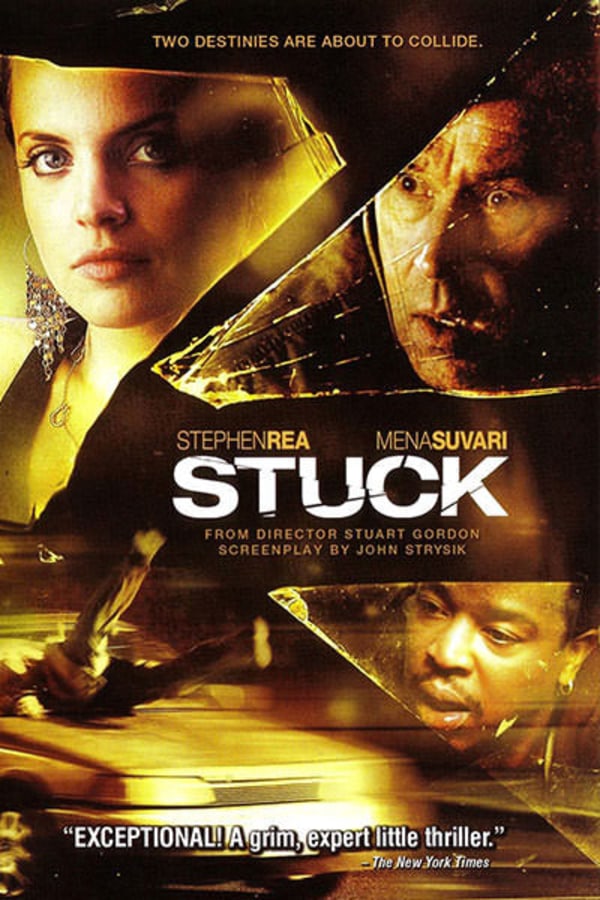 Stuck
Directed by Stuart Gordon
A nurse (Mena Suvari) hits a homeless man (Stephen Rea) with her car, then, fearing repercussions, imprisons him in her garage while she figures out what to do. Horror honcho Stuart Gordon (RE-ANIMATOR) puts his Lovecraft-fixation aside to explore man's inhumanity to man (something especially relevant during an era when torture was being debated by our highest officials). The vicious and bloody third act - in which Nurse Brandi and her victim fight for survival - is a thing of true beauty. Believe it or not - it's all based on a true story.
A nurse hits a homeless man with her car, then, fearing repercussions, imprisons him.
Cast: Mena Suvari, Stephen Rea, Russell Hornsby
Member Reviews
We enjoyed it my girl thought it was sad but I found it funny as hell..
Steven Rea does an absolutely fantastic job of acting. The story is quite far-fetched; although it was based on a true story that happened in Texas in 2002, the writer took more than a few creative liberties. The ending is quite different from the real life ending, although I think I like this one better.
Forgive me. It actually happened outside of Dallas. My memory is getting the better of me
This is based on a true story. Happened close to the town in New England where I grew up. Based on all the press the trial got, this movie is pretty close to what happened. It was heartbreaking to hear about the victim from his family during the trial. He was a loving family man with serious mental health issues. I can't begin to tell you what affect this movie has on me.
I have yet to see a film by Stuart Gordon that I dislike. This film makes you feel tired after watching it, like you were there for all that poor guys hell, and the ending is very satisfying.