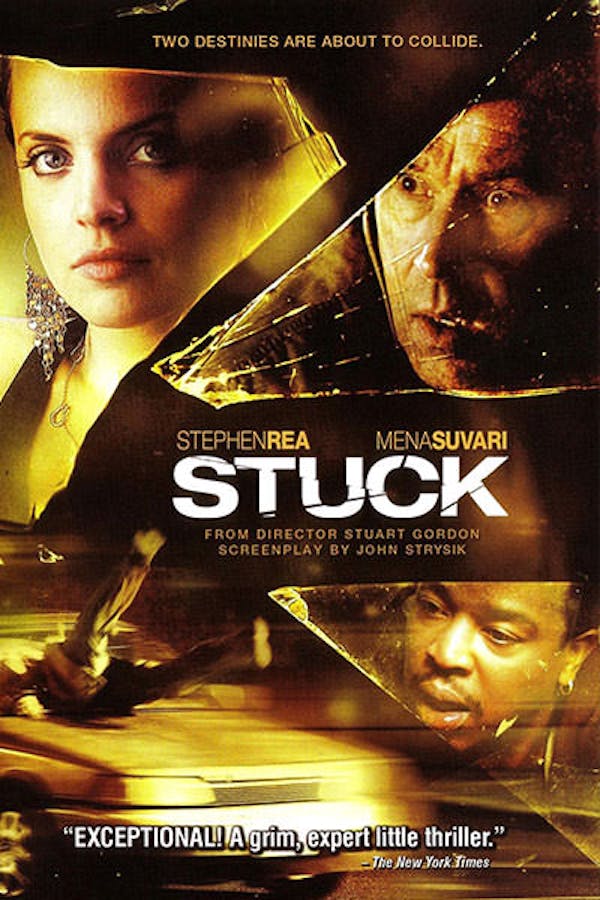 Stuck
Directed by Stuart Gordon
A nurse (Mena Suvari) hits a homeless man (Stephen Rea) with her car, then, fearing repercussions, imprisons him in her garage while she figures out what to do. Horror honcho Stuart Gordon (RE-ANIMATOR) puts his Lovecraft-fixation aside to explore man's inhumanity to man (something especially relevant during an era when torture was being debated by our highest officials). The vicious and bloody third act - in which Nurse Brandi and her victim fight for survival - is a thing of true beauty. Believe it or not - it's all based on a true story.
A nurse hits a homeless man with her car, then, fearing repercussions, imprisons him.
Cast: Mena Suvari, Stephen Rea, Russell Hornsby
Member Reviews
Really good movie. Justice is served
that was insane lol. loved it
This movies was... fine. I didn't love it or hate it. I'll probably never watch it again. I get that it's supposed to be a dark comedy of sorts, so I reminded myself to overlook the more absurd aspects of the plot. But the comedy needed to be a little bit more overt. Instead the movie just comes off as incredibly bleak. Stephen Rea's character is hopelessly unlucky to an unbelievable degree and it just felt like people were mean to him for the sake of it. Watch this movie if you're bored, I guess.
I found the film gripping and an excellent adaptation of the real-life story, with dramatic embellishments and dark comedy. Acting could have been better in places. Mena Suvari's character is hateable (including the badly appropriated hairstyle) that the way the plot progresses is very satisfying.