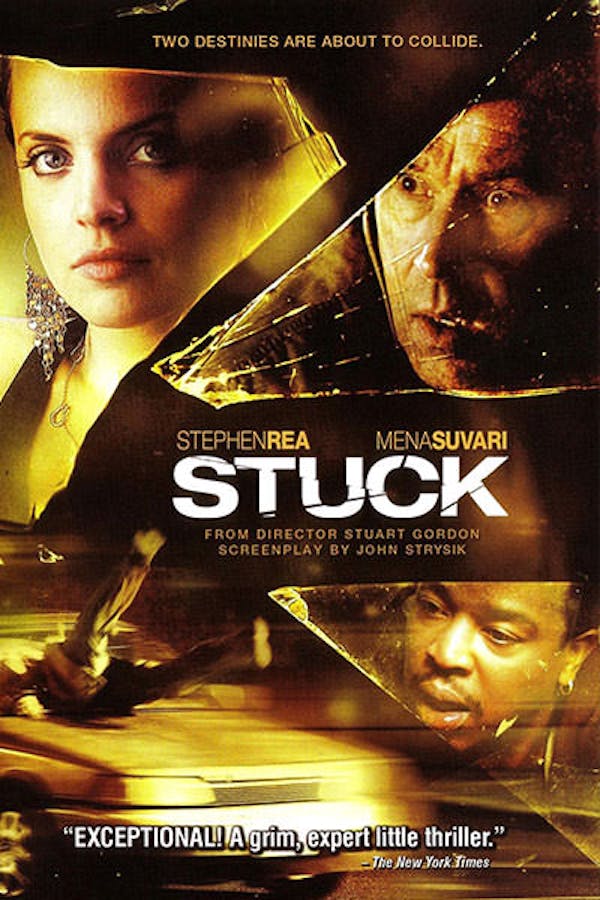 Stuck
Directed by Stuart Gordon
A nurse (Mena Suvari) hits a homeless man (Stephen Rea) with her car, then, fearing repercussions, imprisons him in her garage while she figures out what to do. Horror honcho Stuart Gordon (RE-ANIMATOR) puts his Lovecraft-fixation aside to explore man's inhumanity to man (something especially relevant during an era when torture was being debated by our highest officials). The vicious and bloody third act - in which Nurse Brandi and her victim fight for survival - is a thing of true beauty. Believe it or not - it's all based on a true story.
A nurse hits a homeless man with her car, then, fearing repercussions, imprisons him.
Cast: Mena Suvari, Stephen Rea, Russell Hornsby
Member Reviews
The sad thing, most of this is a true story that happened in Texas. the girl hit the homeless guy, and left him in the windshield for 2 days. he died, but would have lived. her and the boyfriend took the car and body to park, at set fire. she bragged about it at a party month's later and was sentenced to 50 years. there are true horror stories in this world. they did a decent job turning it into fiction.
While not one of the best movies out there, it does deliver entertainment to the end. The acting and characters were good too. Not a horror movie. More of a dark suspense movie.
Really liked it. Got a bit campy in the middle, but overall remained suspenseful.
Very nice movie. I definitely enjoyed it. The title is a bit... unfitting in my opinion. But it was still a very interesting movie with a very creative cast of characters. I did enjoy it quite a bit and it's definitely one of the better movies I've watched this Halloween season. Very good and very creative, and the fact it is loosely based on an actual accident only adds to the fact. Very creepy to think about.
honestly one of the stupidest movies i have ever seen. will never understand why some of these stupid Gordon movies are so highly praised