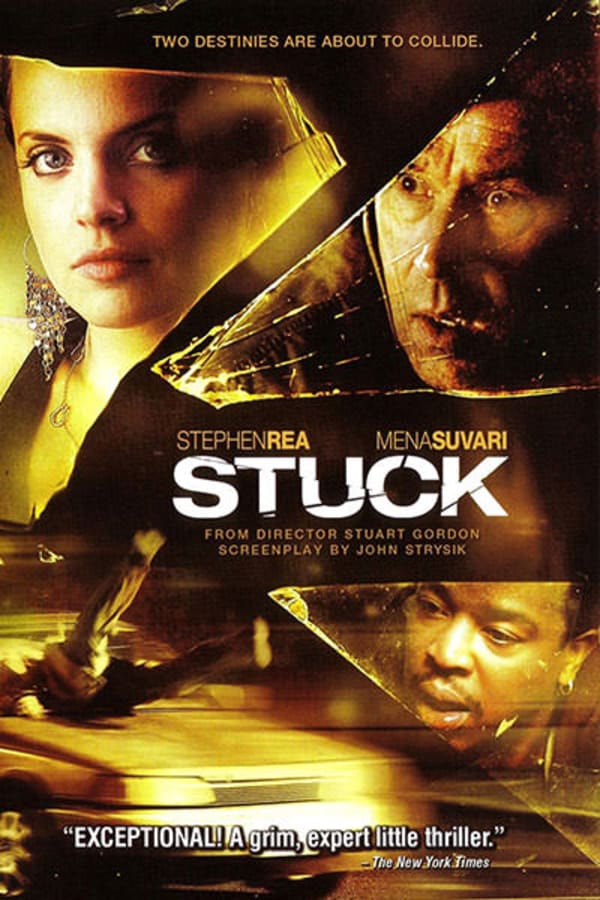 Stuck
Directed by Stuart Gordon
A nurse (Mena Suvari) hits a homeless man (Stephen Rea) with her car, then, fearing repercussions, imprisons him in her garage while she figures out what to do. Horror honcho Stuart Gordon (RE-ANIMATOR) puts his Lovecraft-fixation aside to explore man's inhumanity to man (something especially relevant during an era when torture was being debated by our highest officials). The vicious and bloody third act - in which Nurse Brandi and her victim fight for survival - is a thing of true beauty. Believe it or not - it's all based on a true story.
A nurse hits a homeless man with her car, then, fearing repercussions, imprisons him.
Cast: Mena Suvari, Stephen Rea, Russell Hornsby
Member Reviews
Great movie. It can happen to anyone
At 1 Hour 12 Minutes you will hear this Dialogue. Boyfriend: Look what happened to OJ! Mena Suvari: But didnt OJ go free? Boyfriend: Thats not the point! This movie is great, but I just have one question: Were yhe cornrows Mena Suvari's idea or........
At 1 Hour 12 Minutes, you will hear this dialogue.
Solid movie by the late great Stuart Gordon. Intense, gory, and funny, it was a true Stuart Gordon movie. The acting was great all around. The story was interesting and the movie keeps your attention. There were some problems with editing and it might have gotten a little too slapstick at times, but I would definitely recommend this movie. Thumbs up. *Side note - The fact that it was loosely based on a true story is what makes this a horror movie.
A fantastic little film by the master Stuart Gordon (rest in power!) a must see if you're a fan of his at all.