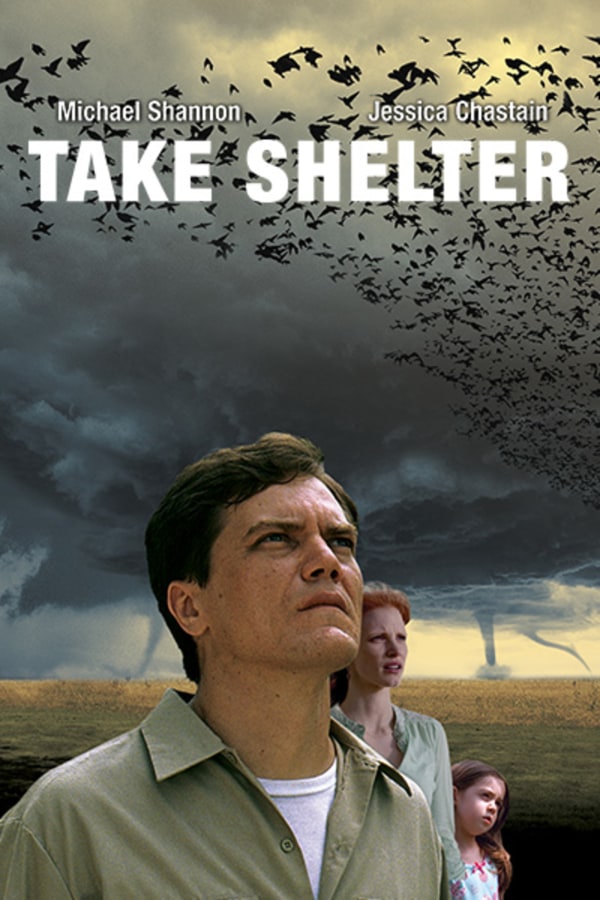 Take Shelter
Directed by Jeff Nichols
A man plagued by terrifying apocalyptic visions struggles to determine if they're real or if he's losing his mind. Either way, Curtis (Michael Shannon) is in trouble, and so he doesn't tell his wife Samantha (Jessica Chastain) about his nightmares, and instead seeks answers in psychology books, while obsessively building a shelter, just in case. Jeff Nichols (MIDNIGHT SPECIAL) broke out with this acclaimed portrait of a man on the brink of disaster that's instantly relatable to all of us who live in fear of the very real apocalyptic scenarios on Earth's horizon.
A man plagued by terrifying apocalyptic visions struggles to determine if they're real.
Cast: Kathy Baker, Jessica Chastain, Katy Mixon, Michael Shannon, Shea Whigham
Member Reviews
so, this really isn't a horror whatsoever and if you're expecting some kind of apocalypse like i was, you'll be very disappointed. great acting and plenty of drama of course, just not my cup of tea. very very slow, nothing happens till the very end. if you're a fan of his you might like it.
Loved Michael Shannons portrayal of mental illness in the Movie Bugs with Ashley Judd but this one was even better as it was much subtler. This man has a knack for playing these characters! Its more of an artsy film so if youre looking for scares, jumps or gore this isnt the movie for you! Its more suspense, mind bending etc. it keeps you guessing on whether hes really mentally ill or if he truly sees whats coming... it moves slow and thoughtfully so if youre looking for constant action then this isnt the movie for you...the intellectual viewer will love it for the masterpiece it is. amazing acting..amazing script and writing and exceptual directing! cant say too much without giving away spoilers but even though it moved slow and is not what i would call a traditional horror flick, I loved it...loved the suspense of it..the is he sick or not?? not a huge fan of the ending but its perfect for the rest of the movie... so many times we label that which we do not understand and this is a perfect example of that...we fear what we dont understand. what makes this movie even more appealing is that it could actually happen..it could happen to any one of us and whats scarier than real life? whats scarier than thinking you may be losing your mind? your family? im not a believer in paranormal things such as aliens, monsters etc but i do think there are things out there that we cannot just explain away and throughout history there have been people who just seem to know when things are going to happen...no rational explanation..no scientific explanation... they just do and that scares a lot of people. moral of the story for me ...what a much better world we would be living in if we aactually listened to one another, didnt just jump to conclusions about someone, had total faith in those we love and care about and stopped putting so much stock in what is supposed to be normal and right by socities standards. Life happens, strange happens....why do we need labels on everything?
Great performance from Michael Shannon. Slow and contemplative film. Takes the "is it supernatural or is it mental illness" approach and does so intelligently.
very slow drama/psychological/thriller! geez
Very well acted and written. But didnt need to be as long as it was for the ending it has.