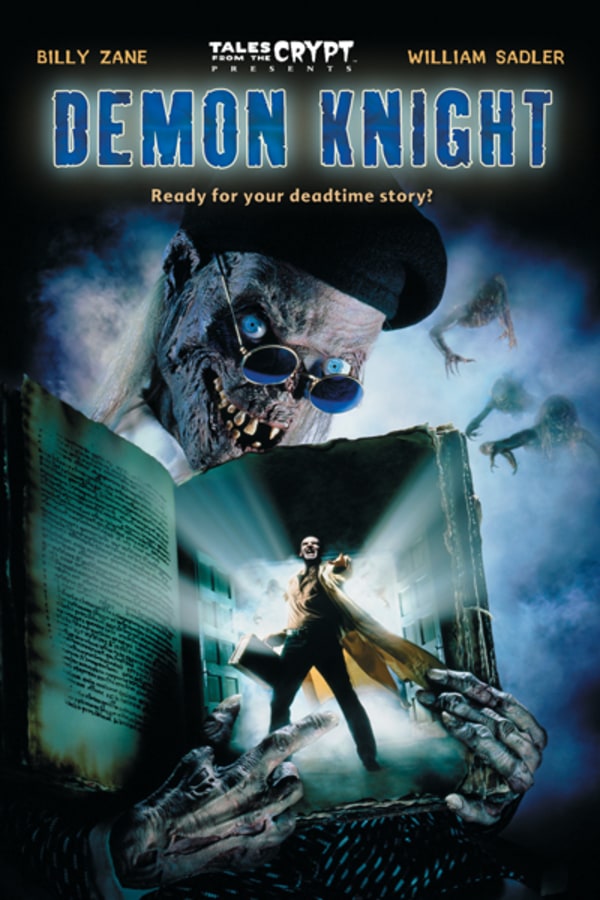 Tales from the Crypt: Demon Knight
Directed by Ernest Dickerson
Jada Pinkett-Smith and William Sadler star in this thriller about an odd drifter who possesses the last of seven ancient keys that hold the power to protect humanity from the ultimate evil.
An odd drifter possesses the last of seven ancient keys that hold the power to protect humanity from the ultimate evil.
Cast: Billy Zane, Jada Pinkett, William Sadler, John Kassir, Thomas Haden Church
Member Reviews
Fun, funny and exceedingly well cast.
Dumb fun, Billy Zane is great in this. Ten times better than that shit pile Bordello of Blood.
I loved this movie in the theater and I love this movie now. Billy Zane does steal the show, but man, I'd love to see a Demon Knight 2 with Jada Pinkett returning to her role. Either way, one of the top horror films of the 90s.
Demon Knight is a fantastic romp, and a personal favorite, more of an Evil Dead 2 rather than an Evil Dead 1. Billy Zane as "The Collector" is the feature talent and he steps into his role as the villain with bombastic glee. Pinkett and Sadler play the heroes, and they play their parts well, though as serious hard nosed characters they are less entertaining than Zane. This type of story really requires an over the top hero who can express the audiences' own reactions when faced with the camp offered by the film. The film also has a habit of looking very drab with the sets and locations functional but uninteresting. This criticism does not detract my enjoyment of the film. What does detract are the bookends with the Crypt Keeper. I understand that his presence is the reason the film got made, but his scenes are less interesting than the main feature. Demon Knight delivers on some well loved tropes and delightful effects including some incredible monsters! The story's infusion with Christian Mythology is a particular quality for me as this film respects the sources it draws from rather than demonize them as most films of this kind are want to do. I would love to see a follow up with Pinkett's character, perhaps with the part of The Collector being played by her real life husband.... "Hello Kiddies, I call this terror tale Demon Knight 2: The Rotting Prince of Hell-Scare!!!"