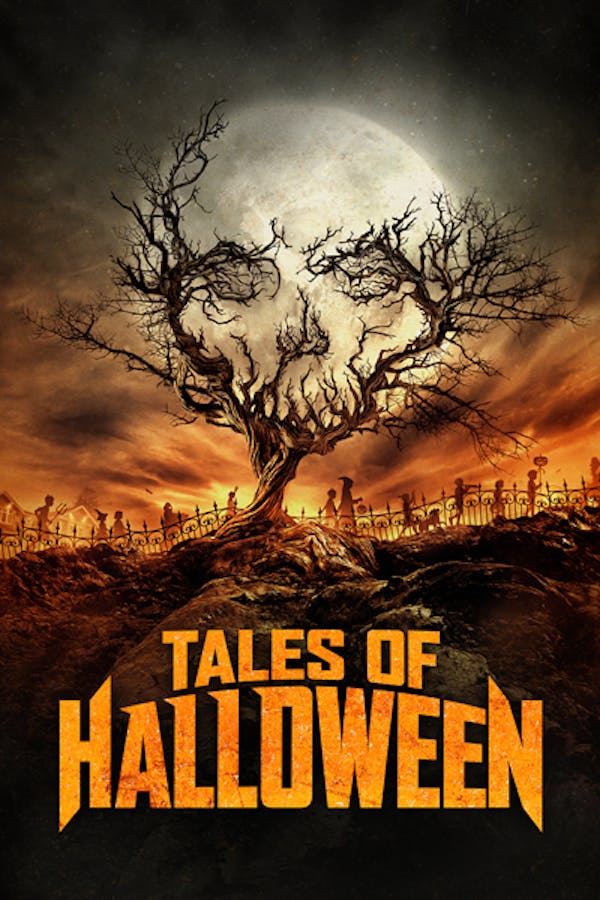 Tales of Halloween
Directed by Darren Lynn Bousman, Axelle Carolyn, Adam Gierasch, Andrew Kasch, Neil Marshall, Mike Mendez, Lucky McKee, David Parker, Ryan Schifrin, John Skipp, Paul Solet
Ten stories from horror's top directors. Ghosts, ghouls, monsters, and the devil delight in terrorizing unsuspecting residents of a suburban neighborhood on Halloween night. This creepy anthology combines classic Halloween tales with the stuff of nightmares.
Ghosts, ghouls, monsters, and the devil delight in terrorizing a neighborhood on Halloween night.
Cast: Lin Shaye, Pat Healy, Barry Bostwick, Joe Dante
Member Reviews
I liked this anthology a lot. Not super scary but perfect to watch with kids on Halloween.
I first saw this about a year ago on Prime and I'm so glad it came to Shudder! We really enjoyed it! It has great Halloween atmosphere. I only deducted 1 skull because there were 2 stories we didn't care for: the alien one was just too stupid and the last one. Other than those, it's a great fun Halloween anthology that's sure to get you in a spooky mood!
Dentist gives trick-or-treater toothbrush. Satan takes toothbrush and gleefully fashions it into a shiv. Trick-or-treater then stabs dentist with said shiv. And that is kind of the tone of the whole film. Great for having on during a party the night of Halloween, or when trick or treaters are active.
It wanted to be the next Trick r Treat but none of the stories were interesting enough and the wraparound was average. Would've likely benefitted from having one director instead of multiple.
Cute... which isn't what you want to hear when you think horror. Not sure what age group this was targeting but it for sure wasn't gear towards adults. I feel there were more stories than their needed to be and a lack of any remote connection unlike other Anthologies I've seen. A lot of the gore is rather over the top so much so that it isn't even really gore. I give it 4 Skulls because it was enjoyable. A few stories were a little spooky, some a little kooky, it held my interest. If you are looking for a low key sometime laughable horror that you can enjoy with your kids I'd say this is the one.