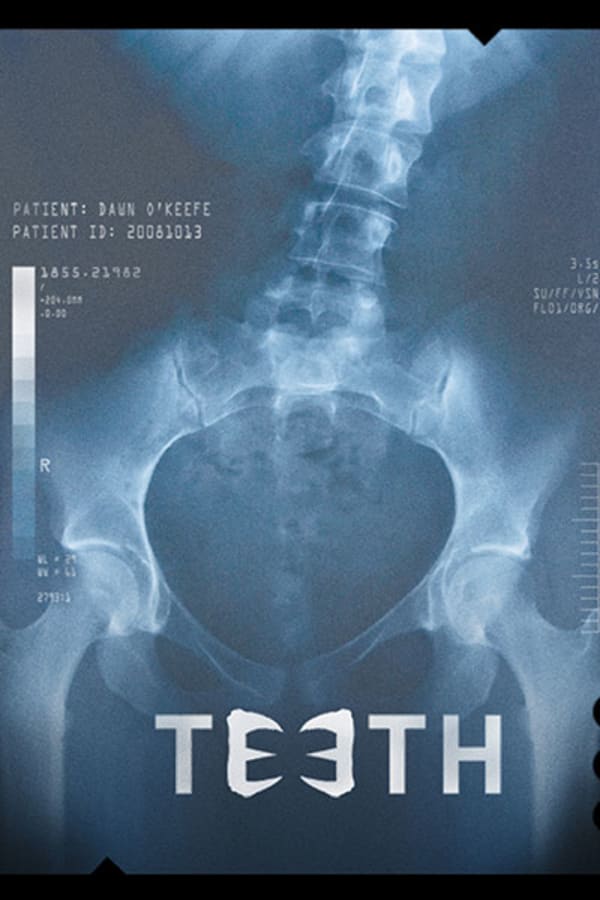 Teeth
Directed by Mitchell Lichtenstein
In this satirical feminist horror from director Mitchell Lichtenstein, high school student Dawn (Jess Weixler) struggles to suppress her burgeoning teenage desires when she falls for classmate, Tobey. Vowing to stay celibate at her weekly chastity meetings, Dawn continues to struggle with teenage hormones when her lustful stepbrother makes sexual advances towards her. When Dawn becomes the victim of a sexual violent encounter, she discovers that she suffers from a rare affliction: she's living proof of the vagina dentata myth. Exploring her body for the first time, Dawn learns the pain and power that comes from her unique anatomy. Contains strong language, sexual scenes, violence and gore.
High schooler Dawn learns she's living proof of the vagina dentata myth.
Cast: Jess Weixler, John Hensley, Josh Pais, Lenny Von Dohlen
Member Reviews
So I sat down to watch this as im a horror fanatic and recently got Shudder so I was browsing through in the hopes that I could find some classic movies that I haven't seen yet because there was a few staples that I hadn't seen yet. Ooh boy people told me this was a strange film and they were not wrong 🙈 The film started very religious and stereotypical and I thought that was what it was going to be (Some kinda warning against sex before marriage) but it went from 0-100 steadily throughout the film definitely a lot of cringey absurd scenes and if it wasn't so serious in places id almost mistake it for one of the Scary Movies. Safe to say that I might need some brain bleach after this 😂
It had the cringiest scenes I have ever witnessed in life! Man these feminists can't chill 🤣
Surprisingly super good!? Plays with tropes and expectations, cracking performance from Jess Weixler, great revenge scenes and a well thought-out transformation from shy, abstinent and naive, into a genuinely disturbing and iconic killer/maimer. Fantastic body horror, genuine moments of gross-out cringe, brill practical effects. Funny in the right places, serious in the right places. Cult hit and a bloody masterclass in modern day horror tinged with tongue-in-cheek black comedy. Unexpected feminist horror ahoy!
All the fun and shock of of an 80's slasher but re-tooled to a modern slow burn. The bizarre premise has a consistent follow through, which builds the tension slowly and with expertese.
Entertaining an hilarious enjoyed this one but has now made me very nervous about meeting someone new!