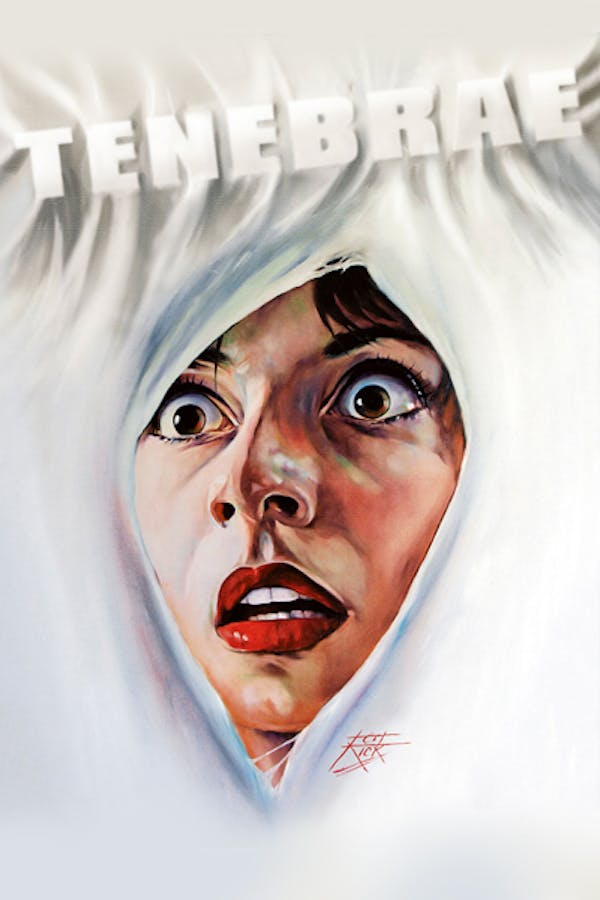 Tenebrae
Directed by Dario Argento
Horror novelist Peter Neal (Tony Franciosa) arrives in Rome for a book tour just as a series of brutal murders begin. When Peter learns the killer is a superfan inspired by his gruesome novels, he decides to solve the crimes. As the slasher's blade continues its bloodthirsty business, Neal realizes he must dive deep into his memories if he wants to catch the killer. After a scary experience being menaced by a real-life obsessed fan, Dario Argento poured his fears into this visually stunning return to form, loading TENEBRE with some of the most gorgeous and horrific murders in all the director's oeuvre.
A razor-wielding psycho stalks a horror writer in one of Dario Argento's most celebrated gialli.
Cast: Anthony Franciosa, Giuliano Gemma, John Saxon
Member Reviews
believe this was the 1st giallo/Argento/Italian horror film i ever saw around 20yrs ago so it has "CLASSIC" status for me personally
Great giallo from one of the masters. The majority of the kills are very well done, and the dog scene is fantastically unnerving. One of the selling points of the film is the lovely Daria Nicolodi, who is bubbly and radiant here, as always. Surprised that more reviewer's didn't mention her presence. John Saxon's role is more low-key than usual, but still solid.
Mid-high level Argento flick. Great effects in the kills, and an intricately interesting plot.
The soundtrack is pure 80s brilliance and the dog scene is incredibly unsettling; but the rest of the film is either boring, stupidly goofy, or both at the same time. The 'reveal' is horror writing at it's absolute dumbest. The lead actor is also just not very interesting or convincing. I never believed he was the 'edgy, misogynistic' horror writer everybody in the movie says he is. He felt all wrong for that part, so much so that I was guessing perhaps a 'twist' would emerge that he never wrote of his books, after all. Sadly, the real twist is so, so much dumber than that. Still, three stars for the music and the photography -- both are top notch.