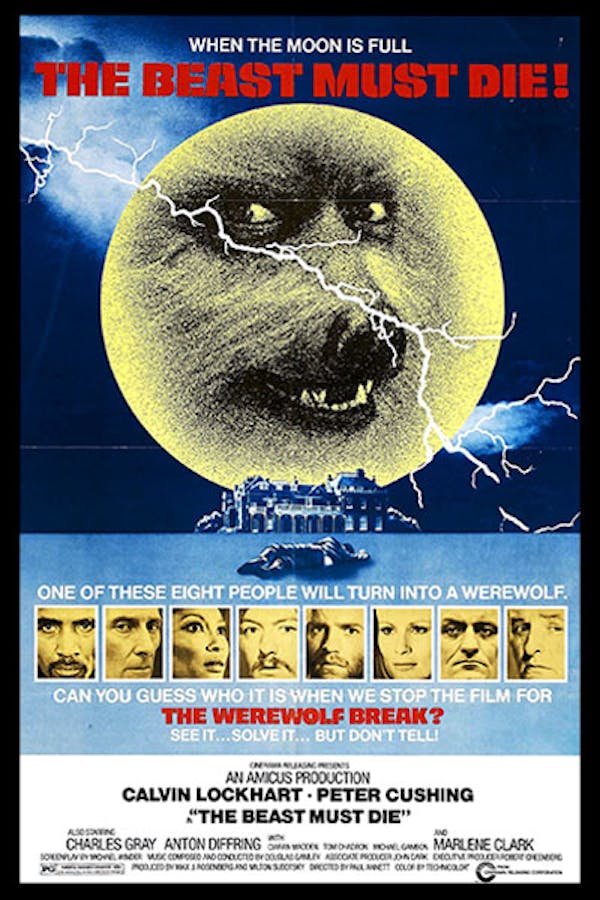 The Beast Must Die
Directed by Paul Annett
A group of guests at a country house learn that one of them is secretly a werewolf in this supernatural mystery which famously included a Werewolf Break where audience members could guess the answer. Among the many suspects are archaeologist Peter Cushing (HORROR EXPRESS), piano player Michael Gambon (HARRY POTTER's second Dumbledore), and diplomat Charles Gray (the criminologist in THE ROCKY HORROR PICTURE SHOW), all of whom must submit to a series of strange werewolf tests. An unusually fun and frothy Amicus production TBMD is a hair-raisng good time.
A group of guests at a country house learn that one of them is secretly a werewolf.
Cast: Calvin Lockhard, Peter Cushing, Marlene Clark
Member Reviews
A werewolf whodunit with an absolutely insane main character and a William Castle-style gimmick. Add a couple fun twists at the end, cheesy 70s score and Peter Cushing and you have a really fun werewolf movie.
Aside from the obvious fakery regarding the "Werewolf", which was most certainly a Dog, the concept was quite brilliant and I enjoyed it. My guess was incorrect‼️ This was a very original story and I highly recommend it.
This trailer changed my life.
Good who dunnit movie...btw the 2 suspect were exactly the one's i had picked.. enjoyed it and those who gonnna watch it will too..ciao.
Remembered this gem growing up in the 70s. One of my all-time faves! Just wish the werewolf didn't look like someone's pet! No real glaring clues before the legendary Werewolf Break to help you decipher who it could be. I truly feel they could've just chosen any one of the guests after the break. When the big reveal finally came, it wasn't like I felt that I completely missed the obvious clues. It kept me guessing for sure. It was a total crapshoot in my opinion...but still a fun & unique ride!