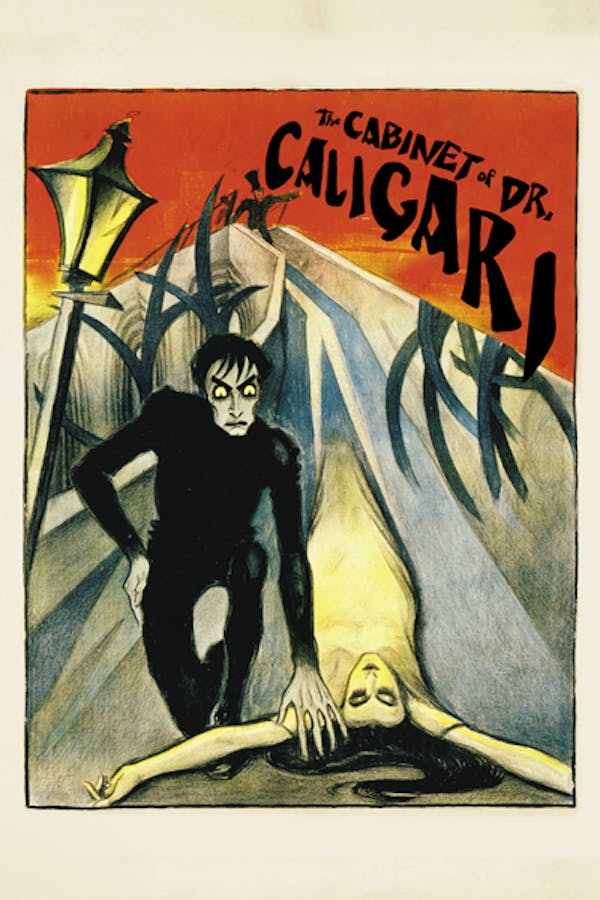 The Cabinet of Dr Caligari
Directed by Robert Wiene
This still scary German silent is one of the most important horror films ever made. At the local town fair, the creepy Dr. Caligari sets up shop with a sleepwalking assistant. Soon enough, those who cross their path begin turning up dead. Featuring a stunningly gorgeous set design inspired by the angular extremities of German expressionist art, a subtle prediction of the dark direction Germany was headed, and a twist-ending that's been copied by countless filmmakers all over the world, THE CABINET OF DR. CALIGARI is a must-see for any true horror fan.
This still scary German silent is one of the most important horror films ever made.
Cast: Werner Krauss, Conrad Veidt, Friedrich Feher
Member Reviews
As a German, the faces in this film seem so familiar to me. A must see for anyone interested in watching Rob Zombie's progression from copying Al Jourgensen to copying Dr. Caligari.
My favorite film of all time! The story, the Visuals, the expression in the acting. A complete masterpiece. Everyone should see it at least one.
Such great story telling. I love the ending!
i don't know what i was expecting but it wasn't that. lived up to/surpassed(?) the hype.
How incredible this film is. And not just for its time… The German Expressionist movement is incredible to see in an actual film. You can see how something as commonplace as a set piece can be made to overwhelm the senses with sharp edges, distorted figures, and shadows drawn onto the background. I can see where films like Brazil, Twin Peaks, andFear & Loathing were inspired to incorporate their sets into the overall atmosphere of the films. After about 10 mins, it's easy to get lost in the settings and performances, and start feeling like you're watching a SPOOF of a silent film, shot just 10 years ago… I always thought when you'd see a recent "send up" of a silent film that they were exaggerating the acting, but it's pretty obvious from this film alone that THAT'S HOW THEY ACTUALLY PERFORMED. And a lot of those "big performances" were due to the filmmakers using live theater actors who hadn't quite gotten used to acting for the camera… They were still acting for a crowded theater house to reach the back rows, as Joe Bob said. Either way, this film was WAY ahead of its time. Excellent horror film, regardless of year.