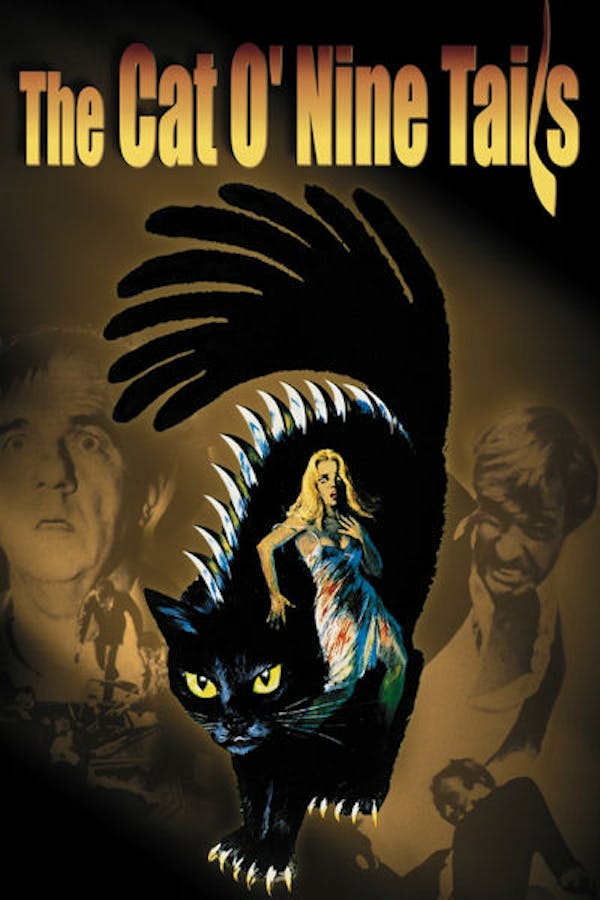 The Cat O'Nine Tails
Directed by Dario Argento
In Dario Argento's fearsome follow-up to THE BIRD WITH THE CRYSTAL PLUMAGE, a blind man (Karl Malden) and a reporter (James Franciscus) investigate a series of slayings connected to a secret genetic facility. The sleuths quickly narrow it down to nine suspects, including the institute head's beautiful daughter. But each time they get close to solving the crimes, the killer strikes again. Argento trademarks abound here, including stylized use of color during murder scenes, extreme eyeball closeups, and a Hitchcockian finale on a roof that echoes NORTH BY NORTHWEST. Contains violence and gore.
Two men investigate a series of slayings connected to a secret genetic facility.
Cast: Karl Malden, James Cranciscus, Catherine Spaak
Member Reviews
Deserves a lot more love. That little bass number will be in my head for weeks.
It's not perfect. Parts are a bit slow and the ending comes about a bit abruptly. But there's still a lot of fine craftsmanship from Argento here. Of Argento's early works, this ranks rather low, but that still puts it above many another giallo. It goes without saying this is a must watch if you're at all into the genre.
More of a mystery than a straightforward horror, but I find it to be a very charming movie! Not Argento's best, but it's one of my favorites.
I spaced out during this one a couple times but never really felt bored. I enjoyed the dynamic between the blind man, the little girl, and the reporter. It looks striking and stylish even though Argento hadn't found his visual groove, yet. I could see myself watching it again in a few years.