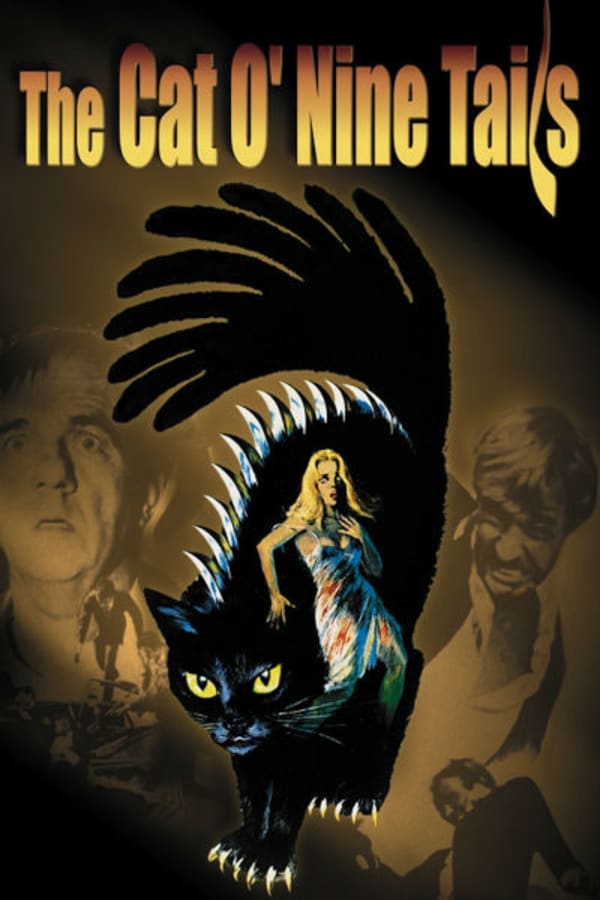 The Cat O'Nine Tails
Directed by Dario Argento
In Dario Argento's fearsome follow-up to THE BIRD WITH THE CRYSTAL PLUMAGE, a blind man (Karl Malden) and a reporter (James Franciscus) investigate a series of slayings connected to a secret genetic facility. The sleuths quickly narrow it down to nine suspects, including the institute head's beautiful daughter. But each time they get close to solving the crimes, the killer strikes again. Argento trademarks abound here, including stylized use of color during murder scenes, extreme eyeball closeups, and a Hitchcockian finale on a roof that echoes NORTH BY NORTHWEST. Contains violence and gore.
Two men investigate a series of slayings connected to a secret genetic facility.
Cast: Karl Malden, James Cranciscus, Catherine Spaak
Member Reviews
Another Argento mystery thriller and a hard one to stay with. Lots going on but never really feels like it while watching. I enjoyed The Bird With The Crystal Plumage far more than this. It was simpler and didnt overcomplicate the film, yet personally I prefer a films imagery more than its storyline. More so with Darios films. Watched this too late and had to watch in 2 parts as I felt myself lulling halfway through the night before. That said the final hour grabbed my attention far the next day more so I really think Argento deserves that I watch this again.
Definitely one of Argento's more underrated and entertaining efforts with great chemistry between the two leads.
Great movie I saw a lot of reviews talking about how the movie was too slow but I enjoyed the slow burn of the story. I thought the acting was decent and the plot had me guessing until the very end. Overall I can say that to me it was a very enjoyable movie.
not a single fucking cat through out this entire movie. false advertisement.
Argento is a master! Even if you don't like the plot lines, and cheesiness, his vision, and direction is the main reason to watch his work!