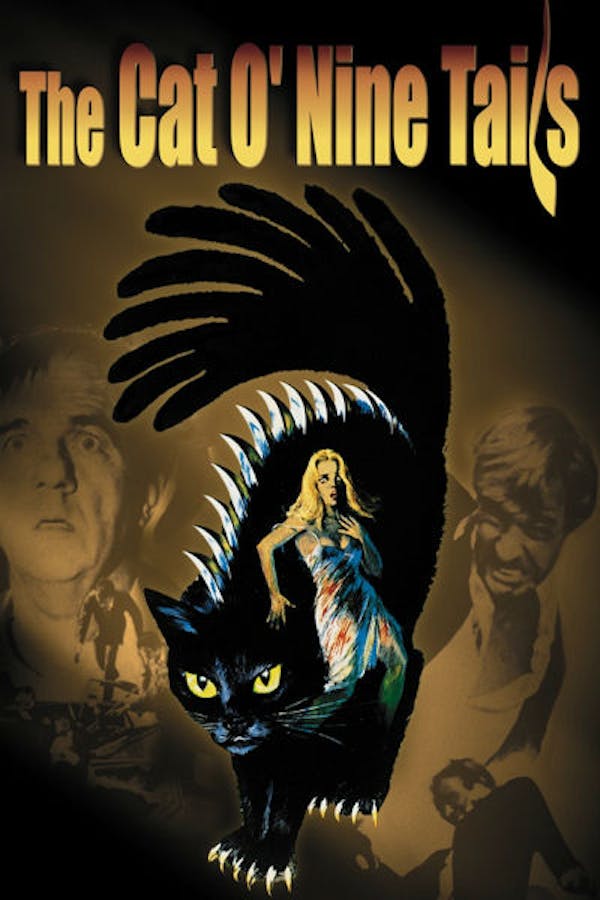 The Cat O'Nine Tails
Directed by Dario Argento
In Dario Argento's fearsome follow-up to THE BIRD WITH THE CRYSTAL PLUMAGE, a blind man (Karl Malden) and a reporter (James Franciscus) investigate a series of slayings connected to a secret genetic facility. The sleuths quickly narrow it down to nine suspects, including the institute head's beautiful daughter. But each time they get close to solving the crimes, the killer strikes again. Argento trademarks abound here, including stylized use of color during murder scenes, extreme eyeball closeups, and a Hitchcockian finale on a roof that echoes NORTH BY NORTHWEST. Contains violence and gore.
Two men investigate a series of slayings connected to a secret genetic facility.
Cast: Karl Malden, James Cranciscus, Catherine Spaak
Member Reviews
Not all that long ago, I was an Argento fanatic. I bought all films I could off his and this was one of them. I have since cooled down on my blind love of his films after finally viewing his more recent films. I still believe that Argento was once a master of horror and some of his earlier films are masterpieces of visual storytelling. This film I think more solidifies his eventual style than Bird with the Crystal Plumage does, but the storytelling is not nearly as interesting here. The acting is great but the story and reveal of the killer isn't as big as in Bird with the Crystal Plumage. Still better than most giallo films and doesn't become a sophomore slump for Argento
The first time I saw this, I agreed with most other viewers in that I felt it was good, but not great. After some time I came back and the second watch it really hit me. Perfectly executed for what it's trying to be. I think I liked Bird with the Crystal Plumage a little more. I'll need to revisit that one now.
Pretty average, but some hilarious kills and the greatest shot of a milk handoff I've ever seen.
Not as surreal or violent as Argento's other films, and therefore probably not as interesting to his fans. This film is more of a suspense thriller than a horror film - more along the lines of something like Tightrope. Unlike his other films, this one has a sense of humor, and the characters - especially Karl Malden - are more playful. It's enjoyable on that level, and there are some great suspense sequences that Argento wrings ever last drop out of.
If you like Argento you will love it. Not his best but far from his worst