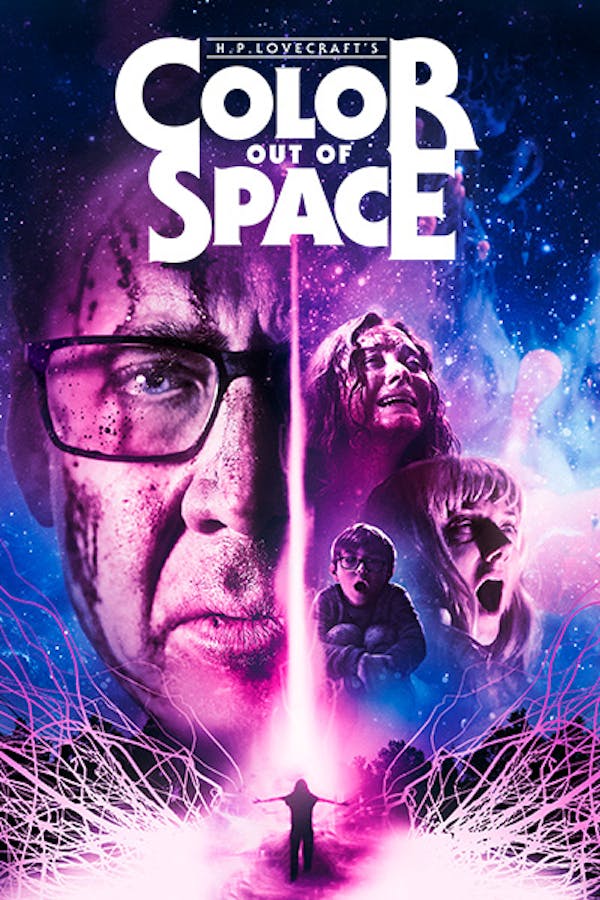 Color Out of Space
Directed by Richard Stanley
After a meteorite lands in their front yard, Nathan Gardner and his family find themselves battling an extraterrestrial organism as it infects their minds and bodies, and turns their lives into a living nightmare. Nicolas Cage stars in this mind expanding cosmic horror. A SHUDDER EXCLUSIVE.
After a meteorite lands on their farm, Nathan Gardner and his family must battle an extraterrestrial organism as it infects their minds and bodies.
Cast: Nicolas Cage, Joely Richardson, Madeleine Arthur, Brendan Meyer, Julian Hilliard, Elliot Knight
Member Reviews
not a bad movie goofy lil sub plot between daughter n dude. but i like it really love the lovecraftian horror
Really enjoyed this fave movie of 2020
I never watch movies more than once, but I keep putting this on. it's got a great mix of sci-fi and horror, beautiful scenery and human (alien) nature. its just weird. I love it
Pure genius! I'm here for the llama milk
Hoooooooo Boi! This is another grab bag of things to like and dislike. . . As great as it was to see N.C. reprise his exact role and accent from "Vampire's Kiss" I think this film would have benefitted from a different mad man. Don't get me wrong, N.C. does "off the rails" better than most, but it's too familiar at this point - If you're going to do Lovecraft justice you have to go with as alien, otherworldly, and unfamiliar as possible. At this point Cage's "off the rails" is just "on the rails" of a hundred other crazy-train performances. Rest of the cast was perfect. . . . Pacing was off and uneven. . . . Effects were grab-bagged again - some truly horrific, some surreal, some mesmerizing, and some looking like there was no budget at all. I'm torn on all the color SFX - wasn't terrible for what it was, BUT it felt a little too post-production polished, which subliminally just feels "safe." Not sure how that could have been remedied - more experimenting with physical lighting layered in? At any rate, it wasn't the worst but it did miss the mark. And when the "creature" of your creature feature is xenopsycholuminescence, that's something you want to be more palpable and not looked tacked-on.