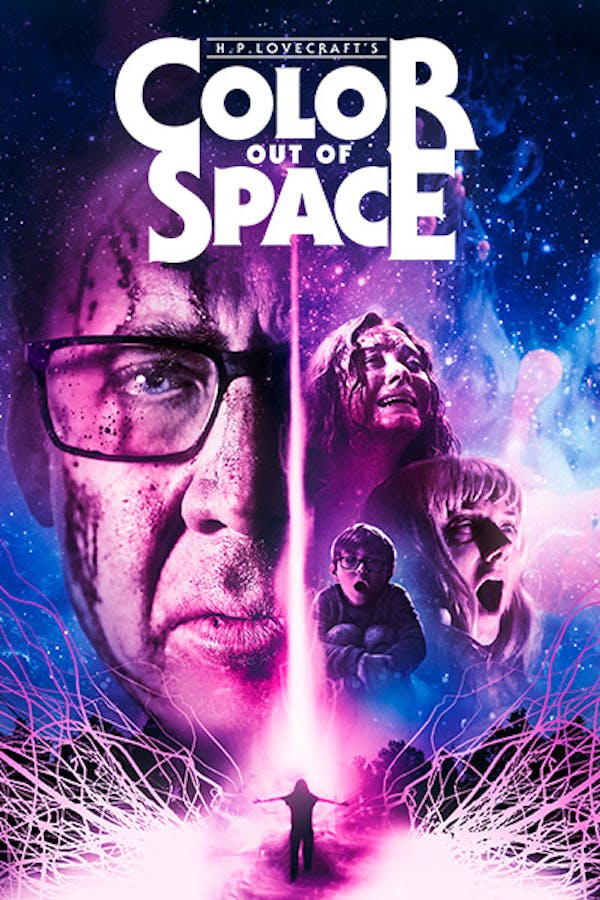 Color Out of Space
Directed by Richard Stanley
After a meteorite lands in their front yard, Nathan Gardner and his family find themselves battling an extraterrestrial organism as it infects their minds and bodies, and turns their lives into a living nightmare. Nicolas Cage stars in this mind expanding cosmic horror. A SHUDDER EXCLUSIVE.
After a meteorite lands on their farm, Nathan Gardner and his family must battle an extraterrestrial organism as it infects their minds and bodies.
Cast: Nicolas Cage, Joely Richardson, Madeleine Arthur, Brendan Meyer, Julian Hilliard, Elliot Knight
Member Reviews
Killer soundtrack, beautiful visuals, and a stellar cast. Will absolutely watch again (after I get over a sudden fear of water).
Surprisingly good. The movie knows the story it wants to tell and keeps its narrative focus tight. It also makes the best use of an "unhinged" yet still on-target Nicholas-Cage, who delivers a performance that is half mad and fits neatly into the premise. All of this is aided by one of the creepiest soundtracks I've heard in a while. If Lovecraft is your thing. "Color Out of Space" pays beautiful homage to the original story.
I don't know what I was expecting except for Nic Cage hamming it up, so I definitely wasn't disappointed there. Kind of a new spin on an old concept, combining astral and body horror with psychological thriller and sci-fi elements. Just lost a bit due to being very CGI-heavy and, per the usual with those, not having very appealing CGI. Even so, pretty cool and definitely disorienting.
Beautiful and harrowing. Nic Cage is an amazing actor who tackles endless roles with endless energy and commitment, and no fear. Sometimes he's bad, because he's willing to risk that, but he's good in this one.