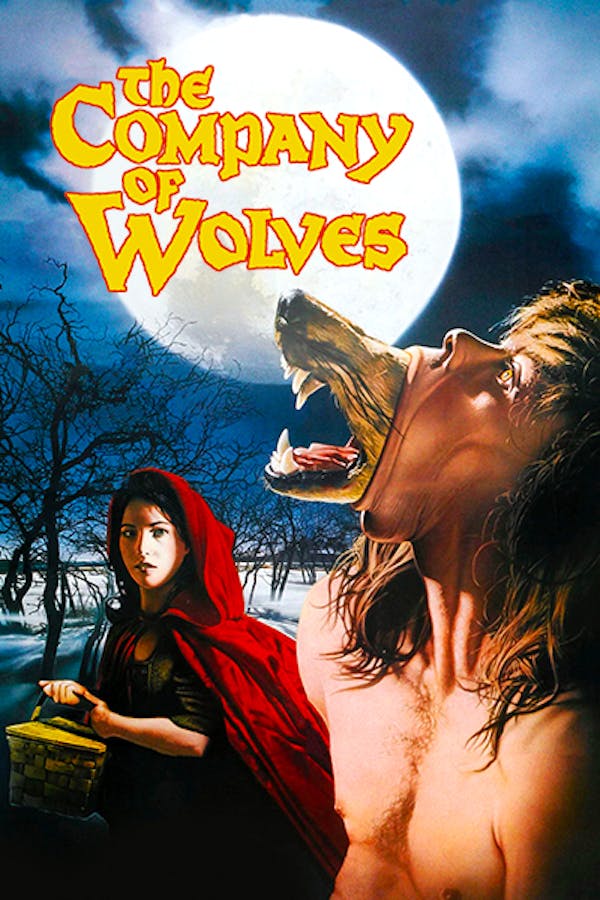 The Company of Wolves
Directed by Neil Jordan
A wise grandmother (Angela Lansbury) tells her granddaughter Rosaleen (Sarah Patterson) a disturbing tale of innocent maidens falling in love with handsome strangers ... and of their sudden mysterious disappearances when the moon is full and accompanied by the strange sound of a beast in the woods.
Fascinating and imaginative, this riveting thriller from director Neil Jordan brings the timeless tale of "Little Red Riding Hood" and werewolf fables together in a haunting, compelling and eerie way.
Cast: Sarah Patterson, Angela Lansbury, David Warner, Graham Crowden, Brian Glover
Member Reviews
I'm making a point of leaving a positive review now, in case I forget to review it later. I don't tend to rewatch a movie unless it was particularly interesting or somehow special enough to warrant it. This one is. So I'm going to sit down and watch it again. That's about the highest praise I can sing for any film. If you're on the lookout for gruesome gore and tense life-or-death struggles, this isn't what you're after. What you'll find is a clever layering of classic stories and folklore with beautifully realized sets and costumes, visual language, and cinematic flair. This is an artistic experiment wearing the skin of a horror movie. I feel like a pretentious jerk just writing this, but I don't know how else to describe it. 4 skulls for now. Might change it after the second go round.
I already liked the short story the movie's based on. The film not only lives up to its source material, it easily can stand on its own as a fiendish feminist fairytale. Erotic and enchanting. Campy and captivating.
I am so HAPPY, I can't remember at what wee age I saw this but its stayed in my mind since those juvenile years and with everything I've forgotten, this has stayed, and I couldnt remember the title of it. The only thing i remembered clearly was 'Jessica Fletcher', lol.
A bit all over the place in the sense of the period it felt like, but overall I enjoyed the movie. The transformations were pretty cool. I enjoyed the folktale aspects of the story. The stage sets were great. Would recommend, but only to certain people or as a hangover or lazy weekend movie.