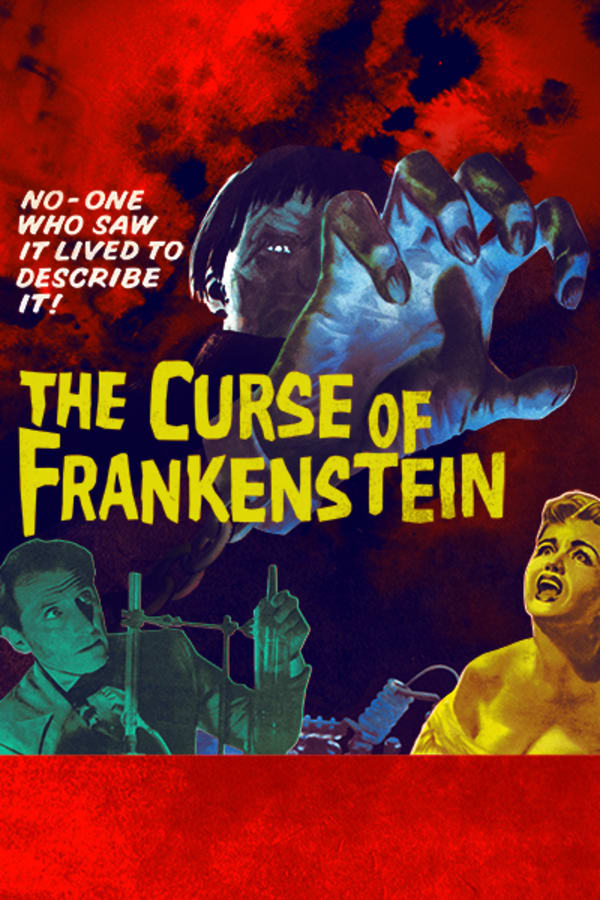 The Curse of Frankenstein
Directed by Terence Fisher
In this classic 1950s Hammer Horror based on Mary Shelley's FRANKENSTEIN, Peter Cushing stars as Victor Frankenstein, a scientist determined to reanimate a deceased corpse as part of his experiments. Succeeding in giving life to his creation, things turn south when the monster doesn't behave as intended. Reviled by critics on release, THE CURSE OF FRANKENSTEIN went on to be popular with audiences and was cited by Tim Burton and Martin Scorcese as an influence on their work. After the success of the film, Hammer Studios went on to create a further six sequels, five of which had Cushing reprise his role as Baron Frankenstein.
Peter Cushing stars as Victor Frankenstein in this classic Hammer Horror adaptation.
Cast: Peter Cushing, Hazel Court, Robert Urquhart
Member Reviews
Like other Hammer classics this is a movie that's clearly dated and yet I found it didn't detract from what is an all round good movie. Peter Cushing steals the show from everyone in a rare unsympathetic role and he is clearly having fun doing it. My understanding is that this is the movie that started Hammer's Gothic horror phase, and it's not hard to see why. I found it to be exceptionally well made and somewhat unpredictable despite the well worn subject matter.
Gothic horror at its best, the best example of to remake an old classic. with cushing giving the performance that was so good, it shifted the audiences attention from the monster to the mad scientist. Shudder REALLY needs more hammer horror here (they also desperately need the universal classics as well, there list of black and white horror films from the 20s, 30s, and 40s is lacking. For this sight to prosper, it needs a huge variety of films, from campy 50s sci fi, to schlock 80s gore, to black and white classics.)
Between Universal running their classic characters into the ground and the very real spectre of nuclear warfare being a constant presence, traditional horror was very much out of fashion in the 1950s. Hammer had other ideas though. After scoring a couple of hits with the weird science of Quatermass and X: The Unknown, the studio made the game-changing decision to go back to the original weird scientist himself, Baron Frankenstein. With Universal's lawyers keeping a close eye on proceedings, screenwriter Jimmy Sangster avoided any element from the American films (and most of Shelley's original book for that matter) and crafted a new story, one that put the focus firmly on the real monster- the Baron himself. Told in flashback as an unrepentant Frankenstein tells his story to a priest while waiting on the gallows for his crimes, this is where Hammer really hit the ground running. Initially shown as merely a young man with a thirst for knowledge, Victor Frankenstein's complete lack of morality and obsession with lust to master death itself soon becomes apparent. Alongside his mentor Paul Krempke, the Baron's early experiments into re-animating the dead were supposedly for the good of mankind, but before long body-snatching, grave-robbing and flat-out murder are all acceptable in his mad quest. Frankenstein doesn't just want to bring the dead back from life, he wants to create life itself, no matter the cost. As Baron Frankenstein, Peter Cushing positively shines in this first outing for what would become one of his signature roles. Cold, calculating and with just a hint of madness bubbling under the surface, it's a testament to Cushing's skills that he can turn on the charm so effectively when he has to. Much like the parts he scavenges or just takes, Frankenstein sees other people as nothing more than objects for his use, whether it's the knowledge of Krempke, the body of his maid Justine or worst of all, the brain of his friend Professor Bernstein. Unlike the Universal horrors of before, the creature is very much a bit part player in this, but when Christoper Lee finally makes an appearance in that hideous make-up, all eyes are firmly on him. Tall, imposing and with a feral snarl never far from his lips, this is surely one of the least empathic and most horrific versions of the famous monster ever created. Saying that, Lee still imbues his creature with a streak of humanity with only a few subtle gestures. For Hammer, the potential of their first venture into full colour horror was grabbed with both bloody hands. Vivid pastels abound, while the most vivid reds are used sparingly but couldn't be more effective. The bubbling crimson chemicals in the laboratory hint at the danger to come, while the glorious spurt of Kensington gore that erupts from the creature's eye as a bullet rips through it must have had them screaming in the aisles at the time. Giving birth to Hammer's gothic heyday while making stars of both Cushing and Lee, it's impossible to understate the importance of Curse Of Frankenstein, but at its rotten heart it's a timeless classic in it's own right. 5/5