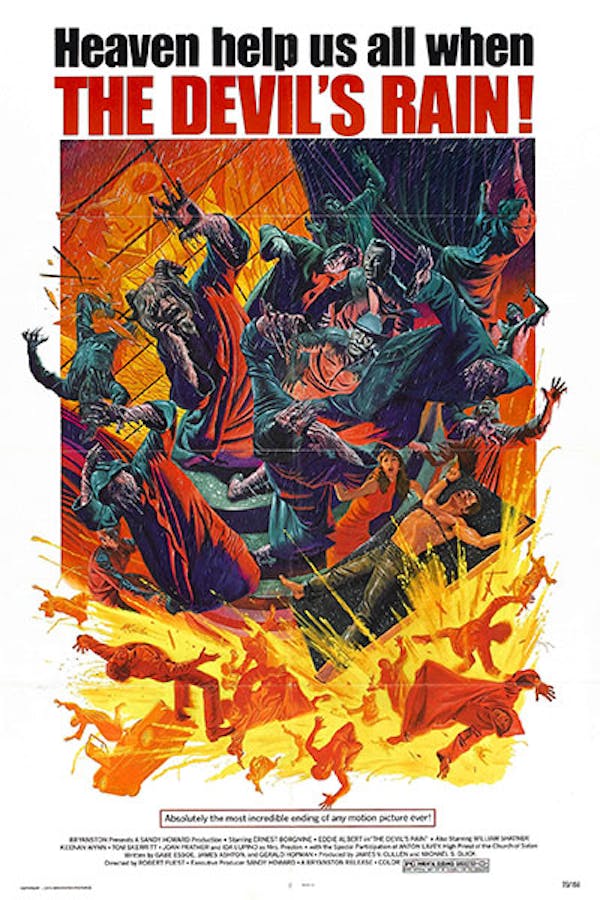 The Devil's Rain
Directed by Robert Fuest
A man tries to save his family from a Satanic cult ruled by an powerful preacher in the only film with Church of Satan founder Anton LaVey as an adviser and co-star! Back in the days of the pilgrims, Tom's (Tom Skerritt) ancestor stole an evil book from the preacher Corbis (Ernest Borgnine). But when Corbis posesses Tom's father, mother (Ida Lupino) and brother's (William Shatner) souls, it's time to head to the desert for a showdown. Though not without its camp value, THE DEVIL'S RAIN still serves up serious scares - including Borgnine's final transformation.
A man tries to save his family from a Satanic cult ruled by an powerful preacher.
Cast: Ernest Borgnine, Eddie Albert, Ida Lupino, William Shatner, Tom Skerritt, John Travolta
Member Reviews
Ok pretty interesting but feels like there's parts missing, wish there would of been more past colonial history scenes. For people complaining that John Travolta is only in it for a second you are wrong, he's in several scenes, how the heck can you mistake that chin?! Also Anton isn't just credited for advice but is actually in it in the desert rituals. Melting people took way too long but looked cool. The ending was obvious since it had already shown flashes previously.
i love that all of their blood looks like trix yogurt
Definitely a great cast. Anton Levay was the technical advisor. Movie's pretty good, fits in well with the satantic panic that was going on at the time. The deaths are pretty gross but great. I just thought the 6 minutes of moaning and melting was a bit much. 3 would have been enough for me. The Devil make up effect was AWESOME!
Impressive cast in a pretty ok B flick. If you want to see John Travolta melting, however briefly, this is a must-see.